How to reveal the gender of your baby with baking
Twinkle, Twinkle, Little Star, how we wonder what you are..☆
It is one of the most special moments in your pregnancy, the moment you find out about the gender of your baby. Be sure to make something special out of that! And baking fans of course hide that big secret in something sweet..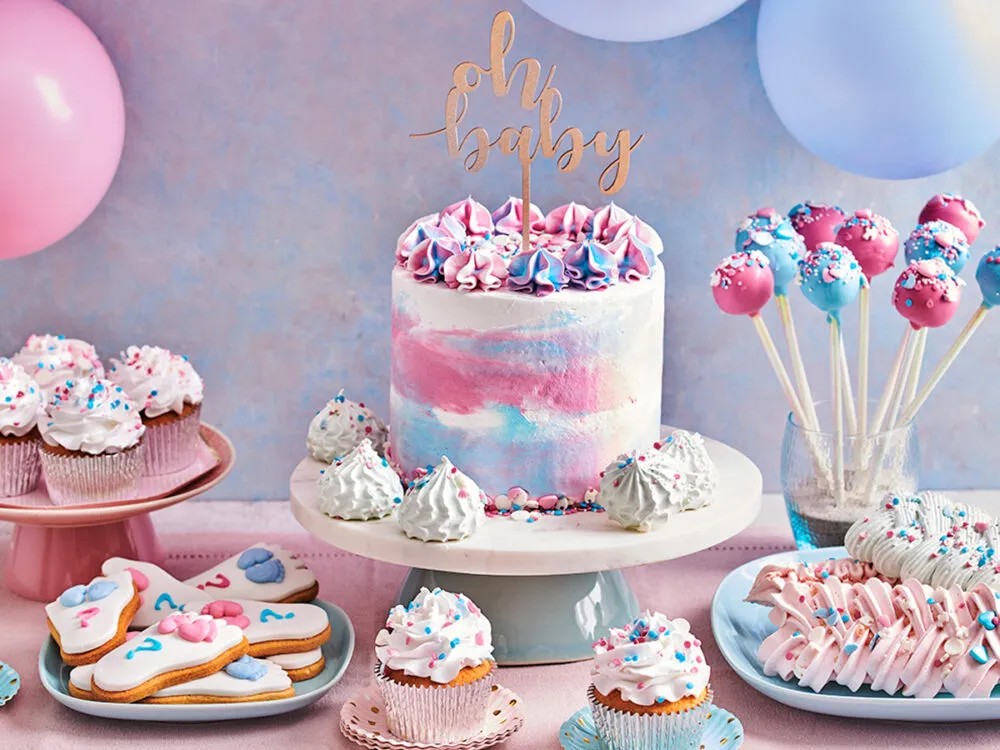 Do you already know what it will be, but grandpa and grandma or the uncles and aunties don't? Then bake something yourself to build up the tension. Are you organizing a real gender reveal party and are you keeping it a secret for yourself too? There are tons of people who bake gender reveal cakes or treats to order! Through a note in an envelope (don't peak!) you let them know the gender and they provide a great and tasty surprise moment for you and your loved ones.
We've listed the best gender reveal baking options for you below!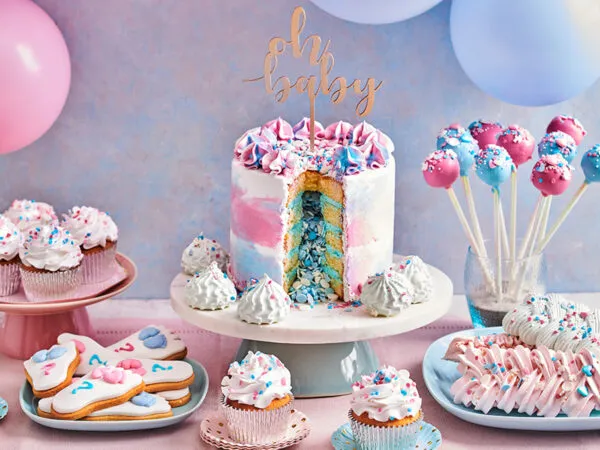 He or she? Open to see!
Gender reveal cake
When you think of revealing the gender through baking, you think of cake. Do you really want to make a moment of it with your dearest friends and family? Then a cake is a very good option. You and the upcoming daddy cut the cake together and are sure of being the first to see the colour inside the cake. At the same time, the cake is large enough so that the rest of the group can also easily watch!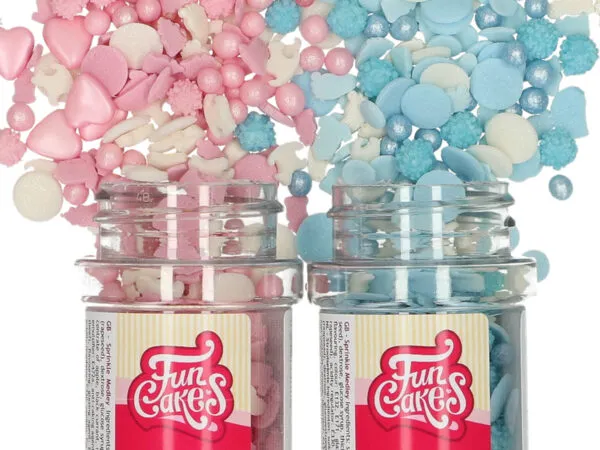 What to make of the inside of this cake? Well of course, pink or blue. But there are in fact many options to do so. Of course you colour the buttercream or Enchanted Cream® filling in a nice bright pink or blue. But did you know that the batter can also be coloured? Match the colour of the cake with the filling to make the message even clearer. Looking for a special effect? Make a hole in the middle of the cake and fill it up completely with pink or blue sprinkles. Choose a slightly larger sprinkle, which will easily fill the cake. For example, the Baby Boy or Baby Girl Sprinkle Medley. When cutting, the sprinkles will jump around to tell you that great message!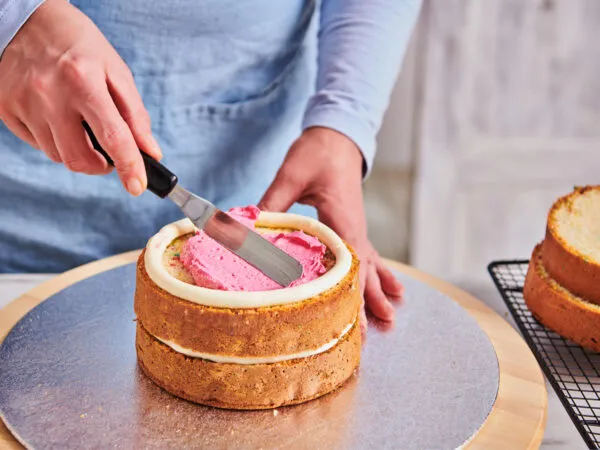 And the outside of the cake? Either leave it neutral or pink and blue mixed. Is it covered in white? Always make sure that the cream is thick enough, so that you cannot see the colour of the cake and the filling. For the filling, you might want to make a small dike of white cream along the side and only fill the inside of the cake with the coloured cream.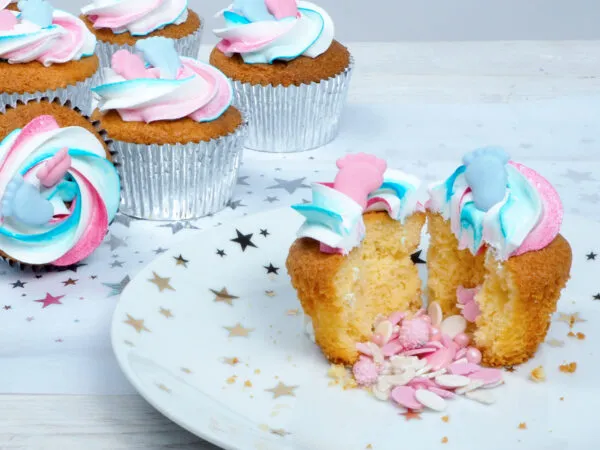 A boy or girl, which will it be?
Bite into your cupcake and you will see!
Do you already know the gender, but do you still want to tell your parents, brothers or sisters in a special way? Then visit them with a smaller treat in which you hide the surprise. If you want to use this for a gender reveal party, some serious synchronocal biting is of huge importance! Otherwise, your hungry uncle will know the sex of your baby before you do. Awkward!
So take a box of apparently neutral cupcakes and head to your parents. You hide the big answer in it by making a hole in the cupcake. This can be done conveniently with an apple corer or simply with the large side of a decorating tip. Make sure you don't pierce it all the way to the bottom! Fill the gap with a pink or blue buttercream, or a nice sprinkle. Cover the top of the hole with a big swirl. Keep the swirl nice and white, or make a two coloured swirl of pink and blue buttercream together. Click on the button below to find a video explaining you how to do so. Add the Gender Reveal Sprinkle Medley on top and you're ready to surprise grandma and grandpa!
Find here all recipes from this blog!
Can't wait to start planning your own gender reveal party? You will find all of the recipes featured in this blog in the newborn section under recipes.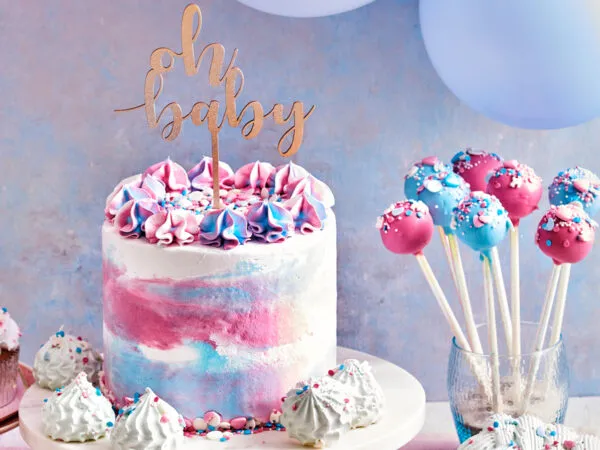 Let's pop the big news!
Tell it with cake pops
A surprise on a stick, that's what you bring with gender reveal cake pops. Nice to let several people know the gender at once. But watch out! Synchronous biting is again a requirement here. The colour of the cake inside is made pink or blue with food colouring. Or if you are expecting a girl, make it easy on yourself by using the Mix for Ruby Cake. That's already pink after all.
Crumble the cake and mix it with some buttercream, Deco Melts or chocolate (which you also give the right colour of course), so that the cake becomes sticky enough to create balls. Then cover these with a layer of Deco Melts. If you go for white Deco Melts, dip the balls in at least twice, so that you are absolutely sure that the colour doesn't see through. Another fun idea: cover half of the balls with pink Deco Melts and the other with blue. Let your guests guess what it will be and give them the matching cake pop. Nice to see who got it right!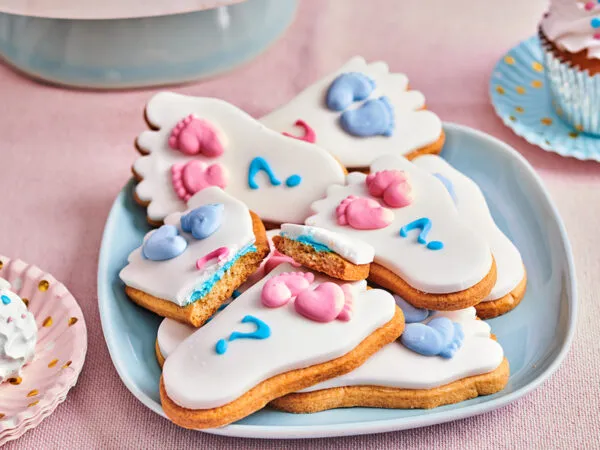 Hey or she?
Say it with a cookie!
You can even perform the above tricks with cookies! And the nice thing with that is, you don't necessarily have to bite it open, you can of course also easily break it open. Bake cookies in fun baby shapes, such as baby feet, pacifiers or body suits. The cookies themselves are visible, so of course you keep them completely neutral. Instead you spread the surprise on the cookie with buttercream. That may well be a thick layer of pink or blue buttercream, then you know for sure that the gender is immediately clear! Then cover it with a layer of sugar paste. Make sure you roll out your sugar paste nice and thin, but thick enough to hide the coloured buttercream underneath.
You can also do this with Royal Icing. First apply a bit of pink or blue Royal Icing to a cookie and then white on top. Please note, never combine buttercream with Royal Icing. The fat in the buttercream will make your icing release. So always choose either buttercream with sugar paste or just royal icing. Isa & Angélica of Juritas Cookies from Spain chose the latter. Click on the button below to see how they did it!
Always use sugar paste for this. Royal Icing for example doesn't work because it can't get in touch with fat. Buttercream is greasy, so if you apply Royal Icing on top of buttercream, it can release the icing.
Of course you finish your cookies with some nice decorations, for example the pink and blue baby feet! Grandpa and grandma ready? Let's break the message open!