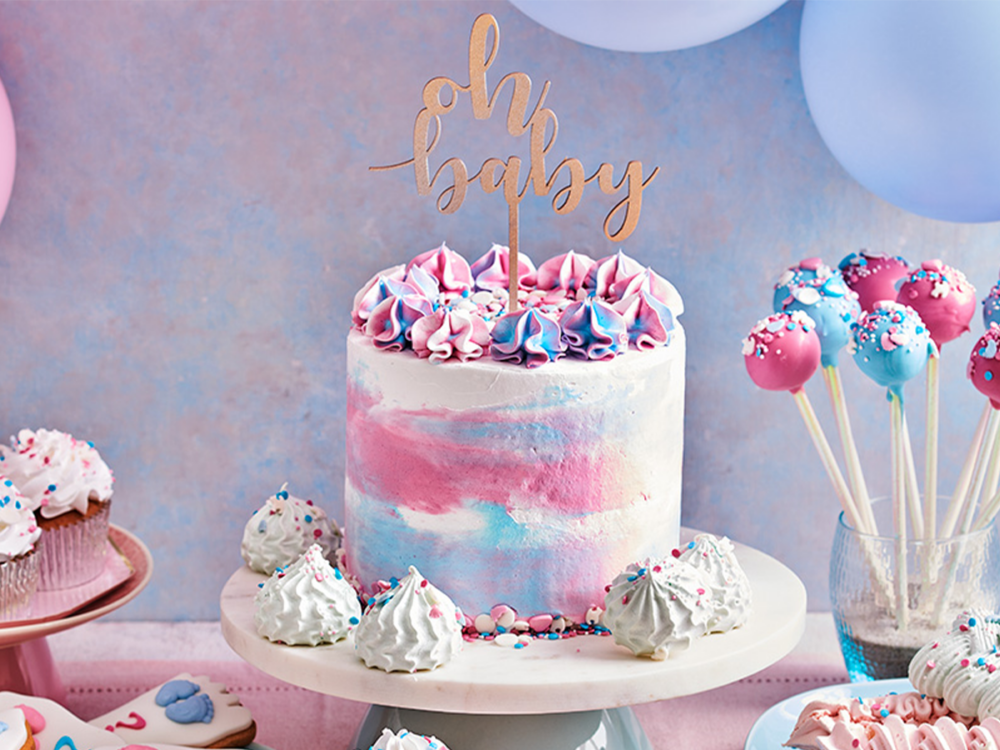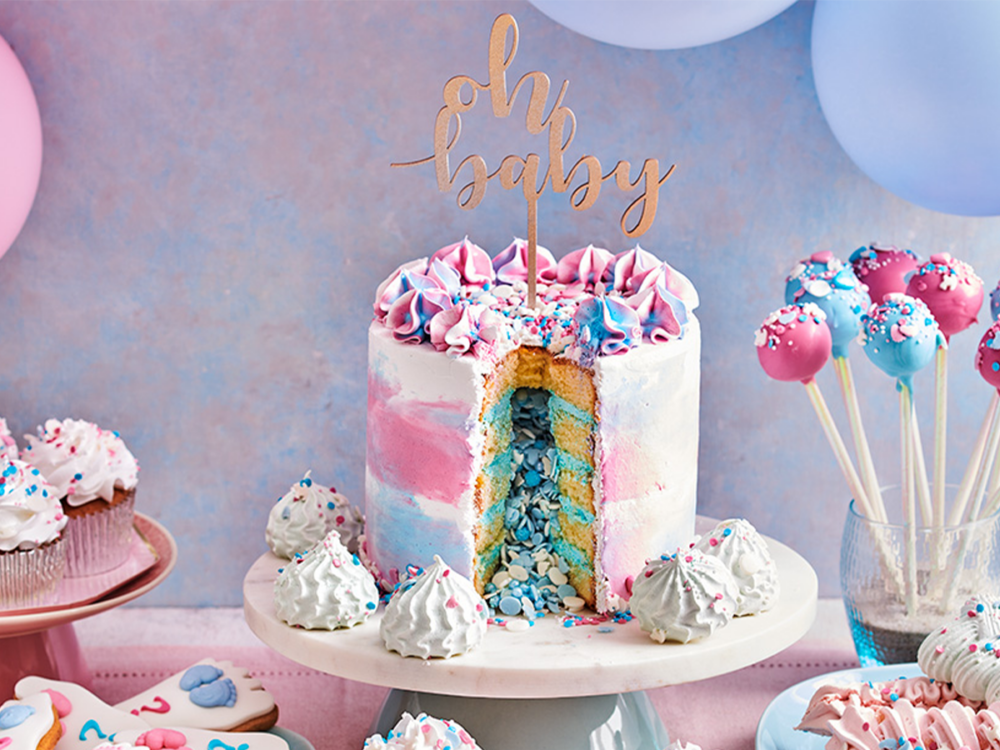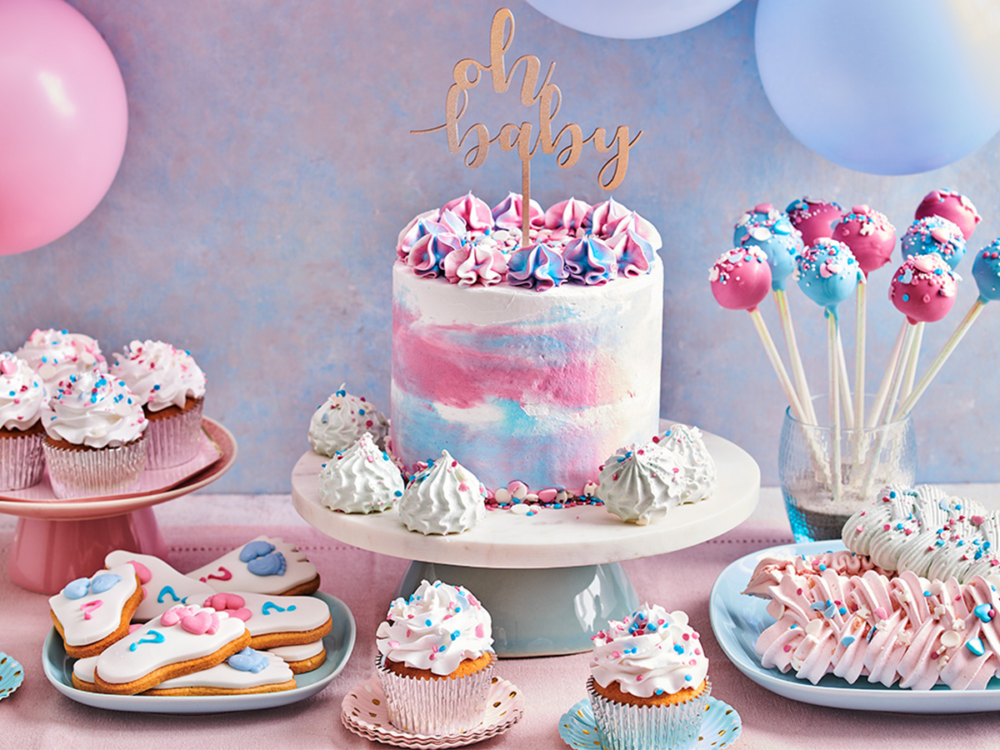 Gender reveal cake
It is one of the most beautiful moments of your pregnancy, finding out the sex of your baby. Celebrate it with a stylish Gender Reveal Party! Reveal the gender with your friends and family by cutting this awesome cake.
1 hour and 30 min. preparing
What you need to make your gender reveal cake:
Ingredients
330 g FunCakes Mix for Sponge Cake
250 g FunCakes Mix for Enchanted Cream®
100 g FunCakes Sprinkle Medley Baby Boy of Baby Girl
FunCakes Food Colour Gel Pink
FunCakes Food Colour Gel Baby Blue
FunCakes Sprinkle Medley Gender Reveal
FunCakes Bake Release Spray
FunCakes Flavour Paste Lemon
250 ml milk
33 ml water
5 eggs (approx. 250 g)
Necessities
FunCakes Decorating Bags
Wilton Cake leveler 25cm
Wilton Cooling Grid
Wilton Basic Turntable
Wilton Tip #1M Open Star
Wilton Comfort Grip Spatel Angled 32,5 cm
2 x Wilton Decorator Preferred® Deep Round Baking Pan Ø 15x7,5cm
Wilton parchment paper
PME Long Plastic Scraper
Cookie Cutter Ring Ø 6,5 cm
Cling Film
Preheat the oven to 180°C (convection oven 160°C).
Prepare the 330 g FunCakes Mix for Sponge Cake according to the instructions on the package. Grease the baking pans with bake release spray and raise the pan with an edge of baking paper. Divide the biscuit batter among the baking pans and bake the biscuits for about 30-35 minutes. Let the cakes cool down by using a cooling grid.
Prepare 250 g FunCakes Mix for Enchanted Cream® according to the instructions on the package and flavour it with the lemon flavour paste. Color enough Enchanted Cream® with the gel in the color you need (blue or pink).
Cut the biscuits both twice with the cake leveler. Place a piece on a cake board on the turntable and spread a layer of coloured Enchanted Cream® on it.
Cut a circle in the middle of the 4 biscuit slices and stack them with a layer of Enchanted Cream® on top of each other. Fill the resulting hole with the medley of your choice and cover the cake with a bottom slice of the biscuit (without a hole).
Cover the cake all over with white Enchanted Cream® and put the cake in the fridge for half an hour so that it can stiffen.
Color the remaining white Enchanted Cream® pink and blue. Sweep here and there on the cake with the blue and pink Enchanted Cream® and tighten the whole cake again using the side scraper.
Place a sheet of plastic wrap on the counter and scoop out the blue and pink Enchanted Cream®. Roll it up into a sausage and put it in a decorating bag with a tip #1M. Pipe small tufts on top of the cake along the edge and sprinkle some gender reveal medley in the middle.
Just a little while before you can enjoy your cakes. Don't forget to share your creation:
#funcakesbyme