Create your own Cake Smash
Even an ice queen will melt by seeing cake smash pictures. Curious little hands, awaiting looks… am I really allowed? What a party! Pretty little faces full of cream accompanied by bright happy eyes, nothing beats a cake smash for a one year old. And mommy? Did she get over the cuteness overload already? Read along for our tips and tricks on how to create your own cake smash.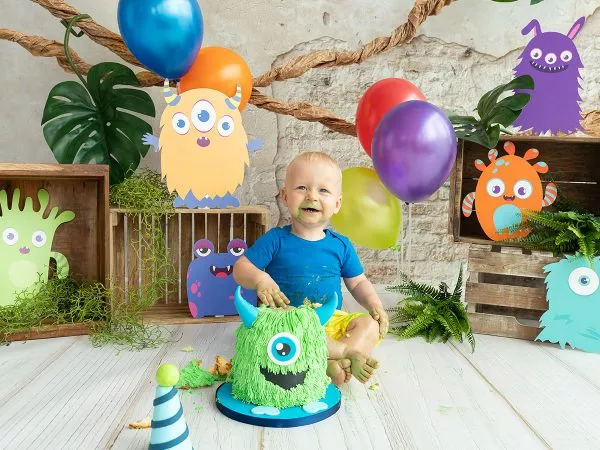 1. Carefully pick your location
When choosing a location think of course about the pictures. Pick for a spot that gets a lot of natural light and go for a plain background. But don't forget the organisation around it either. A location near the kitchen or bathroom will help you to clean the mess afterwards. A sheet or sail on the floor might not be a bad idea either.
2. Get help
Us power moms, we'll manage on our own. We constantly run from pillar to post to make sure that everyone gets through the day with full stomachs and clean clothing (husbands included). Our advice when it comes to cake smashes: don't even try to do it yourself and get help. Somebody who can help your kid with the cake and who makes sure your little troublemaker stays between the boundaries of your lens.
3. Choose a colour or theme and search for the right decoration
Don't underestimate the power of the right colour scheme and matching decorations for a nice cake smash picture. Pick a theme and colour combination and stick to it. Anyone who gets tempted to use other kinds of colours or themes will end up with a messy image. Be sure to check our story about setting up a sweet table, in which we give many tips for creating the right setting.
4. Make sure the time is right
Do you like cake when you just get out of bed? Probably your child doesn't either. And angry looks just don't work that good on pictures. So pick your moment wisely and go for a time and day when your kid is usually happy and well awake. Nobody will know better when that is than you as a mother.
5. Get the cake out of the fridge on time.
Many kids don't really like touching a cold cake. So get it out of the fridge on time to allow it to set to room temperature. This will soften the cream which makes it more attractive for your kid to get his or her hands on it. Does your child still doesn't like the feeling? Give him or her the time to discover the cake on his or hers own pace. Give a small bite to taste or let your kid use a spoon to smash the cake. Be warned though, once they are getting used to it, there's no way back.
6. Prepare a nice and tasty cake
No worries, you don't need to be in the kitchen for days in order to prepare a beautiful and tasty cake which will be ruined in just minutes by little kids hands shortly after. With the right baking mixes and our easy recipes you are good to go. Check our Monster and Unicorn Cake Smash recipes hier.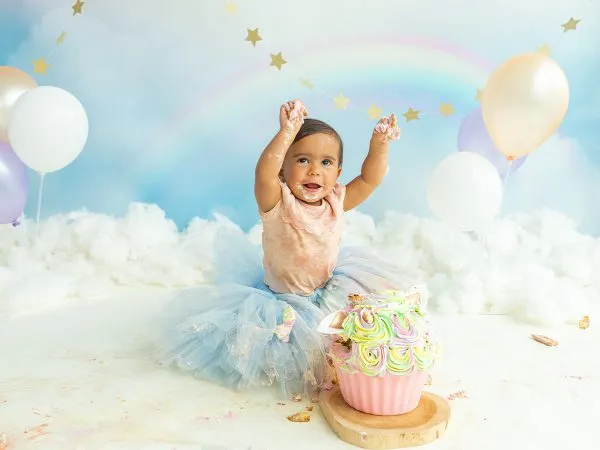 7. Make sure to have everything ready to wash your child after the shoot
Shot the perfect pic? While you are getting some wipes and towels your kid is discovering the room with dirty hands and feet. Great! Think further than the final picture and make sure you've got everything ready for a first cleaning session before you get your child into a bath.
But the best tip of all? Hire a photographer! Gives you the opportunity to enjoy every second of it and you'll be assured of great pictures. Plus, you can leave the mess ?. After all you've probably got enough mess of your own already…
This article and the accompanying pictures were created in cooperation with Made by Mone photography.