Checklist for kids baking party
Did you infect your son or daughter with the baking virus too? Chances are he or she will ask for a birthday baking party sooner or later. Great idea, but in your mind you can already see the sprinkles, buttercream ánd the children flying through your living room. Use the checklist below to find out if this party really is a good idea.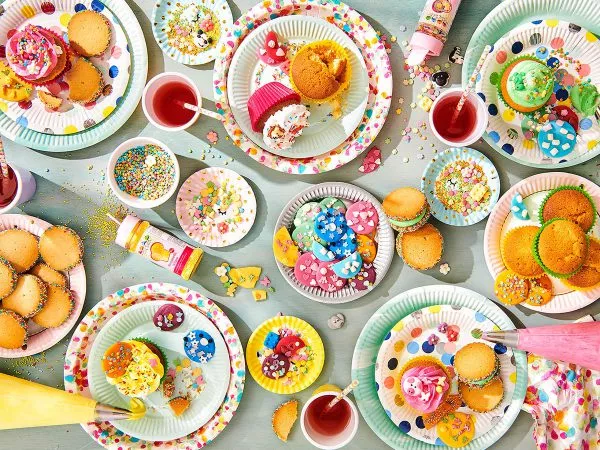 Age
You and your 4 year old might perfectly be able to bake together, but having another dozen of 4 year olds with you really does change everything. In that case we would advise to postpone this party until your child (not to mention all the other boys and girls) is a bit older. Usually the attention spans of 6-8 year old children are better capable of handling a cupcake party.
Space
Make sure the kids have enough space to move freely. Once they have taken their seats they will only have their eyes on the colourful creams and happy sprinkles and by then grasping hands will find there way under and above the others to reach their goal. When space is limited, falling cupcakes are inevitable. Go for a long table and create a desk for each child to mark everyone's working area. Is your kid's birthday in summer? Then consider an outside baking party!
Budget
Decide on what you would like to spend on this party. A baking party doesn't have to be expensive and you can take it as far as you like. Is your budget limited? With a little creativity you can still create a good party. Choose cupcakes instead of small cakes, cause with 500 g FunCakes Mix for Cupcakes you can already bake 20-24 cupcakes! For the topping, use FunCakes Mix for Enchanted Cream®. Many kids like the vanilla flavour of it and you only have to mix it with water! With a portion of 150 g you already have enough for 24-30 cupcakes, use a few portions to be able to create several colours. Collect fun sprinkles as decoration, but think about sweets such as M&M's too! Or prepare some decorations with Deco Melts.
Use stuff you already have at home to present all the decorations: fill for example a cupcake pan or empty egg box with all the sprinkles! And save your empty jars to organize the tools. In many stores you often score a paper tablecloth, place mats and plastic plates for little money.
Preparation time
Don't you have much time to prepare this party? Than seriously consider something else this year. Preparation is key to let this party run smoothly. A few tips to spare yourself a hectic night before the party. The sponge cakes and cupcakes from FunCakes (and even the buttercream!) can perfectly be frozen. So take a free afternoon a few weeks up front to bake all the cupcakes and save them in the freezer until one day ahead. Shop your table decoration and all baking ingredients a few weeks or days in advance. This will give you the time the days before the party to focus only on getting everything ready. Prepare several colours of creams a day in advance and fill decorating bags with it without cutting of the tips already. Don't forget to close the decorating bags with a clip or icing bag tie to make sure the cream doesn't go everywhere when the kids put their hands on it.
Extra activities
When the kids come in and see a table full of cupcakes, creams and sprinkles, all they think about is getting started right away. It might therefore be a good idea to have a short activity ready to pass the time until everyone's in. Colouring paper chef's hats and aprons for example! This will set the tone and will allow everyone to start decorating cupcakes at the same time. The same works after baking: get the kids outside with a fun game, giving yourself the time to clean the biggest mess.
Help
Even you can't be in two places at the same time. So get help from your mom, friend or sister. While she's going outside with the kids, you can clean up a bit. And while you are getting cream out of the curls of your daughter's bff, she can fill the sprinkle jars. At this kind of party help is crucial.
Checked all the boxes? Great, you've got this girl! Enjoy the preparations and the bright happy faces. And if there is a bit of chaos after all, remember: by the end of the day they will all return to their own homes again. Good luck!