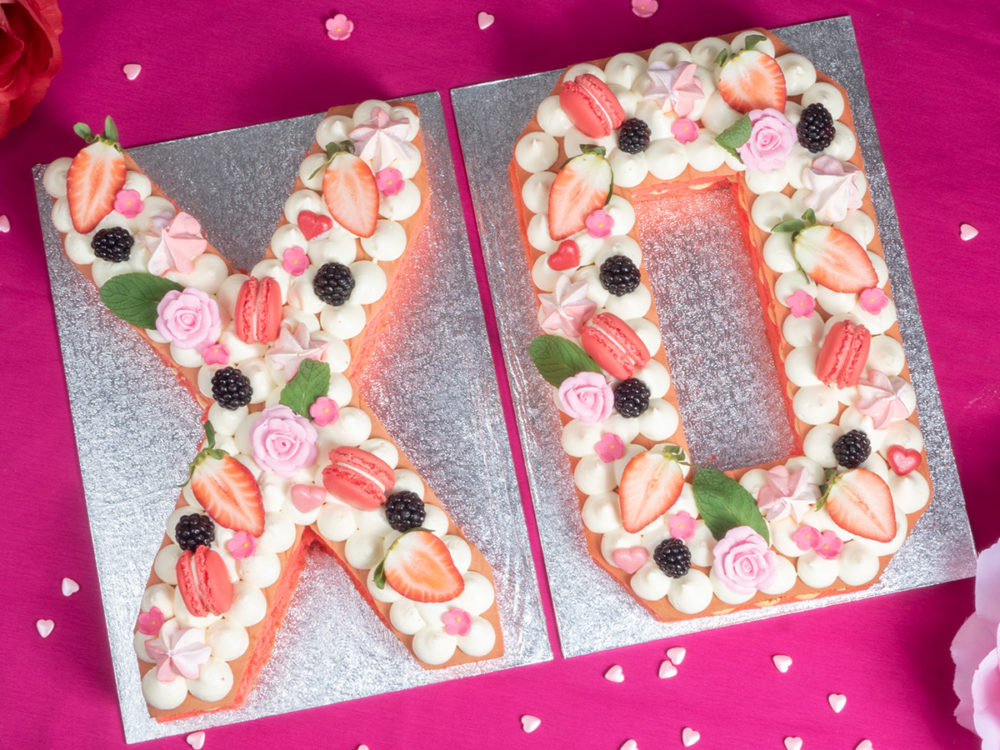 XO letter cake
What is your love language? With this cake you don't have to talk at all, because the cake says everything there is to say.
2 hour and 15 min. waiting
What you need to make your xo letter cake:
Ingredients
660 g FunCakes Mix for Sponge Cake
200 g FunCakes Mix for Crème Patisserie
2 tbsp FunCakes Icing Sugar
FunCakes FunColours Gel – Pink
FunCakes Marzipan Roses – Pink
FunCakes Marzipan Hearts Small Assorti
566 ml water
15 eggs (approx. 750 g)
300 g MonChou
200 ml whipped cream
130 g fine crystal sugar
1 vanilla pod
Macarons
Meringues
Strawberries
Blackberries
Necessities
FunCakes Bake Release Spray
FunCakes Decorating Bags
Wilton Countless Celebrations Pan
Wilton Decorating Tip #1A
Wilton Cake Leveler
Wilton Cooling Grid
Preheat the oven to 180°C (convection oven 160°C).
Prepare 330 grams of FunCakes Mix for Sponge Cake as indicated on the package. Get the right format of the baking pan using the inserts and as explained in the attached instructions. Grease the baking pan using baking spray, fill with batter and bake for 30 – 35 minutes. Release the cake after baking and let it cool down completely on a cooling grid.
Shape the letters following the instructions and cut the cakes once with a cake leveler.
Prepare 200 grams FunCakes Mix for Crème Patisserie as indicated on the package. Fill a piping bag with decorating tip #1A and the cream. Pipe dots on the bottom layer of the cake using the crème patisserie and place the other layer of cake on top of it.
Mix 300 grams of MonChou, 200 ml of whipped cream, 2 tablespoons of icing sugar, 130 grams of fine crystal sugar and the marrow of a vanilla pod to a thick, smooth cream. Fill a decorating bag with tip #1A and the MonChou cream and pipe dots on the second layer of cake.
Decorate the letters with fresh strawberries, blackberries, roses, hearts, macarons and meringues.
Tip! You can make your own macarons and meringues. Click here for a macaron recipe and here for a meringue recipe.
Just a little while before you can enjoy your cakes. Don't forget to share your creation:
#funcakesbyme