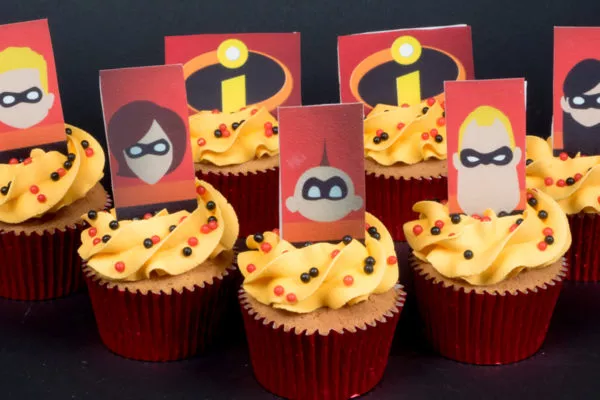 The Incredibles cupcakes
The incredibles is a superhero movie. Be and feel like a superhero while baking these cupcakes.
What you need to make your the incredibles cupcakes:
Ingredients
500 g FunCakes Mix for Cupcakes
250 g FunCakes Modeling Paste
200 g FunCakes Mix for Buttercream
FunCakes Flavour Paste
FunCakes Edible FunColours Gel – Yellow
FunCakes Edible FunColours Gel – Orange
FunCakes Sugerpearls Shiny Red
FunCakes Sugerpearls Shiny Black
500 g unsalted butter
200 ml water
5 eggs (aprox. 250g)
Necessities
FunCakes Decorating Bags
FunCakes Piping Gel
Wilton Recipe Right Muffin Pan
Wilton Tip #1M
PME Baking Cups Metallic Red
Edible prints from The Incredibles
Make the modeling paste rectangles on which you will stick your prints later the day before. Cut this in the same size as your prints.
Preheat the oven to 180 ° C (convection oven 160 ° C)
Prepare 500 g FunCakes Mix for Cupcakes as indicated on the package. Place the baking cups in the muffin pan and fill with batter. Bake the cupcakes in 18–20 minutes in the middle of the preheated oven. Let them cool down by on a cooling grid.
Prepare 200 grams of FunCakes Mix for Buttercream as indicated on the package. Flavor the buttercream with the flavor paste of your choice. Then color it into a dark yellow cream with the yellow and orange FunColours gel and place this in a piping bag with tip # 1M. Pipe rosettes on the cupcakes and decorate them with the black and red pearls. Lubricate the modeling paste shields with piping gel and stick the print on it. Then place the prints in the rosettes on the cupcakes.
Just a little while before you can enjoy your cupcakes. Don't forget to share your creation:
#funcakesbyme