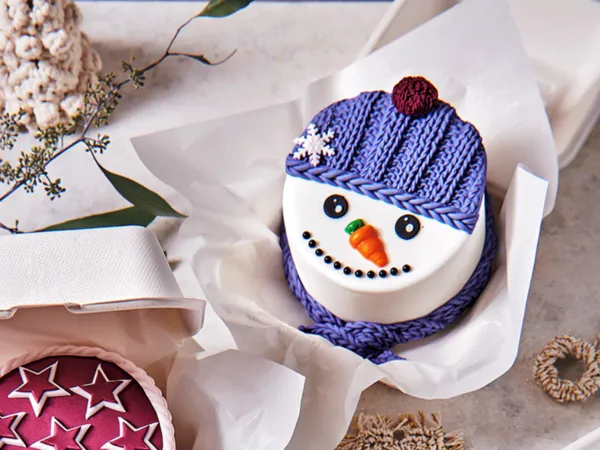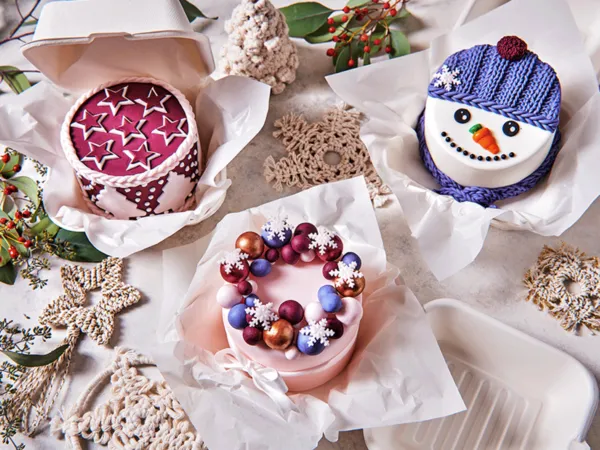 Snowman bento cake
Bento cakes are currently a popular trend, and we're eager to dive into creating them! This festive bento cake, infused with the trendy color of the year, Chic Aubergine, makes for an ideal Christmas dessert. Alternatively, craft it as a delightful treat, wrap it up, and gift it to someone special.
1 hour and 30 min. preparing
What you need to make your snowman bento cake:
Ingredients
250 g FunCakes Mix for Sponge Cake Deluxe
100 g FunCakes Mix for Swiss Meringue Buttercream
600 g FunCakes Sugar Paste White
75 g FunCakes Sugar Paste Chic Aubergine
500 g FunCakes Sugar Paste Vintage Purple
40 g FunCakes Sugar Paste Black
50 g FunCakes Sugar Paste Rosè White
FunCakes Chocolate Decorations Carrot
FunCakes Black Pearls Medium
FunCakes Edible Glue
FunCakes Bake Release Spray
200 g unsalted butter
95 ml water
4 eggs (approx. 200 g)
Necessities
FunCakes Decorating Bags
Wilton Wide Glide Rolling Pin
Wilton Small Rolling Pin with Rings
Wilton Comfort Grip Spatula Angled 22,5 cm
Wilton Basic Turn Table
Wilton Small Cake Leveler 25cm
Wilton Recipe Right Non-Stick Cooling Grid 40x25cm
PME Snowflake Plunger Cutter Set/3
PME Deep Squared Baking Pan 20 x 20 x 7,5cm
PME Mini Round Plunger Cutter Set/3
Patisse Cookie Cutter Rings Set/14
Karen Davies Mal Coarse Knitted Ribbed Decorative Edge
Karen Davies Mal Knitted Decorations
Preheat the oven to 180°C (convection oven 160°C).
Prepare 250 g FunCakes Mix for Sponge Cake Deluxe as indicated on the package. Grease the baking pan with FunCakes Bake Release Spray and spatula the cookie batter into it. Bake the cookie for about 30-35 minutes until done and after baking, immediately dump onto a cake rack to cool.
Using a cake leveler, cut the cake 2x. From the set of round cutters, take a ring with a diameter of about 9-10 cm and cut 4 rings from each slice of cake.
Make 4 small cakes from 3 rings of cakes filled and frosted with FunCakes Mix for Swiss Meringue Buttercream. Keep a small amount of cream left to stick the balls on the cake. Let the smeared cakes set in the refrigerator for half an hour.
Knead the FunCakes Sugar Paste White well and line the cakes with it.
Use the FunCakes Sugar Paste Vintage Purple together with the Karen Davies Template Coarse Knitted Ribbed Trim to make the hats. Using a sharp knife, cut the shape out of the slice of Sugar Paste. Stick this onto the cake with some edible glue. Using the same colour Sugar Paste, make a finishing border and a scarf using the mold.
With the FunCakes Sugar Paste Chic Aubergine make a pompon for the hat. From the FunCakes Sugar Paste Rose White make small snowflakes using the smallest size plunger.
Roll out the FunCakes Sugar Paste black wafer thin and cut out rounds for the eyes. Make pupils with small pieces of white.
Glue black pearls in the shape of a mouth on top of the cake and stick all the other parts on the cake.
Just a little while before you can enjoy your cakes. Don't forget to share your creation:
#funcakesbyme