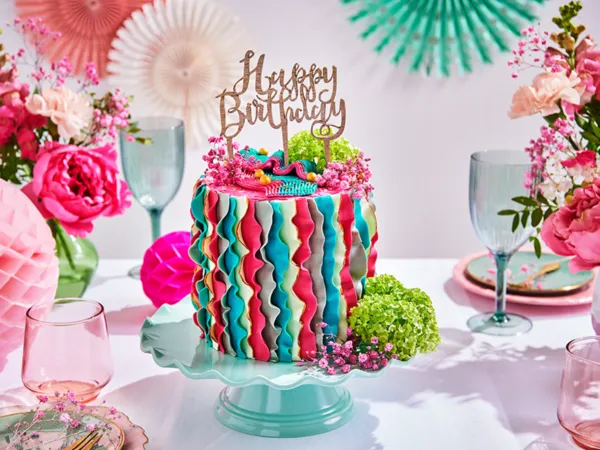 Ruffled birthday cake
Celebrate your special occasion in style with this delicious and stunning ruffled birthday cake recipe. With its delicate layers of moist and fluffy cake, creamy frosting, and beautiful ruffled Sugar Paste, this cake is sure to impress your guests and make your birthday extra special.
2 hour and 30 min. preparing
What you need to make your ruffled birthday cake:
Ingredients
330 g FunCakes Mix for Sponge Cake Deluxe
200 g FunCakes Mix for Buttercream
600 g FunCakes Marzipan Blank 1:3
250 g FunCakes Sugar Paste Pastel Green
250 g FunCakes Suger Paste Dark pink
250 g FunCakes Sugar Paste Botanical Green
250 g FunCakes Sugar Paste Turquoise
FunCakes Flavour Paste Mango
FunCakes Food Colour Gel Turquoise
FunCakes Food Colour Royal Blue
FunCakes Food Colour Pink
FunCakes Sprinkle Medley Gold 80g
FunCakes Sprinkle Medley Happy Halloween 65g
FunCakes Edible Metallic Paint Copper 30ml
FunCakes Edible Glue 22g
FunCakes Magic Roll Out Powder
FunCakes Bake Release Spray 200ml
250 g unsalted butter
230 ml water
5 eggs (approx. 250 g)
Necessities
FunCakes Decorating Bags
Wilton – Wide Glide- Rolling 50 cm
Wilton Decorator Preferred® Deep Bakeware Round Ø 15x7,5cm
Wilton Small Cake Leveler -25cm-
Wilton Recipe Right Non-Stick Cooling Grid - 40x25cm
Wilton Decorating Tip #789 Cake Icer
PME Modeling Tools Taper & Round Point
FMM Multi Strip Cutter
Patisse Cake Edge Side Scraper 20cm
Dekofee Profi Brush 1
Hydrangea
Pink gypsophila
Cling Film
Preheat the oven to 180°C (convection oven 160°C) and grease the baking pans with baking spray.
Prepare 330 g FunCakes Mix for Sponge Deluxe as directed on the package. Divide the batter between the 2 baking pans and bake for about 30-35 minutes until done. Let the cake cool down by using a cooling grid.
Cut the cakes both 2x with the cake leveler and fill and spread all around with buttercream. Let the cake set in the refrigerator for half an hour and then spread another layer of butter cream on top. Let this also set in the refrigerator.
Knead the marzipan well and roll it into an oblong piece that fits around your cake. Cut away the excess. Do not line the top.
Knead the Sugar Paste well and roll thin strips. The thinner the prettier the ruffles will be! Take the multi ribbon cutter and cut strips about 1.5 cm wide with it, using the largest intermediate piece and the smooth wheels. Make all the different strips at once and put them under plastic wrap so it can't dry out.
Sprinkle some FunCakes Magic Roll Out Powder on your work surface and roll the bulbulous cone (taper and round tip tool) over the bottom of the strip of fondant. You will see it become thin and this is how the ruffles are created. Cut the ruffles to the size of your cake and stick them vertically against the cake with some edible glue. Do this strip by strip. With some paint, paint the edges of some of the ruffles.
Divide the remaining buttercream into 2 portions and this you color dark pink and mystic turquoise. To get this mix turquoise and royal blue together. Coat the top of the cake with a thin layer of pink buttercream. Put the cake icer in a decorating bag and put the two colours of buttercream side by side in the decorating bag. With this, now swirl two curved strands on top of the cake.
Decorate cake with the hydrangea and gypsophila (dip the ends of the stems in some melted chocolate) and sprinkle with some musket and gold balls from the medley.
Just a little while before you can enjoy your cakes. Don't forget to share your creation:
#funcakesbyme