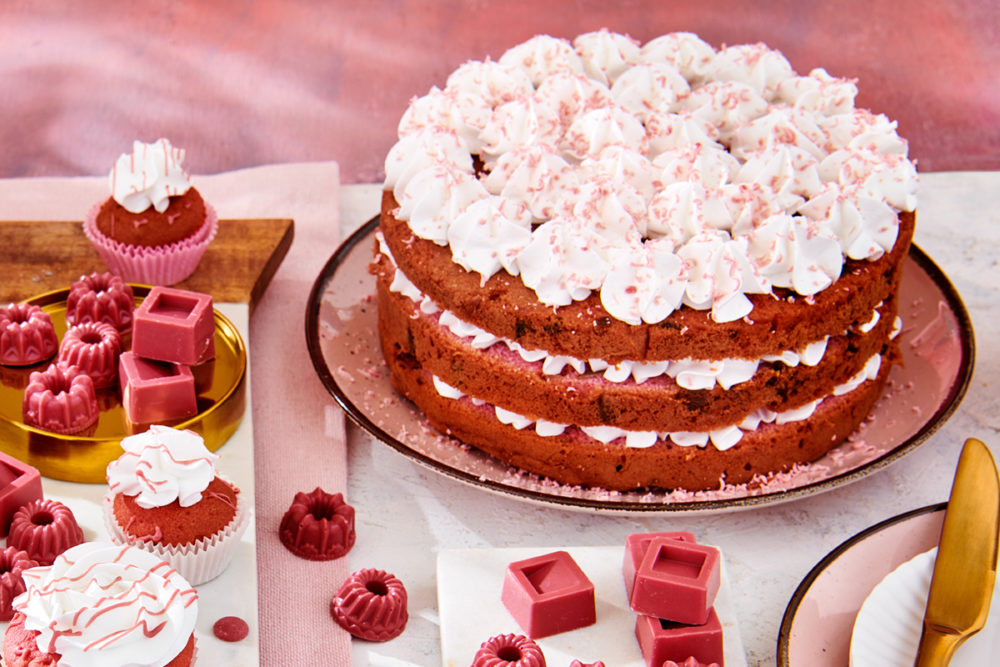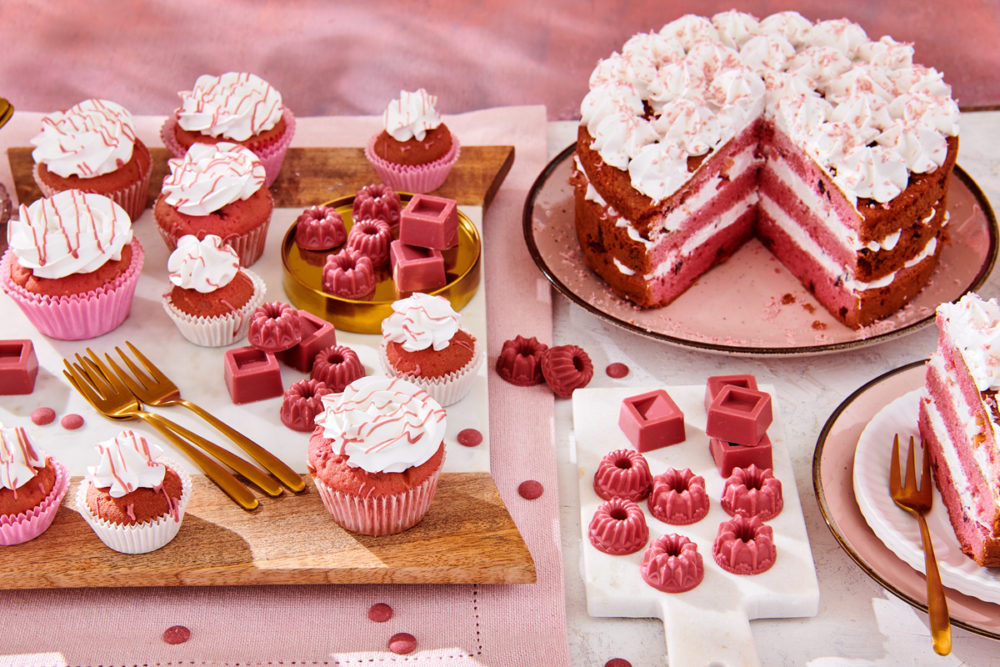 Ruby cake
Ruby is hot! It's a delicious fruity cake with ruby and white chocolate chips, but best of all is the pink colour. This cake is perfect for a baby shower, a gender reveal or a birthday.
What you need to make your ruby cake:
Ingredients
400 g FunCakes Mix for Ruby Cake
150 g FunCakes Mix for Enchanted Cream®
100 g FunCakes Chocolate Melts Ruby
200 g unsalted butter
200 ml milk
4 eggs (circa 200 g)
Necessities
FunCakes Bake Release Spray
FunCakes Decorating Bags
Wilton Decorator Preferred Deep Round Pan Ø 20 x 7,5cm
Wilton Decorating Tip #1M
Wilton Cooling Grid
Wilton Cake Leveler
Wilton Parchment Paper
Grater
Preheat the oven to 170°C (convection oven 150°C).
Prepare 400 grams of FunCakes Mix for Ruby Cake as indicated on the package. Grease the baking pan and pour the batter into the pan. Bake the cake in the middle of the oven for approx. 55 minutes. Release the cake immediately after baking and let it cool down on a cake grid.
Prepare 150 grams of FunCakes Mix for Enchanted Cream® as indicated on the package. Place decorating tip #1M in the decorating bag and fill it with the cream. Cut the cake twice using the cake leveler. Pipe small swirls on the bottom layer with the cream and place the second layer on top. Again, pipe small swirls of cream on the cake. Put the last slice of cake on top and pipe the top full of small swirls. Put the cake in the refrigerator for 10 minutes so that the cream can become a bit stiffer.
Pour 100 grams ruby melts in a bowl suitable for the microwave. Melt at maximum power (± 800 W) in the microwave. To evenly spread the temperature, remove the chocolate every 15 – 20 seconds and stir well. Stop heating when the chocolate is almost completely melted (small bits of chocolate can still be seen). Keep stirring until the chocolate is dissolved. Pour this onto a piece of parchment paper and let it stiffen in the fridge for 10 minutes.
Remove the cake and the chocolate from the refrigerator. Grate the piece of ruby chocolate over the top of the cake.
Just a little while before you can enjoy your cakes. Don't forget to share your creation:
#funcakesbyme