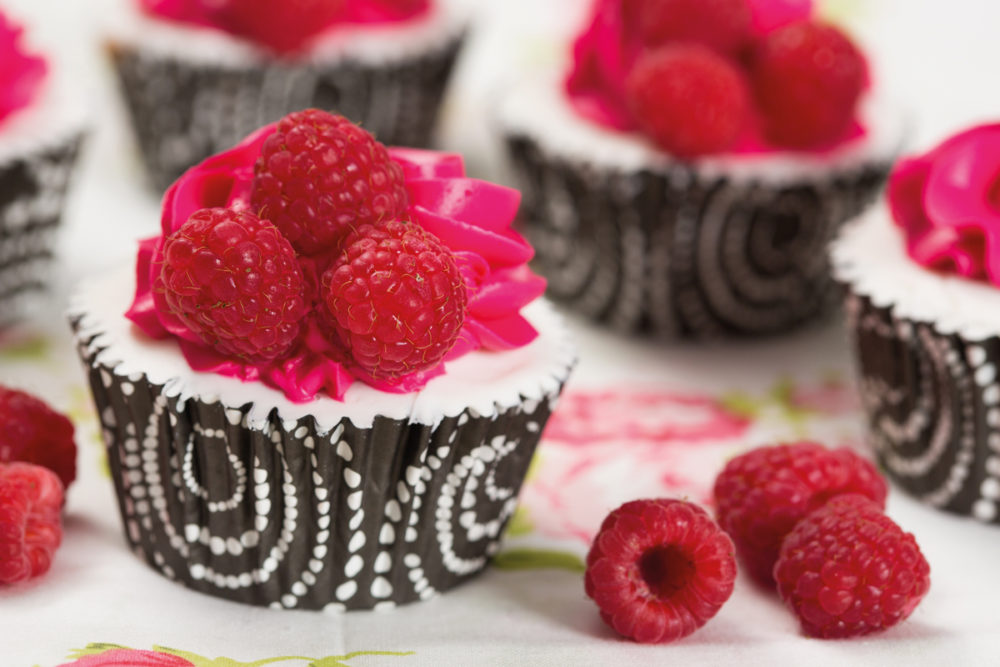 Raspberry cupcakes
Nice en fruity with these cupcakes. Together with some buttercream and raspberry you can make these delicious cupcakes for your family and friends.
What you need to make your raspberry cupcakes:
Ingredients
500 g FunCakes Mix for Cupcakes
200 g FunCakes Mix for Buttercream
100 g FunCakes Fondant White
FunCakes FunColours Gel Pink
500 g unsalted butter
200 ml water
5 eggs (aprox. 250 g)
Raspberries
Necessities
FunCakes Decorating Bags
FunCakes Baking Cups Black
Wilton Tip #1M
Wilton Recipe Right Muffin Pan
Cookie Cutter Ring 6 cm
Preheat the oven to 180 ° C (convection oven 160 ° C)
Prepare 500 g FunCakes Mix for Cupcakes as indicated on the package. Place the baking cups in the muffin pan and fill with batter. Bake the cupcakes in 18–20 minutes in the middle of the preheated oven. Let them cool down by on a cooling grid.
Knead the white fondant well and roll it out to a thickness of about 1 cm. Cut out 24 rounds with the round cutter. Stick the circles on the cupcakes with a little edible glue or jam.
Prepare 200 grams of FunCakes Mix for Buttercream as indicated on the package. Add the pink food coloring, mix it until the buttercream turns pink. Repeat until you have reached the desired color. Place the tip #1M in the decorating bag and fill it with the buttercream. Pipe a nice swirl on the cupcake and place about 3 raspberries.
Just a little while before you can enjoy your cupcakes. Don't forget to share your creation:
#funcakesbyme