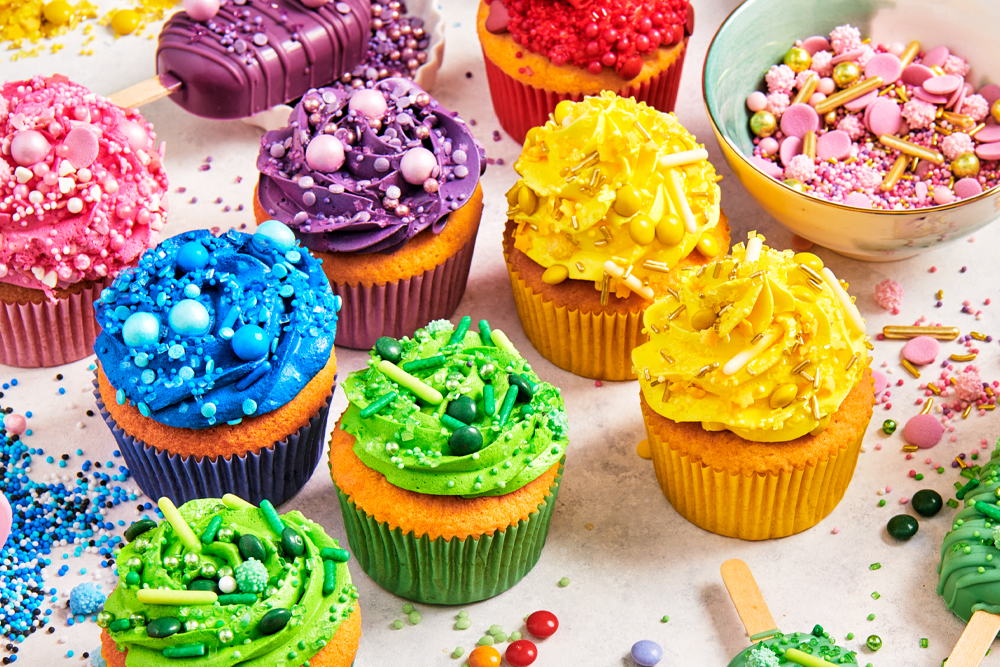 Rainbow cupcakes with sprinkles
Go wild with food colour gels and sprinkles and make the most beautiful rainbow cupcakes! They look super cool and are also fun to make together with your kids. Perfect to make for a birthday party!
1 hour and 20 min. preparing
What you need to make your rainbow cupcakes with sprinkles:
Ingredients
500 g FunCakes Mix for Cupcakes
400 g FunCakes Mix for Enchanted Cream®
FunCakes Food Colour Gel Red
FunCakes Food Colour Gel Pink
FunCakes Food Colour Gel Orange
FunCakes Food Colour Gel Bright Green
FunCakes Food Colour Gel Purple
FunCakes Food Colour Gel Royal Blue
FunCakes Food Colour Gel Yellow
Various FunCakes sprinkle medleys, nonpareils, pearls in the above colours
400 ml water
5 eggs (approx. 250 g)
250 g unsalted butter
Necessities
FunCakes Baking Cups Pink
FunCakes Baking Cups Yellow
FunCakes Baking Cups Red
FunCakes Baking Cups Grass green
FunCakes Baking Cups Royal Blue
FunCakes Baking Cups Orange
FunCakes Baking Cups Lilac
FunCakes Decorating Bags 46cm
Wilton Nozzle #1M Open Star (multiple)
Wilton Recipe Right® 12 Cup Muffin Pan
Preheat the oven to 180°C (convection oven 160°C).
Prepare 500g FunCakes Mix for Cupcakes as indicated on the package. Divide the various colours of baking cups over the muffin pan and fill to 2/3 with batter. Bake the cupcakes in approx. 18-22 minutes until done and light brown and let them cool.
Prepare 200 g FunCakes Mix for Enchanted Cream® in two portions with 200 ml water as indicated on the package. Divide this into several portions and colour these with the various food colour gels.
Divide the colours of Enchanted Cream® between decorating bags with the 1M nozzle and pipe tufts and/or rosettes onto the cupcakes. Decorate them with the corresponding colours of sprinkles, pearls and nonpareils.
Just a little while before you can enjoy your cupcakes. Don't forget to share your creation:
#funcakesbyme