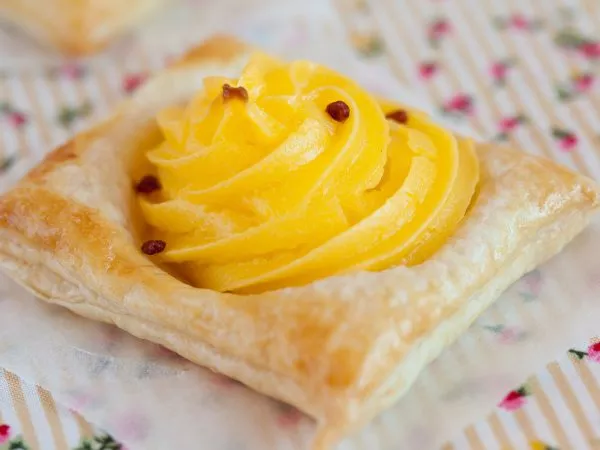 Puff pastries with crème pâtisserie
Are you craving something tasty? What do you think of these puff pastry pastries? They are so simple to make and also very tasty.
What you need to make your puff pastries with crème pâtisserie:
Ingredients
300 g FunCakes Mix for Crème Patisserie
750 ml water
1 package frozen puff pastry
Necessities
FunCakes Disposable Decorating Bags
Wilton Decorating Tip #1M Open Star Carded
Preheat the oven to 200°C (convection oven 180°C).
Defrost the puff pastry and cut these in squares of approx. 8 x 8 cm.
Tip! Strips of puff pastry that are left over can be put together by adding them on top of eachother and gently rolling it out.
Place the tip in the decorating bag and fill this with the cream. Spray a swirl of custard in the middle of the cakes. Let the cream rest on top of the puff pastry for at least 1 hour at room temperature.
Sprinkle just before baking some (pearl) sugar over the pastry if desired and bake the pastries in approx. 20-25 minutes until they are golden.
Just a little while before you can enjoy your pastries. Don't forget to share your creation:
#funcakesbyme