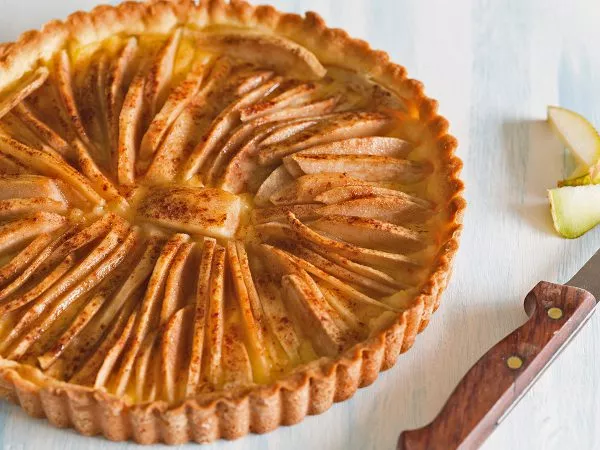 Pear pie
Do you also love pears and do you just want something different than the standard apple pie? What do you think of this pear pie? It is simple, full of flavor and ready quickly!
What you need to make your pear pie:
Ingredients
500 g FunCakes Mix for Cookies
125 g FunCakes Almondpaste
4 g FunCakes Gelatine Powder
150 g butter
1 egg (approx. 50 g)
3 to 4 (conference) pears
Lemon juice
200 ml water
50 g sugar
Necessities
FunCakes Bake Release Spray
Wilton Perfect Results Round Tart/Quiche Pan -23cm-
Wilton Chrome-Plated Cooling Grid
Brush
Preheat the oven to 175°C (convection oven 155°C).
Tip! You can also replace the water with juice.
Prepare 500 grams of FunCakes Mix for Cookies as indicated on the package. Let the dough stiffen in the fridge for an hour.
Slice the pears and remove the core. Cut the pears in small slices and sprinkle some lemon juice over them.
Roll out the dough on a bit of flour. Grease the baking pan with Bake Release Spray and cover the pan with the dough. Press the dough in the pan and remove the remaining dough.
Roll out the almond paste thinly (the best way to do this is between two layers of plastic foil). Cover the dough with a thin layer of almond paste. Place the pear slices on top like roof tiles. You can even sprinkle some cinnamon or vanilla sugar on the pears.
Bake the cake in preheated oven in approx. 30 minutes. The cake is ready when the edges are golden brown. Let the cake cool down after baking on a cooling grid.
For the jelly heat 200 ml of water and 50 gram of sugar till 40 degrees and stir 4 grams of gelatin powder through it. Add the jelly with a brush to your cake and let the cake for approx. 2 hours stiffen in the frigdge.
Just a little while before you can enjoy your cakes. Don't forget to share your creation:
#funcakesbyme