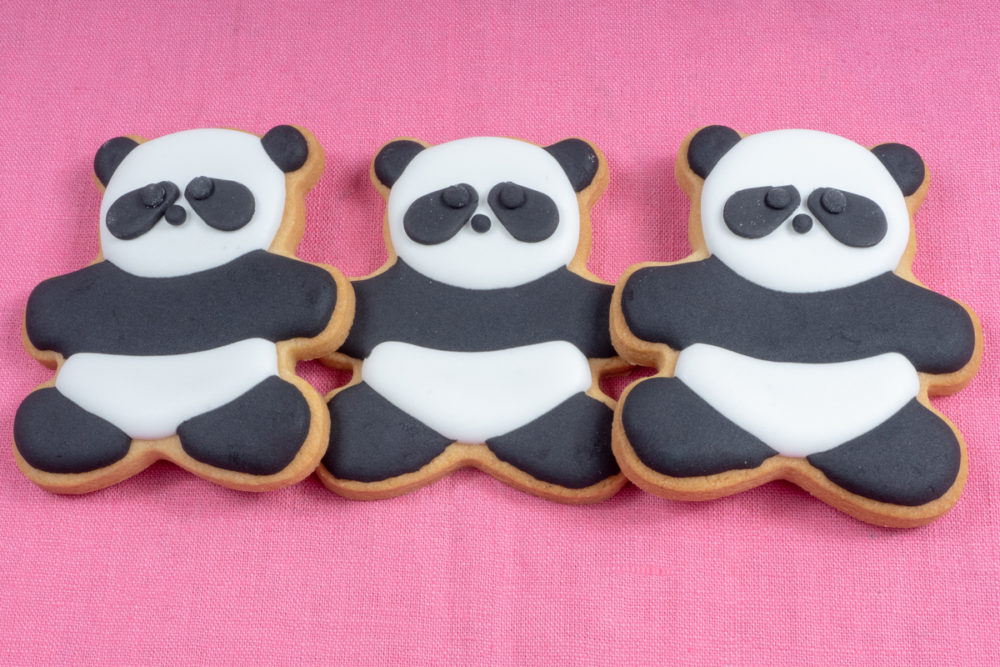 Panda cookies
Pandas aren't they cute? Give yourself a real jungle feeling by making these delicious panda cookies.
What you need to make your panda cookies:
Ingredients
500 g FunCakes Mix for Cookies
450 g FunCakes Mix for Royal Icing
FunCakes Fondant - Raven Black
FunColours Dust - Black
1 egg (aprox. 50g)
150 g unsalted butter
70 ml water
Necessities
FunCakes Edible Glue
FunCakes Magic Roll-Out Powder
FunCakes Decorating bags
Dusting pouch with Maïzena
Wilton -Perfect Height- rolling pin
Wilton -Wide Glide- rolling pin
Wilton Tip #3
Wilton Parchment paper
PME Cutter- Teddy
PME needle tool
PME cutting wheels
Prepare 500 grams of FunCakes Mix for cookies as indicated on the package and let it rest for at least 1 hour in the refrigerator.
Preheat the oven to 180 ° C (convection oven 160 ° C)
Knead the dough from the fridge for a moment and roll it out on a work surface dusted with Magic Roll-Out Powder to a thickness of 2-3 mm. Cut out as many bears as you have dough. Place them on the baking tray and bake the cookies for 10-12 minutes in the middle of the preheated oven until golden brown. Let  them to cool by using a cooling grid.
Prepare 450 gram FunCakes Mix for Royal Icing. Then dilute the icing with water to yoghurt thickness. Divide it into two portions and color one portion black with the black dust. Put this in two piping bags with tip # 3. First spray the white parts of the bears, let this dry for an hour and then spray the rest with black. Use the needle tool to distribute it nicely and to get into any corners. Let the cookies dry well.
Roll out the black fondant very thinly on a work surface dusted with magic roll out powder and make ovals for the eyes using the cutting wheel. Make the noses and pupils of small balls of black fondant. Glue this carefully with some edible glue on the cookies.
Just a little while before you can enjoy your cookies. Don't forget to share your creation:
#funcakesbyme