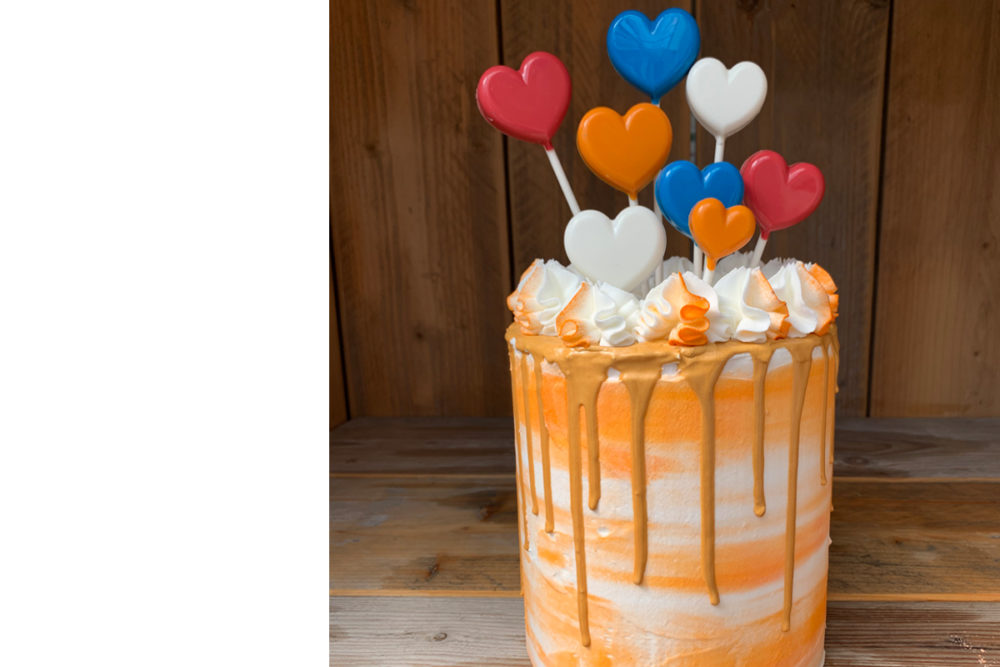 Orange drip cake with heart lollipops
There is something to celebrate on Kingsday, are you ready yet? With this Kingsday drip cake you can put something festive on the table and celebrate the king's birthday with your beloved. Everything turns orange on King's Day, so you definitely can't miss this cake.
What you need to make your orange drip cake with heart lollipops:
Ingredients
330 g FunCakes Mix for Sponge Cake Deluxe
225 g FunCakes Mix for Enchanted Cream®
FunCakes FunColours Gel Orange
FunCakes Deco Melts Extreme White
FunCakes Deco Melts Red
FunCakes Deco Melts Blue
FunCakes Nonpareils Red-White-Blue
FunCakes Choco Drip Gold
300 ml milk
30 ml water
5 eieren (aprox. 250 g)
Jam
Necessities
FunCakes Bake Release Spray
FunCakes decorating bags
FunCakes Lollipop Sticks 15cm
Wilton Lollipop Mold Mini Hearts
Wilton Tip #1M
Wilton Comfort Grip Spatula Straight 22,5 cm
Wilton Cooling Grid
2x Wilton Decorator Preferred Deep Round Pan® Ø 15 cm
Wilton Icing Smoother
Wilton Cake Leveler 25 cm
Preheat the oven to 180 ° C (convection oven 160 ° C).
Prepare 330 g of FunCakes Mix for Sponge Cake as indicated on the package. Grease the baking pan with Bake Release Spray and divide the batter into two baking pans. Bake the sponge cakes t in the middle of the preheated oven for 30-35 minutes. Let them cool down on a cooling grid.
Isn't your oven big enough to bake two sponge cakes at once? No problem, you're perfectly fine baking one cake after the other. Just mix the batters for the two cakes separately as well. If you leave the sponge cake batter for too long before baking it, it will loose the air. And we don't want that! For the quantities of the single cakes, check our quantity table.
Cut both sponge cakes  twice and fill the layers with jam of your choice and Enchanted Cream®. Cover the cake all around with a good layer of Enchanted Cream® and wipe here and there with the orange cream. Pull this tight using the side scraper. Let the cake cool for an hour in the refrigerator.
Heat the golden drip as indicated on the packaging and let the drip slide down the edge of the cake.
Place tip # 1M in a decorating bag. With a brush in the seam of the piping bag, draw a line with the orange FunColours Gel up into the decorating tip. Carefully fill the bag with the remaining Enchanted Cream® and pipe small tufts along the entire top edge of the cake. Return to refrigeration.
Melt the 4 colours of FunCakes Deco Melts in the microwave as indicated on the package and place in a decorating bag. Place the lollipops in the mould and fill them with the melted Deco Melts. Let this set in the refrigerator for about 15 minutes. Now easily  take the lollipops out of the mould. Place the lollipops into the cake and sprinkle some nonpareils on top.
Just a little while before you can enjoy your cakes. Don't forget to share your creation:
#funcakesbyme