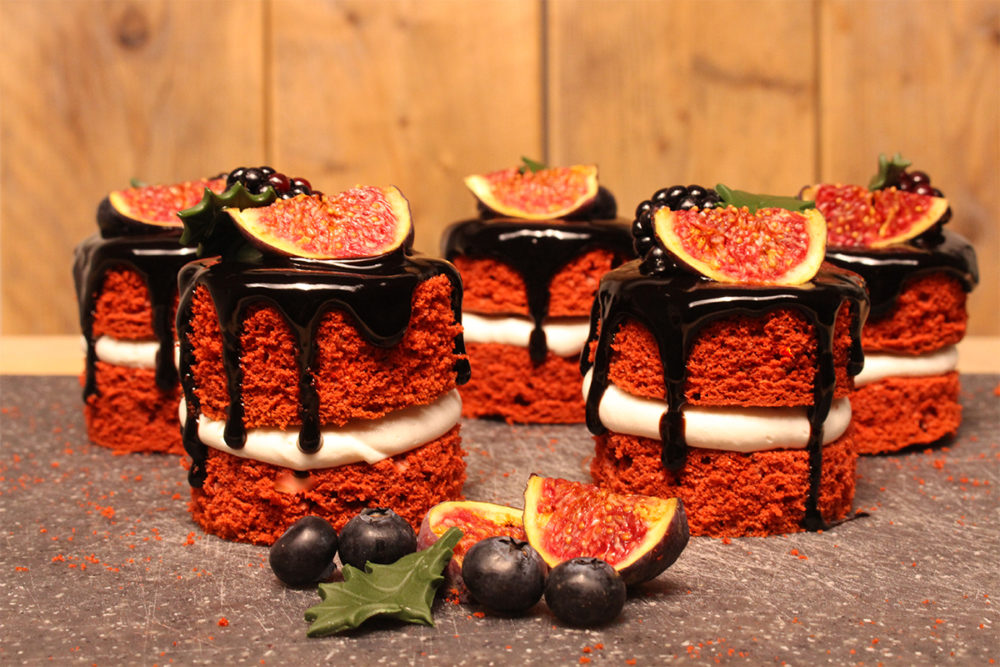 Mini red velvet drip cakes
With these mini red velvet drip cakes everyone can enjoy their own little cake. It looks super nice and you don't have to cut cake slices! Enjoy!
What you need to make your mini red velvet drip cakes:
Ingredients
400 g FunCakes Mix for Red Velvet Cake
125 g FunCakes Mix for Buttercream
60 g FunCakes fondant -Forest Green
FunCakes Flavourpaste - Mascarpone Cream
FunCakes Glaze Topping – Choco
FunCakes Magic Roll-Out Powder
285 ml water
150 g unsalted butter
70 g vegetable oil
2 eggs (approx. 50 g)
Various kinds of blue fruits: blackberries, blueberries, figs
Necessities
FunCakes disposable decorating bags 30 cm
FunCakes Bake Release Spray
Wilton -Perfect Height-Rolling Pin
Wilton Decorating Tip # 012 Round Carded
Wilton cake leveler
Wilton Recipe Right Non-Stick Cooling Grid
PME Deep Square Pan 22.5 x 22.5 x 7.5cm
PME Holly Leaf Plunger Cutter Set / 3
Cookie cutter ring Ø 6.5 cm
Preheat the oven to 180°C (160°C convection oven) and grease the baking pan with Bake Release Spray.
Prepare 400 g of FunCakes Mix for Red Velvet Cake and 150 g of FunCakes Mix for Buttercream as indicated on the package. Bake the cake for approx. 35-40 minutes. Release the cake from the baking pan right after baking and let it cool down on a cake rack. Add to taste the mascarpone flavour paste to the buttercream.
Knead the fondant, roll it out thinly on a with Magic Roll-Out Powder covered work surface and cut out enough holly leaves with a plunger set.
Cut the red velvet cake in half once and cut out round slices with the cookie cutter. Fill a decorating bag with tip #12 with the buttercream and pipe some cream on half of the cake slices. Place the other half of the slices on top of them. Heat a few tablespoons of Choco Topping in the microwave (no longer than 10 seconds), put it in a piping bag, cover the top of the cakes with it and let it slide from the sides to create the drip. Decorate with fresh fruit and the fondant leaves. Put in the refrigerator until further use.
Just a little while before you can enjoy your cakes. Don't forget to share your creation:
#funcakesbyme