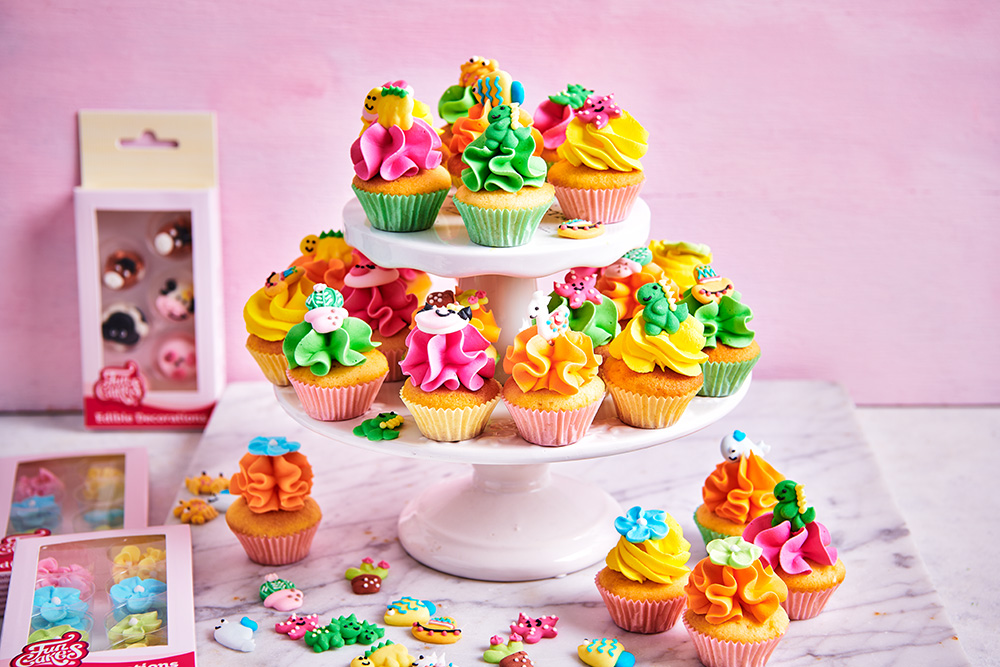 Mini cupcakes with sugar decorations
Get ready to be delighted by the cutest mini cupcakes you've ever laid your eyes on! Our baking mix has come to the rescue, helping you create these mini treats. Adorned with adorable sugar decorations, these cupcakes are guaranteed to bring joy and sweetness to any occasion. Whether you're planning a party or simply want to indulge in a delightful afternoon treat, these mini cupcakes will steal the show!
What you need to make your mini cupcakes with sugar decorations:
Ingredients
500 g FunCakes Mix for Cupcakes
175 g FunCakes Mix for Enchanted Cream®
FunCakes Food Colour Gel Pink
FunCakes Food Colour Gel Yellow
FunCakes Food Colour Gel Bright Green
FunCakes Food Colour Gel Orange
FunCakes Sugar Decorations Blossom Mix Pastel Set/32
FunCakes Sugar Decorations Alpaca Set/8
FunCakes Sugar Decorations Farm Animals Set/12
FunCakes Sugar Decorations Dino Set/12
FunCakes Sugar Decorations Sea Animal Set/8
175 ml milk
5 eggs (approx. 250 g)
250 g unsalted butter
Necessities
FunCakes Decorating Bags
4x Wilton Decorating Tip #1M Open Star
Wilton Recipe Right® Mini Muffin Baking Pan 24 cupcakes
PME Mini Baking Cups Pastel
Preheat the oven to 180°C (convection oven 160°C) and divide the baking cups between the mini muffinpan.
Prepare 500 g FunCakes Mix for Cupcakes as indicated on the package and put it in a decorating bag. Cut off a small tip and swirl the batter into the molds. Bake the cupcakes for about 15-19 minutes until light brown and let them cool.
Put the creams in the decorating bags with tip #1M and swirl small tufts on the cakes. Decorate the cakes with the sugar decorations.
Just a little while before you can enjoy your cupcakes. Don't forget to share your creation:
#funcakesbyme