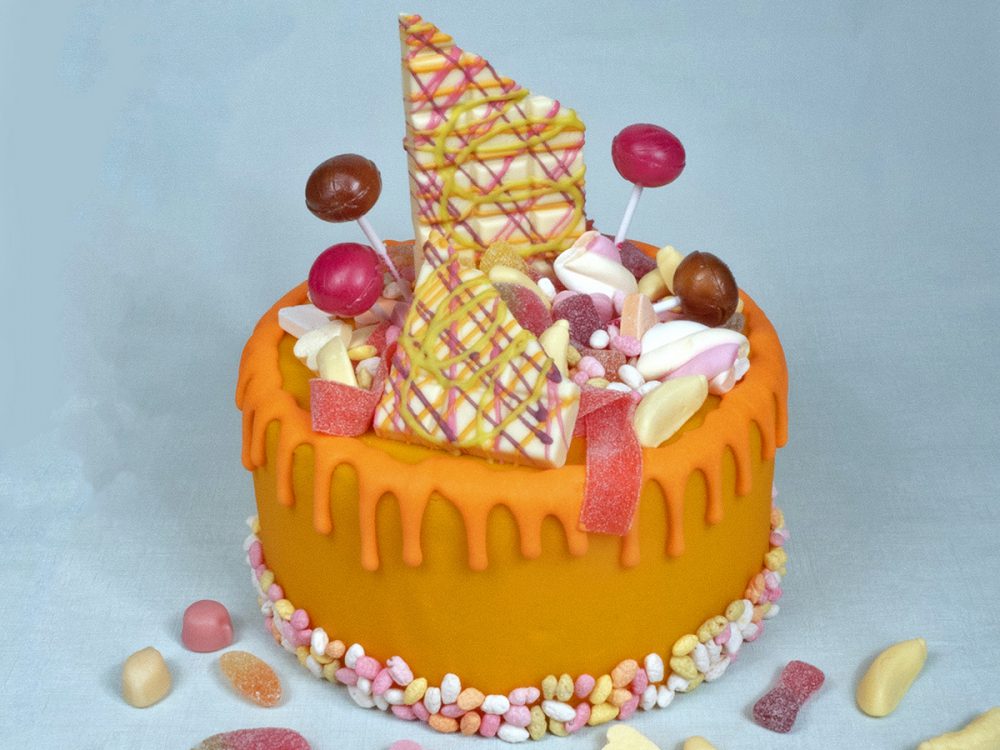 Marzipan candy cake
It is going to be a big party with this cheerful candy cake! Great for birthdays and for everyone who loves marzipan.
What you need to make your marzipan candy cake:
Ingredients
250 g FunCakes Mix for Sponge Cake Deluxe
125 g FunCakes Mix for Buttercream
FunCakes Flavour Paste -Lemon-
700 g FunCakes Marzipan -Golden Yellow-
FunCakes Edible FunColours Gel - Orange
FunCakes Dip 'n Drip White
FunCakes Deco Melts -Blue-
FunCakes Deco Melts -Yellow-
FunCakes Deco Melts -Lime Green-
FunCakes Deco Melts -Orange-
Wilton Clear Piping Gel
150 ml water
4 eggs (approx. 200 g)
150 g unsalted butter
Lemon curd
Bag Manna rice candies
White chocolate bar
Various types of candies
Necessities
FunCakes Bake Release Spray
FunCakes Disposable Decorating Bags
FunCakes Icing Sugar
Wilton Chrome-Plated Cooling Grid
Wilton Decorator Preferred Spatula Angled
Wilton -Wide Glide- Rolling Pin 50cm
Wilton Ultimate Cake Leveler
PME Extra Deep Round Cake Pan Ø 20 x 10cm
Wilton Fondant Smoother
FMM Knife/scriber tool
PME Plain Edge Side Scraper
Skewers
Preheat the oven to 180°C (convection oven 160°C).
Prepare 250 grams of FunCakes Mix for Sponge Cake as indicated on the package. Grease the baking pan with Bake Release Spray and divide the batter into the pan. Bake the sponge cake for 30-35 minutes and release it on a cooling grid right after baking.
Melt the Deco Melts at max. 500W in a bowl. Stir well every 15-20 seconds. Stop heating when the melts are almost completely melted (small bits of melts still visible). Keep stirring until the melts are completely melted. Break the chocolate bar in two pieces. Fill the decorating bags with the Deco Melts, cut of the tip and drizzle over the bar. Place the bar in the fridge for at least 15 minutes to harden.
Cut the sponge cake twice using the cake leveller and fill the layers with lemon curd and buttercream. Stack them ontop each other. Lubricate the outside of the cake with a thin layer of buttercream to fill holes and get rid of any bumps. Put it in the fridge for 30 minutes.
Knead the marzipan well and roll it out on a with icing covered work surface until it has a thickness of 3 mm. Use the marzipan to cover the cake and make it smooth using the smoothers. Remove the remaining marzipan.
Lubricate the bottom of the cake with some piping gel and paste the rice candies against it. Fill a microwave safe bowl with two tablespoons of dip 'n drip, colour it orange and heat it for 10 seconds in the microwave. This will make it a bit more liquid, but don't make it too hot. Fill a decorating bag with the drip, cut off the tip and let it drip down the cake.
Add a bit of buttercream to the top of the cake and place the chocolate bar against the picks. Decorate the cake with the various types of candies.
Just a little while before you can enjoy your cakes. Don't forget to share your creation:
#funcakesbyme