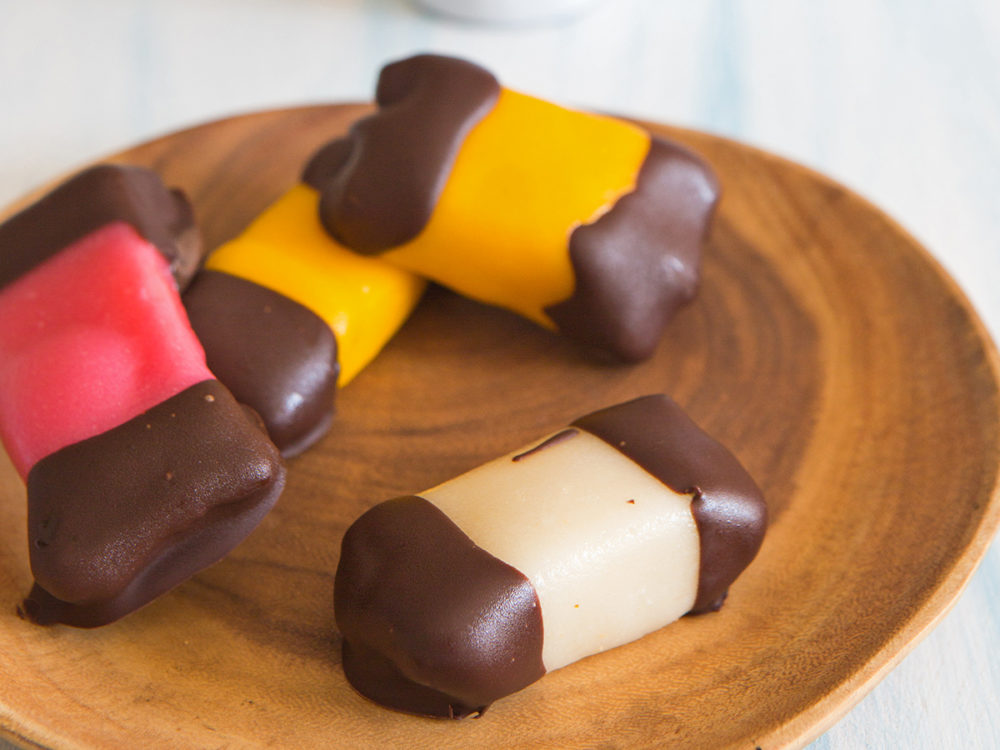 Marrow pipe cakes
Marrow pipe cakes are a Dutch pastry based on cream, marzipan and chocolate. It's a delicious combination inspired by the Swedish dammsugare or punschrulle.
2 hour and 15 min. waiting
What you need to make your marrow pipe cakes:
Ingredients
330 g FunCakes Mix for Sponge Cake
100 g FunCakes Mix for Buttercream
FunCakes Marzipan Natural 1:4
FunCakes Marzipan Golden Yellow
FunCakes Marzipan Classic Pink
FunCakes Chocolate Melts Dark
133 ml water
125 g unsalted butter
5 eggs (approx. 260 g)
Jam
Necessities
FunCakes Bake Release Spray
Wilton Recipe Right Square Pan 20x20cm
Wilton -Wide Glide- Rolling Pin
Wilton Cooling Grid
Preheat the oven to 175°C (convection oven 160°C).
Prepare 300 grams of FunCakes Mix for Sponge Cake as indicated on the package. Pour the batter into the greased baking pan (1/2 to 2/3 full). Bake the cake in the preheated oven in approx. 35 minutes. Release the cake immediately after baking and let it cool down on a cooling grid.
Prepare 100 grams of FunCakes Mix for Buttercream as indicated on the package. Cut the cake in the shape of rectangles. Cut the cakes in two parts. Cover the first part with a layer of jam, then a layer of buttercream and at last again a layer of jam. Place the second part of the cake on top.
Roll out the marzipan and cut this in the size of the cakes. Cover the bottom and sides with cream and cover the cake with the marzipan. Let the cakes stiffen in the refrigerator for approx. 15 minutes.
Melt the chocolate au bain-marie, in the microwave or in the chocolate melter. Carefully dip the bottom part of cakes in the chocolate. Let the chocolate harden. Then dip the sides of the cakes in the chocolate.
Just a little while before you can enjoy your treats. Don't forget to share your creation:
#funcakesbyme