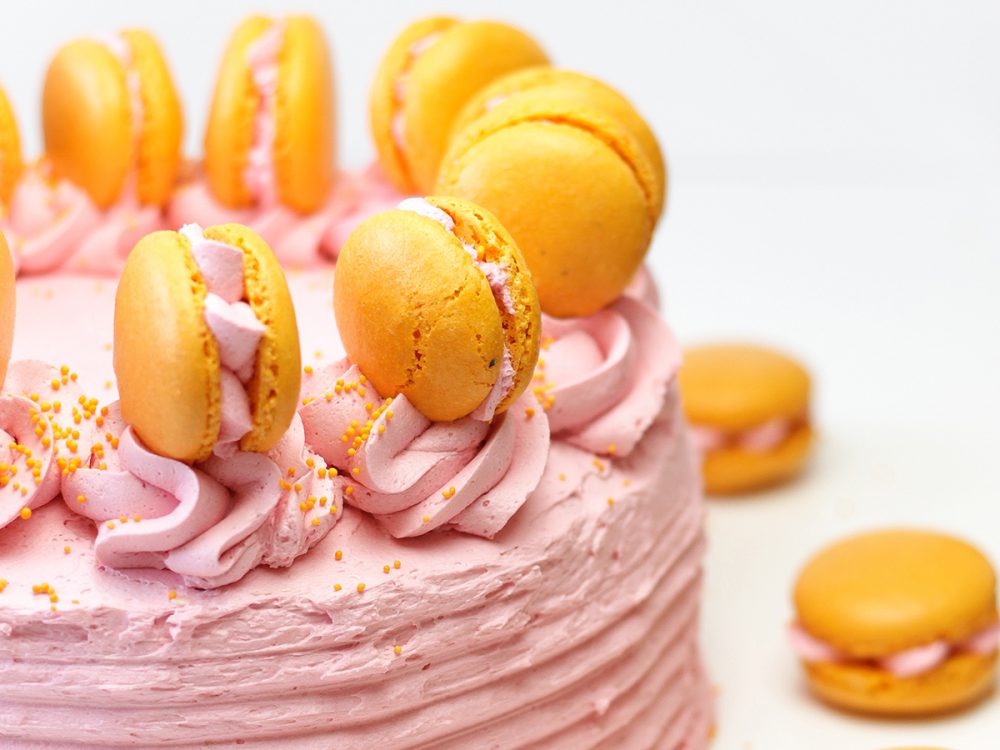 Macaron cake
Macaron time! With this cake every occasion will be a party!
1 hour and 15 min. preparing
1 hour and 25 min. cooking
What you need to make your macaron cake:
Ingredients
300 g FunCakes Mix for Macarons
200 g FunCakes Mix for Cupcakes
250 g FunCakes Mix for Buttercream
FunCakes Flavour paste -Forest Fruits-
Wilton Icing color - Orange
Wilton Icing color - Pink
FunCakes Nonpareils -Orange-
250 ml water
70 g eggwhite
5 eggs (circa 250 g)
550 g unsultad butter
Forest fruit jam
Necessities
FunCakes Disposable Decorating Bags
FunCakes Bake Release Spray
Wilton Decorator Preferred® Deep Round Pan Ø 20x7,5cm
Wilton Decorating Tip #1M Open Star Carded
Wilton Ultimate Cake Leveler
Wilton Chrome-Plated Cooling Grid
Silikomart Wonder Cakes Macaron Mat
PME Plain Edge Side Scraper
Preheat the oven at 140°C (convection oven 120°C).
Prepare 300 grams of FunCakes Mix for Macarons as indicated on the package and add orange food colouring. Fill a piping bag with the batter and pipe rounds on the macaron mat. Let them rest for 2 hours and bake for 15 minutes.
Preheat the preheated oven to 160°C (convection oven 140°C).
Prepare 200 grams of FunCakes Mix for Cupcakes as indicated on the package. Grease in the baking pan with Bake Release Spray and fill with the batter. Bake the cake for 70 minutes and release it on a cooling grid right after baking.
Cut the cake using a cake leveller and fill it with buttercream and jam. Stack them on each other. Lubricate the outside of the cake with a thin layer of buttercream to fill holes and get rid of any bumps. Put it in the fridge for 30 minutes to stiffen and apply another layer of buttercream. Smoothen this layer with a side scraper.
Place tip #1M in the decorating bag and fill this with remaining buttercream. Fill the macarons and place them on each other.
Pipe swirls on the cake and decorate with macarons and nonpareils.
Just a little while before you can enjoy your cakes. Don't forget to share your creation:
#funcakesbyme