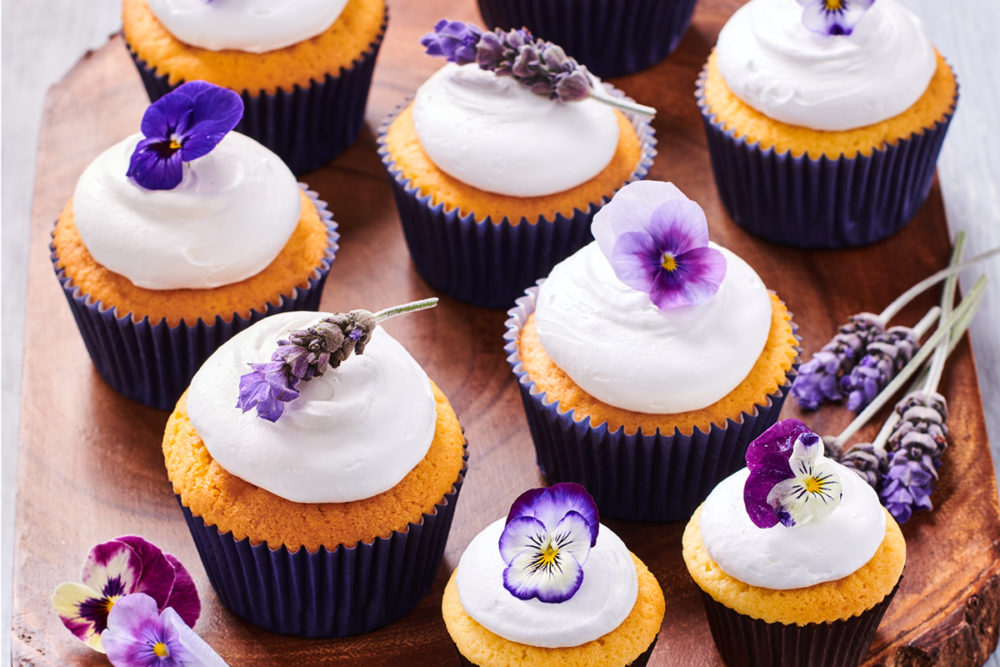 Low sugar cupcakes with Enchanted Cream®
These delicious cupcakes with our enchanted cream are perfect if you feel like eating something sweet, but think buttercream is too heavy. This wonderfully light cream is also low in sugar. The ideal combination for all sweet tooth.
What you need to make your low sugar cupcakes with enchanted cream®:
Ingredients
500 g FunCakes Mix for Cupcakes – Low Sugar
200 g FunCakes Mix for Enchanted Cream® - Low Sugar
250 g unsalted butter
70 ml milk
65 ml water
5 eggs (approx. 250 g)
Necessities
Wilton Recipe Right® Muffin Pan
House of Marie Baking Cups Navy Blue
FunCakes Decorating Bags
Wilton Decorating Tip #2A
Lavender branches
Edible violets
Preheat the oven to 180°C (convection oven 160°C).
Prepare 500 grams of FunCakes Mix for Cupcakes – Low Sugar as indicated on the package. Line a muffin pan with paper baking cups and fill them with batter. Bake the cupcakes in the oven for approx. 18 – 20 minutes and let them cool down using a cooling grid.
Prepare 100 grams of FunCakes Mix for Buttercream – Low Sugar as indicated on the package. Place decorating tip #2A in the decorating bag and fill this with the cream. Pipe swirls on the cupcakes and decorate them with lavender and violets.
Just a little while before you can enjoy your cupcakes. Don't forget to share your creation:
#funcakesbyme