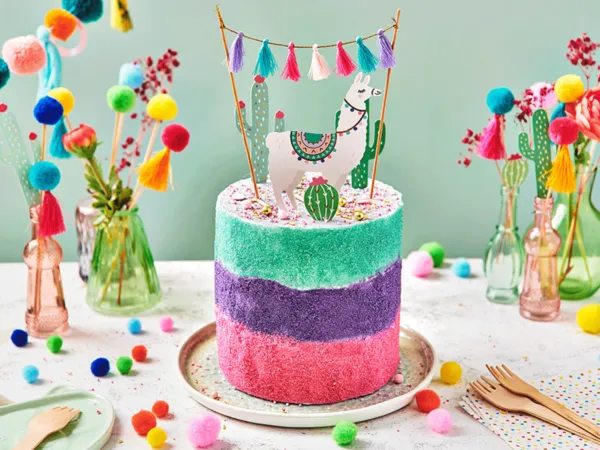 llama cake
Treat yourself to a Lama-tastic treat with our brand new sanding sugar from FunCakes! This colorful addition adds a sparkly touch to your llama cake. Let the sweet magic begin!
1 hour and 30 min. preparing
What you need to make your llama cake:
Ingredients
250 g FunCakes Mix for Sponge Cake Deluxe
300 g FunCakes Mix for Buttercream
FunCakes Sanding Sugar Purple
FunCakes Sanding Sugars Pink
FunCakes Sanding Sugars Green
FunCakes Sanding Sugars Silver
FunCakes Medley Glamour Pink
FunCakes flavour Paste Elderflower
FunCakes Bake Release Spray
375 g unsalted butter
325 ml water
4 eggs (approx. 200 g)
Necessities
2x Wilton Decorator Preferred® Deep Round Baking Pan Ø 15x7,5cm
Wilton Small Cake Leveler 25cm
Wilton Recipe Right Non-Stick Cooling Grid 40x25 cm
Wilton Basic Turn Table
Patisse Cake Side Scraper 20cm
PartyDeco Cake toppers Llama pk/5
Preheat the oven to 180°C (convection oven 160°C) and grease the baking pans with baking spray.
Prepare 250 g FunCakes Mix for Sponge Cake Deluxe as indicated on the package and divide between the two baking pans. Bake the cake for about 30-35 minutes until done. Let the cake cool down by using a cooling grid.
Using the cake leveler, cut the cakes both 2x. Start and end with a bottom of a cake, this way you get a nice straight cake. Fill the layers with elderflower buttercream and spread with buttercream all around. Let the cake cool and harden well in the refrigerator.
Sprinkle on a baking sheet in long strips against each other the pink, purple and green FunCakes Sanding Sugars. Cut two pieces of baking paper the same diameter as the cake and place it against the bottom and top. Now gently roll the cake through the sugar with your hands on the baking paper until well coated. On the top, sprinkle the silver sugar.
Stick the llama topper into the cake and sprinkle some of the medley in between.
Just a little while before you can enjoy your cakes. Don't forget to share your creation:
#funcakesbyme