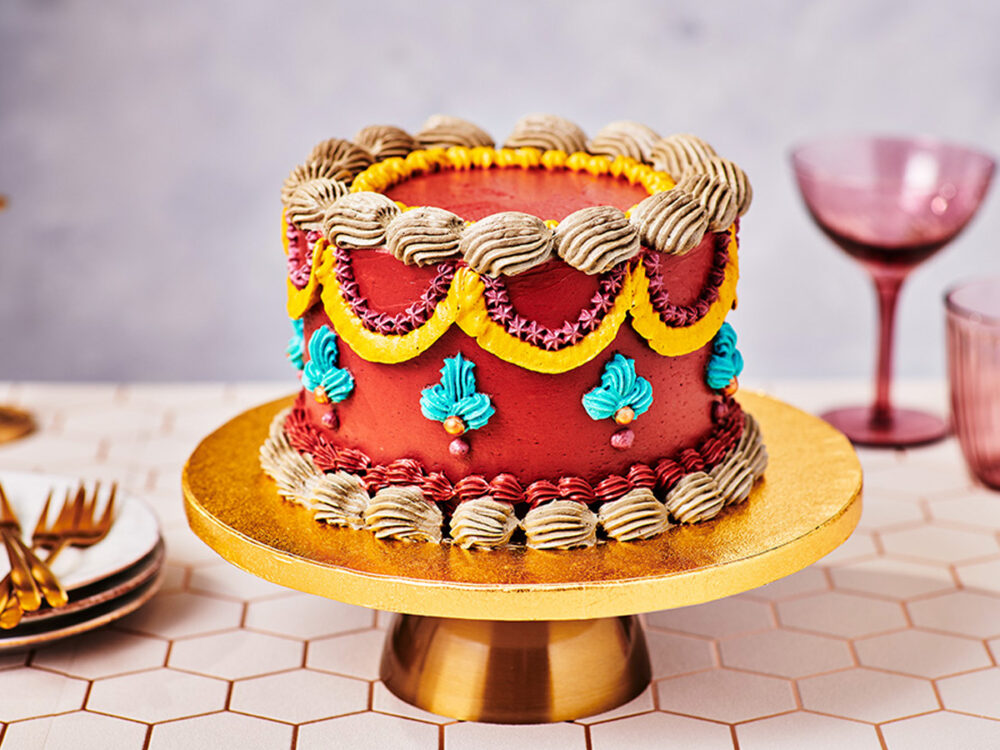 Lambeth earth colours cake
Step aside, ordinary cakes, because there's a new trend in town. Introducing the Lambeth Cake in earthy colors. Get ready to unleash your inner pastry Picasso and create a cake that's not only delicious but also a feast for the eyes.
1 hour and 45 min. preparing
What you need to make your lambeth earth colours cake:
Ingredients
250 g FunCakes Mix for Sponge Cake Deluxe
200 g FunCakes Mix for Buttercream
FunCakes Food Colour Gel Honey Gold
FunCakes Food Colour Gel Red Earth
FunCakes Food Colour Gel Teal Blue
FunCakes Food Colour Gel Urban Taupe
FunCakes Food Colour Gel Old Rose
FunCakes Flavour Paste Malaga
FunCakes Bake Release Spray
250 g unsalted butter
225 ml water
100 g raisins
4 eggs (approx. 200 g)
Necessities
FunCakes Decorating Bags
Wilton Decorator Preferred® Deep Round Pan Ø 20x7,5cm
Wilton Small Cake Leveler
Wilton Basic Turntable
Wilton Recipe Right Non-Stick Cooling Grid 40x25 Cm
Wilton Comfort Grip Spatula Angled 22,5 Cm
Wilton Standard Adaptor/Coupler (Multiple)
Wilton Decorating Tip #103 Petal Carded
Wilton Decorating Tip #6b Open Star Carded
Wilton Decorating Tip #018 Open Star Carded
Wilton Decorating Tip #016 Open Star Carded
PME Plain Edge Side Scraper
Preheat the oven to 180°C (convection oven 160°C).
Prepare 250 g FunCakes Mix for Sponge Cake Deluxe as indicated on the package. Grease the baking pan with FunCakes Bake Release Spray and spatula the batter into it. Bake the cookie for about 30-35 minutes until done and immediately after baking, dump onto a cake rack and let cool completely.
Cut the sponge cake with the cake saw 2x and fill with the malaga buttercream. Place some soaked raisins on each layer of buttercream. Coat the entire outside with a thin layer of buttercream and let set in the refrigerator.
Colour a few tablespoons of buttercream with the FunCakes Food Color Gel Red Earth and spread it all around the cake.
Divide the rest of the buttercream into 4 portions and colour this with the remaining 4 FunCakes Food Colours Gels. Put the buttercream colours in decorating bags with couplers and different decorating tips. The 6B tip goes into a decorating bag without a coupler.
With decorating tip #103, make the garland in arcs along the cake. Hold the thick part of the tip up and move the tip back and forth a little while swirling. This will create a bit of a ruffle.
With #6B make a shell border on top of the cake and at the bottom. Use the other tips to further decorate the cake as desired.
The couplers make it easy to change tips and colours. Just unscrew the coupler, remove the tip and put another tip on it. This way you can make different decorations with the same colour of cream.
Just a little while before you can enjoy your cakes. Don't forget to share your creation:
#funcakesbyme