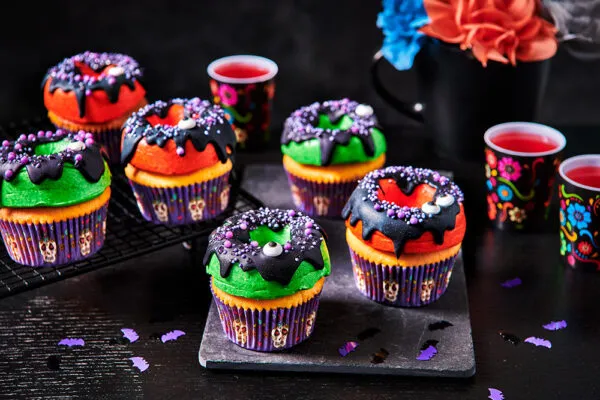 Halloween donut cupcakes
A new way to decorate cupcakes! Freeze your buttercream in a donut mold, stick it on your cupcake and decorate it with all kinds of Halloween sprinkles. More of the scary figures? Freeze your buttercream in a spooky mold. This way you will have fun and spooky cupcakes.
What you need to make your halloween donut cupcakes:
Ingredients
500 g FunCakes Mix for Cupcakes
200 g FunCakes Mix for Buttercream
150 g FunCakes Deco Melts Black
FunCakes Flavour Paste Whipped Cream
FunCakes Food Colour Gel Red
FunCakes Food Colour Gel Yellow
FunCakes Food Colour Gel Bright Green
FunCakes Sugar Decorations Eyes
FunCakes Sprinkle Medley Purple
500 g unslated butter
200 ml water
5 eggs (approx. 250 g)
Necessities
FunCakes Baking Cups Halloween
FunCakes Decorating Bags
Wilton Recipe Right® Muffin Baking Pan 12 cupcakes
Scrapcooking Siliconen Mal Donut
Preheat the oven to 180°C (convection oven 160°C) and divide the baking cups between the muffin tray.
Prepare 500 g FunCakes Mix for Cupcakes as indicated on the package. Divide the batter among the baking cups. Bake the cupcakes for about 18-22 minutes until done and let them cool from the muffin pan on the counter.
Divide the buttercream into two portions and colour 1 portion green and 1 portion orange, using the red and yellow food colouring.
Put this in a decorating bag, cut off a tip and swirl the cream into the donut mold. Press a cupcake on top of this and let this freeze. When they are frozen stiff carefully remove them from the mold and make another series.
Melt the black FunCakes Deco Melts according to instructions on the package in the microwave and put it in a decorating bag.
Decorate the donuts with the black Deco Melts and immediately sprinkle some of the purple medley on top and press an eye on it.
Just a little while before you can enjoy your cupcakes. Don't forget to share your creation:
#funcakesbyme