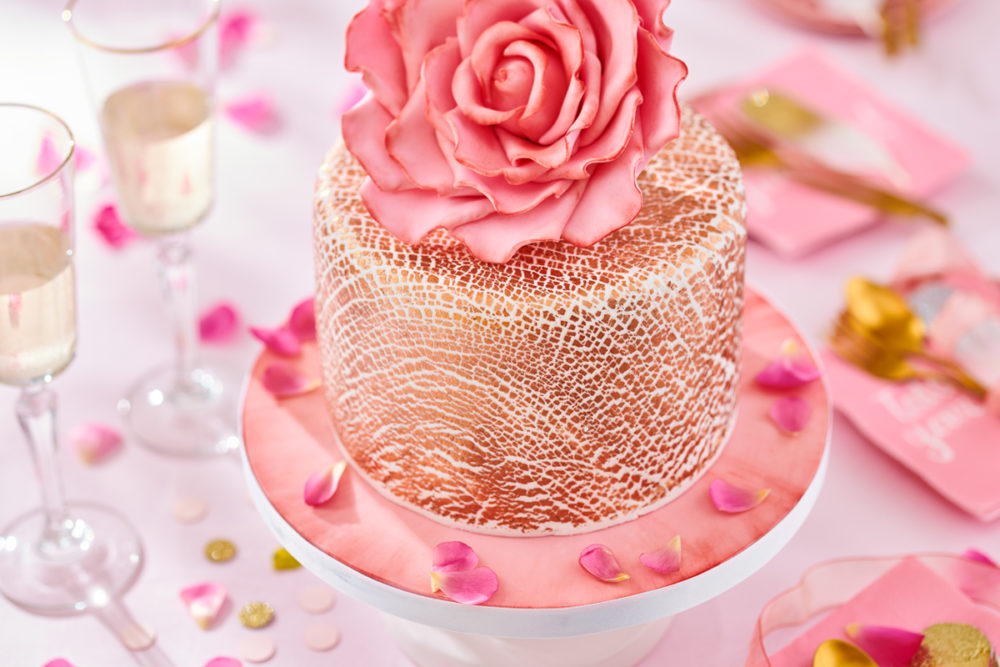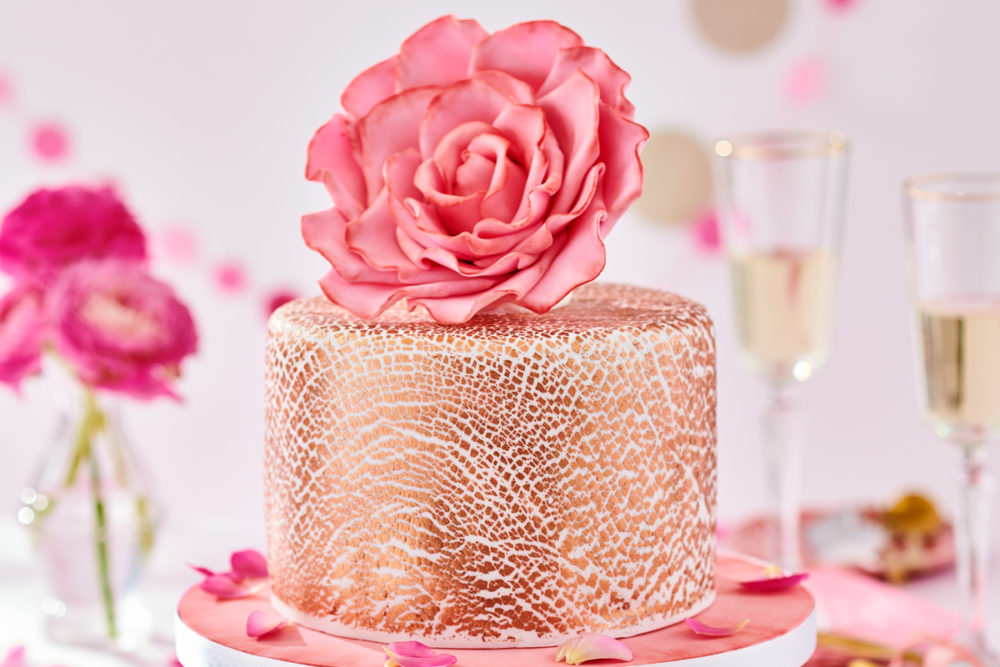 Golden crackled cake
This golden crackled cake looks like a piece of art and it tastes even better! The best part is that it isn't that hard to create this cake, but it will definitely make a really good first impression.
1 hour and 31 min. preparing
What you need to make your golden crackled cake:
Ingredients
200 g FunCakes Mix for Sponge Cake
125 g FunCakes Mix for Buttercream
325 g FunCakes Modelling Paste White
400 g FunCakes Fondant Bright White
FunCakes Flavour Paste Sparkling Wine
FunCakes FunColours Sparkle Dust - Golden Ginger
FunCakes FunColours Dust - Chili Red
FunCakes FunColours Dust - Soft Pink
FunCakes FunColours Gel - Pink
FunCakes Clear Piping Gel
4 eggs (approx. 200 g)
145 ml water
150 g unsalted butter
Necessities
FunCakes Bake Release Spray
FunCakes Magic Roll-Out Powder
Wilton Decorating Brush
Wilton -Perfect Height- Rolling Pin
Wilton -Wide Glide- Rolling Pin
Wilton Cooling Grid
Wilton Cake Leveler
Wilton Decorator Preferred Spatula Angled
PME Large Rose Petal Cutter
Sugarflair Confectioners Glaze
Sugarflair Rejuvenator Spirit - Alcohol -
Culpitt Floral Wire White
PME Foam Pad
FMM Bone tools
PME Extra Deep Round Cake Pan Ø 15 x 10 cm
Crème brûlée burner
Plastic spoons
Styrofoam ball 3 cm
Glue gun
Plastic folders
Insert half a floral wire into the styrofoam ball using the glue gun. Color 325 grams of modeling paste with the pink gel. Coat the ball with piping gel. Roll out the modeling paste on a small amount of confectioners' sugar to a thickness of about 1 mm and cut out 4 small petals and place this between two plastic folders.
Place a petal on the foam pad and thin the edge with the bone tool. Glue this around the top of the styrofoam ball so that you no longer see it. This is your cone. Do the same with the other 3 petals and glue them around the cone. Roll out the modeling paste again and cut out 12 medium petals and 10-12 large petals and place them between two plastic folders to prevent them from drying out. Dilute all petals 1 by 1 on the edge with the bone tool and roll the sides slightly around a cocktail stick and place them in the plastic spoons. Let them dry slightly. (+/- 5 minutes).
Glue 5 medium petals a little under the previous three petals. Then you glue 7 medium petals in the same way. Let this dry for half an hour, preferably hanging upside down. Finally, glue the largest size of petals from the bottom of the styrofoam ball roof-tile wise. Cut the iron wire away completely and put the rose in a piece of kitchen paper in a suitable dish.
Tip! Make the large rose 2-3 days in advance so that it can dry well.
To dust the rose, make a mix of the chili red and the soft pink dust powder and use this to work the edges of the rose with a flat brush.
Warning! The rose is not edible.
Preheat the oven  175°C (convection oven 160°C).
Prepare 200 grams of FunCakes Mix for Sponge Cake as indicated on the package. Grease the baking pan with baking spray. Fold the batter into the pan and bake the biscuit for about 30 – 35 minutes. Put it on a cooling grid and let it cool completely.
Prepare 200 grams of FunCakes Mix for Buttercream as indicated on the package and add flavor paste to taste. Cut the biscuit 2 times and fill and cover with buttercream. Place the cake in the refrigerator so that the buttercream can set.
Roll out 400 grams of white fondant to a thickness of about 3 – 4 mm on a work surface sprinkled with magic roll-out powder. Then light the crème brûlée burner and burn the whole slice of fondant slightly but don't let it brown! Let this dry. There is now a crust on the fondant slice. Then coat the whole slice with a thin layer of confectioners glaze and let it dry again. Make a paint with the golden ginger powder and rejuvenator and paint the entire slice of fondant with this and let it dry again until the paint no longer gives off. Now roll the slice further on your work surface until it is large enough to cover your cake. Because the sugar layer will burst while rolling out you get a crackled motif. Cover the cake with this.
Attach the rose on top of the cake with a dash of buttercream.
Just a little while before you can enjoy your cakes. Don't forget to share your creation:
#funcakesbyme