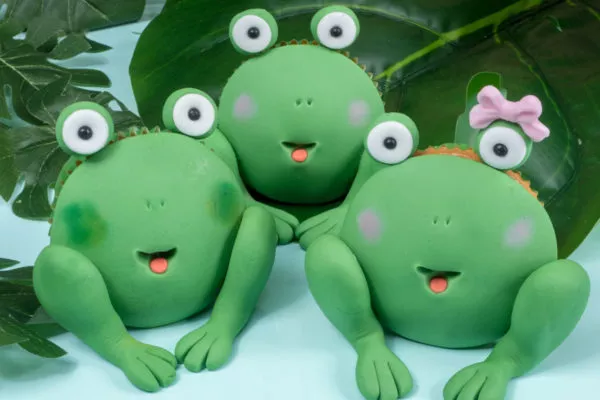 Frog cupcakes
Make these super cute frog cupcakes now! They are cute, sweet, easy and a lot of fun to make together with the whole family. Who is ready for a baking day with a lot of croaking?
What you need to make your frog cupcakes:
Ingredients
500 g FunCakes Mix for Cupcakes
500 g FunCakes Fondant -Bright White-
FunCakes Mix for Icing Sugar
FunCakes Fondant Fire Red
FunCakes Fondant Pretty Pink
FunCakes Sugarpearls 4mm Black
FunCakes FunColours Gel - Bright Green
FunCakes FunColours Dust – Soft Pink
FunCakes FunColours Dust – Ivy Green
FunCakes Edible Glue
250 g unsalted butter
5 eggs (aprox. 250 g)
Apricot jam
Necessities
FunCakes Baking Cups -Green-
FunCakes Magic Roll-Out Powder
Wilton Recipe Right® Muffin Pan
Wilton Decorating Brushes
Wilton -Perfect Height- Rolling Pin
Wilton Cooling Grid
PME Miniature Round Plunger Cutter
Cookie Round Cutter Ø7cm
Silkomart moddeling tools
Preheat the oven to 180°C (convection oven 160°C).
Prepare 500 grams of FunCakes Mix for CupCakes as indicated on the package. Divide the baking cups over the muffin pan and fill with the cupcake batter. Bake the cupcakes in the middle of the preheated oven for 18 – 20 minutes and let them cool down on a cooling grid.
Knead 500 grams of white fondant well and keep a small amount separate. Colour the large part green and roll this out on a with magic roll-out powder covered worksurface until it has a thickness of 3 mm. Cut out enough rounds to cover all your cupcakes. Lubricate the cupcakes with a bit of jam and place the fondant rounds on top.
Use the dresden tool to make the mouth and nose. Use the mini plunger cutter to cut out white rounds. Pressing the two similar balls flat, place the white round on the cupcake and apply the sugarpearls to finish the eyes.
Make two similar rolls of green fondant, make sure that one side is thicker and press it a bit flat. Press the smaller part also flat and make the toes. Place the cupcakes on their sides and paste the legs on to the cupcake with some edible glue. Give some frogs a blush soft pink and ivy green dust.
Just a little while before you can enjoy your cupcakes. Don't forget to share your creation:
#funcakesbyme