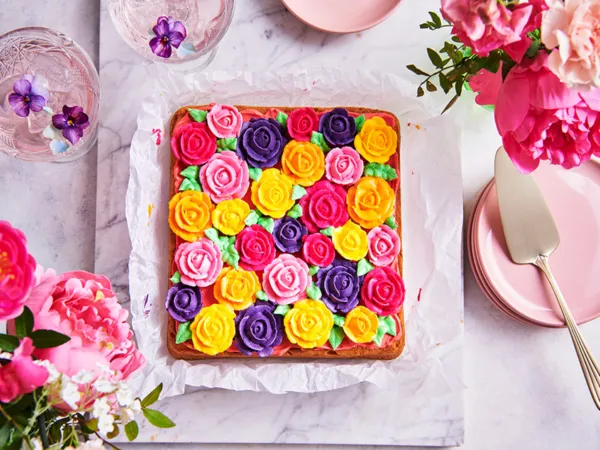 Flower sheet cake
Looking for a fun and creative way to bake a cake that's perfect for a flower power-themed party? Try making a flower power sheet cake with buttercream flowers!
What you need to make your flower sheet cake:
Ingredients
250 g FunCakes Mix for Sponge Cake Deluxe
300 g FunCakes Mix for Buttercream
FunCakes Flavour Paste Rose
FunCakes Food Colour Gel Purple
FunCakes Food Colour Gel Pink
FunCakes Food Colour Gel Orange
FunCakes Food Colour Gel Yellow
FunCakes Food Colour Gel Bright Green
375 g unsalted butter
325 ml water
4 eggs (approx. 200 g)
Necessities
FunCakes Decorating Bags
Wilton Covered Brownie Pan Square 22,5 X 22,5cm
Wilton Standard Adaptor/ Coupler (multiple)
Wilton Decorating Tip #104 Petal Carded (multiple)
Wilton Decorating Tip #012 Round Carded (multiple)
Wilton Decorating Tip #352 Leaf Carded
Wilton Decorating Nail Set
Wilton Cooling Grid
Wilton Small Cake Leveler
Wilton Parchment Paper
Preheat the oven to 180°C (convection oven 160°C).
Prepare 250 g FunCakes Mix for Sponge Cake Deluxe as indicated on the package. Grease the baking pan with FunCakes Bake Release Spray and place an parchment of baking paper on the bottom. Spoon the batter into the baking pan and bake for about 30-35 minutes until done. Let the cake cool down by using a cooling grid.
Cut the sponge cake in half with the cake leveler and fill and spread all around with a layer of Buttercream and put in the fridge.
Divide the buttercream into 5/6 portions and color it with the FunCakes Food Color Gel. Prepare 2 decorating bags per colour of buttercream (except for green) with couplers and tip #104 and #012. Put the green buttercream in a decorating bag with coupler and #352. Cut from parchment paper small squares of 4×4 cm.
Stick a small square of parchment paper on the flower nail with a little buttercream. Swirl with #012 a pyramid-shaped tuft 1 cm high. Spray a ribbon around the tuft with #104. Make sure the thick side of the tip is pointing down. Now make a second row of 3 leaves of 1.5 cm around the tuft. After this make a row of 5 petals of 1.5 cm around the previous row of petals. Finally, make a row of 7 petals of 1.5 cm around the previous row of petals. Carefully remove it with the parchment paper from the flower nail and place on a plate. In this way, make as many roses as you think you will need in different colours. Place the plate of roses in the freezer for a few hours, this way you can easily position them on your cake.
TIP: Need some extra help? Check out our blog: How to Make Buttercream Flowers!
Remove the cake from the refrigerator and take out 5 florets at a time and place them on the cake until your entire cake is full of florets. Using the green buttercream and tip #352, swirl leaves between the gaps between the roses.
Just a little while before you can enjoy your cakes. Don't forget to share your creation:
#funcakesbyme