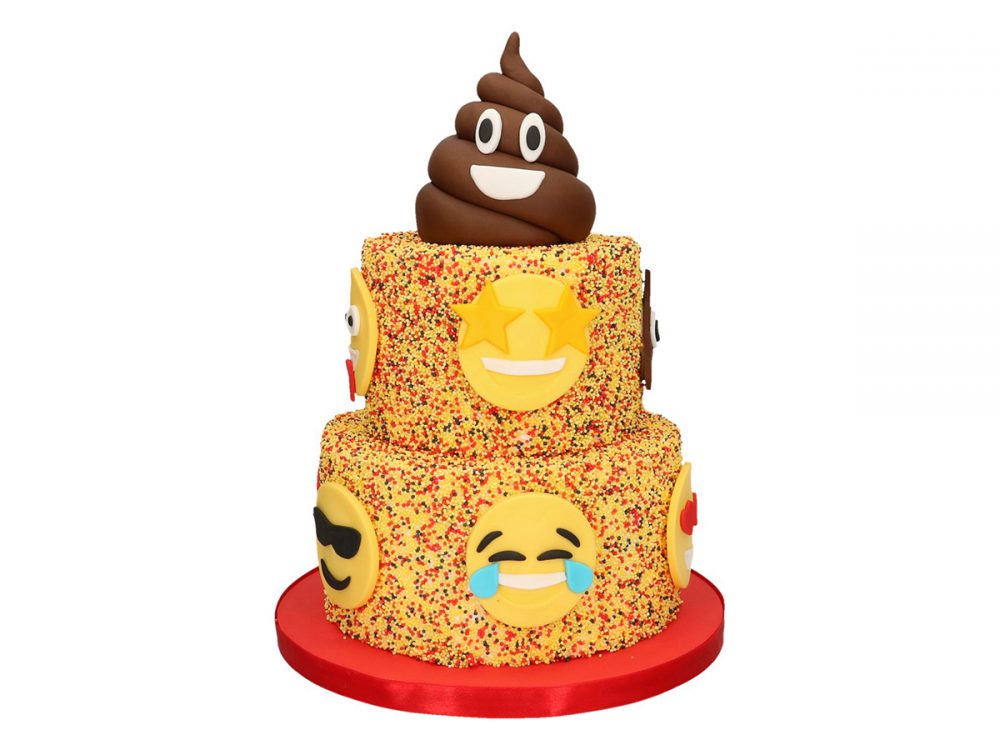 Emoticon cake
Be the centre of the party with this emoji stacked cake!
What you need to make your emoticon cake:
Ingredients
330 gram FunCakes Mix for Sponge Cake Deluxe
200 gram FunCakes Mix for Buttercream
FunCakes Flavour Paste -Zesty Strawberry-
450 gram FunCakes Fondant -Maroon Brown-
300 gram FunCakes Fondant -Mellow Yellow-
Small amount of FunCakes Fondant -Raven Black-
Small amount of FunCakes Fondant -Fire Red-
Small amount of FunCakes Fondant -Baby Blue-
FunCakes Edible Glue
Small amount of prepared FunCakes Royal Icing
240 gram FunCakes Nonpareils -Yellow-
80 gram FunCakes Nonpareils -Red-
40 gram FunCakes Nonpareils -Black-
5 eggs (approx. 250 g)
233 ml water
250 gram unsalted butter
Strawberry marmalade
Necessities
FunCakes Icing SugarFunCakes Bake Release Spray
FunCakes Cake Board Round Ø12,5cm
FunCakes Cake Board Round Ø17,5cm
FunCakes Cake Cards silver/gold ROUND 16cm
Wilton Ultimate Cake Leveler
Wilton Chrome-Plated Cooling Grid
Wilton -Perfect Height- Rolling Pin 22,5cm
Wilton Plastic Dowel Rods
PME Plain Edge Side Scraper
PME Extra Deep Round Cake Pan Ø 20 x 10cm
PME Extra Deep Round Cake Pan Ø 15 x 10cm
PME Miniature Oval Plunger Cutter set/4
PME Miniature Round Plunger Cutter set/3
FMM Star Cutter Set/4
Patisse Plunger Cutter Heart set/3
FMM Knife/scriber tool
Patisse Cookie Cutter Round Set/5
Make the poopy a day in advance. Knead 450 grams of brown fondant well, turn it into a very long cone and use it to make the poopy. Use the oval plunger cutters to make the eyes and cut out the mouth with a knife.
Knead 300 grams of yellow fondant well and roll it out on a with icing sugar covered work surface and cut out as many rounds as you need. Use the red, black and blue fondant to make the emotions. To make the eyes you can use the oval and round plunger cutters. Print out some emoticons as an example.
Preheat the oven to 180°C (convection oven 160°C).
Prepare 330 grams of FunCakes Mix for Sponge Cake as indicated on the package. Grease the baking pans with Bake Release Spray and divide the sponge cake batter over the two pans. Bake the sponge cakes for 30-35 minutes and release them on a cooling grid right after baking.
Place the cakes with a bit of buttercream on the cake boards and cut them twice using a cake leveller. Fill them with marmelade and buttercream. Stack them on each other. Lubricate the outside of the cake with a thin layer of buttercream to fill holes and get rid of any bumps. Put it in the fridge for 30 minutes and apply another layer of buttercream. Use the scraper to straighten the edges. Place the cakes in the fridge to let it stiffen.
Stack 4 dowels in the bottom cake and cut them to the right height. Mix the nonpareils and use this to cover the cakes. Stack the cakes on each other and place them in the fridge.
Use a bit of royal icing to place the emotions on the cake. Cut a gold/silver carton to the right size and paste the poopy with some royal icing on the carton. Stack 3 dowels in the top cake and cut them to the right height. Place the poopy on top and place the cake back in the fridge until you serve it.
Just a little while before you can enjoy your cakes. Don't forget to share your creation:
#funcakesbyme