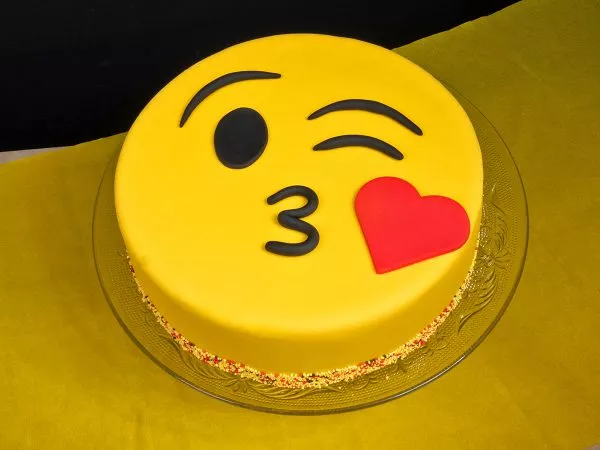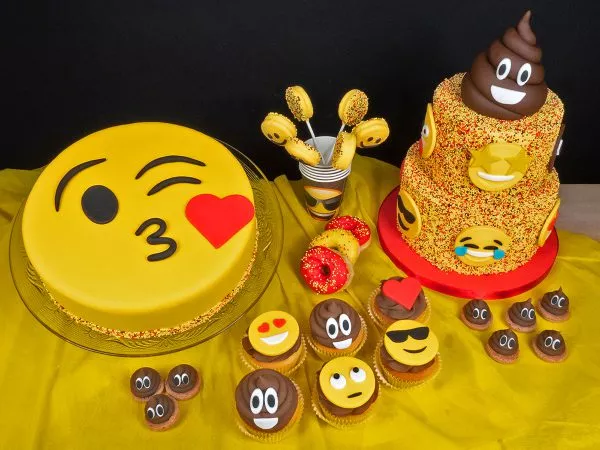 Emoji kiss cake
Kiss me? You can't resist this emoji kiss cake!
What you need to make your emoji kiss cake:
Ingredients
400 g FunCakes Mix for Sponge Cake Deluxe
200 g FunCakes Mix for Buttercream
FunCakes Flavour Paste -Peach-
700 g FunCakes Fondant -Bright White-
FunCakes Edible FunColours Gel – Yellow
FunCakes Edible FunColours Gel – Orange
150 g FunCakes Fondant -Raven Black-
Small amount of FunCakes Fondant -Fire Red-
FunCakes Nonpareils -Yellow-
FunCakes Nonpareils -Red-
FunCakes Nonpareils -Black-
FunCakes Edible glue
240 ml water
6 eggs (approx. 300 g)
250 g unsalted butter
Necessities
FunCakes Bake Release Spray
FunCakes Icing Sugar
Wilton -Wide Glide- Rolling Pin 50cm
Wilton Chrome-Plated Cooling Grid
Wilton Decorator Preferred Spatula Angled
Wilton Ultimate Cake Leveler
PME Extra Deep Round Cake Pan Ø 25 x 10cm
Heart cutter
Brush
PME Modelling tools, Cutting Wheels
Wilton Fondant Smoother
FMM Knife/scriber tool
Preheat the oven to 180°C (convection oven 160°C).
Prepare 400 grams of FunCakes Mix for Sponge Cake as indicated on the package. Grease the baking pan with Bake Release Spray and fill with the sponge cake batter. Bake the sponge cake for 40-45 minutes and release it on a cooling grid right after baking.
Cut the cake twice using the cake leveller and fill the layers with buttercream. Stack them on each other. Lubricate the outside of the cake with a thin layer of buttercream to fill holes and get rid of any bumps. Put it in the fridge for 30 minutes to stiffen.
Colour the white fondant with the yellow and orange colouring to maintain the correct emoji colour. Roll this out on a with icing sugar covered work surface and cover the cake. Cut away the remaining fondant with a sharp knife. Make the cake nice and smooth using the smoothers.
Roll out the red fondant and cut out a heart. Repeat this for the black fondant and cut out an oval eye using the cutting wheel. Use the remaining fondant to make rolls for the mouth, eye and eyebrows. Use some edible glue to stick it on the cake.
Apply piping gel on the edge of the cake with a brush and paste a mix of red, yellow and black nonpareils against it.
Just a little while before you can enjoy your cakes. Don't forget to share your creation:
#funcakesbyme