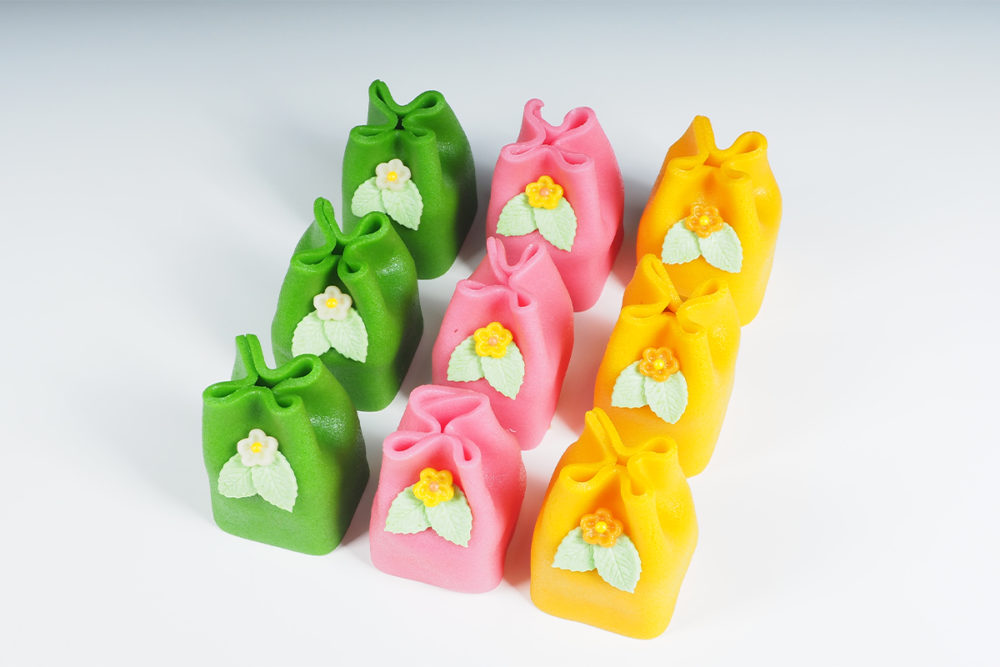 Dutch Castles
Castles are not only very tasty, but also very nice to give as a treat. These castles also do well with children because of the fun colors and flowers.
1 hour and 15 min. preparing
What you need to make your dutch castles:
Ingredients
330 g FunCakes Mix for Sponge Cake
250 g FunCakes Marzipan Classic Pink
250 g FunCakes Marzipan Golden Yellow
250 g FunCakes Marzipan Grass Green
125 g FunCakes Mix for Buttercream
100 g FunCakes Marzipan Floral White
FunCakes Marzipan Decorations Chrysanthemum
FunCakes Icing Sugar to sprinkle
150 g unsalted butter
125 ml water and 33 ml water
5 eggs (approx. 250 g)
Necessities
FunCakes Bake Release spray
FunCakes Edible Glue
Wilton spatula
Rose leaf punger small, for example from PME
Square baking frame, for example from Patisse
Knife scriber tool, for example from FMM
Baking tray
Parchment paper
Rolling pin
Brush
Ruler
Bread knife
Preheat the oven to  175°C (convection oven 160°C).
Prepare 330 g of FunCakes Mix for Sponge Cake as indicated on the package. Place a sheet of parchment paper on the baking tray. Pull the baking frame out completely, grease it with the bake release spray and place it on the baking tray. Fill the baking frame with the sponge cake and bake it for approx. 30-35 minutes. Remove the baking frame and let the biscuit cool on the counter with the parchment paper.
When the sponge cake has cooled, remove the parchement paper, cut the sponge cake in half once with a knife and fill with a layer of buttercream. Cut this into squares of about 5 × 5 cm and cover all the cubes of biscuit with buttercream.
Knead the marzipan well and roll it out on a with icing sugar dusted work surface to a thickness of approx. 2 mm. Cut strips from the marzipan using a knife and ruler. The strips should be at least once the height of your biscuit cube. Fold the strip of marzipan around the cube of biscuit and carefully fold the top together.
Knead some green and white marzipan together into a light green color, roll it out thinly and cut out small leaves with the plunger. Stick the leaves and chrysanthemum flowers on the front of the castle with edible glue. Place the castles in the refrigerator until serving.
Just a little while before you can enjoy your treats. Don't forget to share your creation:
#funcakesbyme