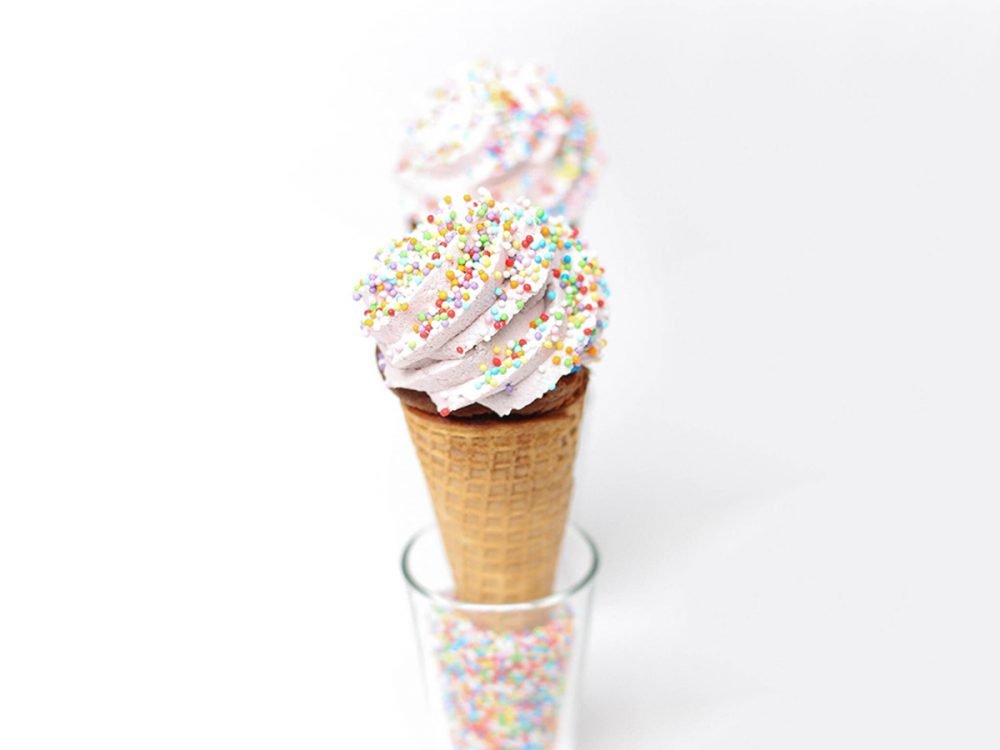 Cupcake ice cones
Is it time for a party already? Cupcake ice cones are ideal for a birthday and also a lot of fun to make with children.
What you need to make your cupcake ice cones:
Ingredients
500 g FunCakes Mix for Cupcakes
150 g FunCakes Mix for Enchanted Cream®
FunCakes Flavour Paste -Blueberry-
FunCakes Nonpareils -Discomix-
250 g unsalted butter
5 eggs (approx. 250 g)
4 tbsp cocoa
12 ice cones
Necessities
FunCakes Disposable Decorating Bags
Wilton Cone Rack
Wilton Decorating Tip #1M Open Star Carded
Preheat the oven on 180°C (convection oven 160°C).
Prepare 500 grams of FunCakes Mix for Cupcakes as indicated on the package and add 4 tbsp cacao. Place the ice cones in the cone rack and divide the batter into the ice cones to fill them till the edge. Bake the cakes for 25 minutes until golden yellow. Let them cool down completely on the kitchen counter.
Prepare 150 grams of FunCakes Mix for Enchanted Cream® as described on the package and add flavour paste to taste. Place tip #1M in the decorating bag and fill the bag with the cream.
Pipe a nice swirl on the ice cones and decorate the swirl with the nonpareils.
Just a little while before you can enjoy your cupcakes. Don't forget to share your creation:
#funcakesbyme