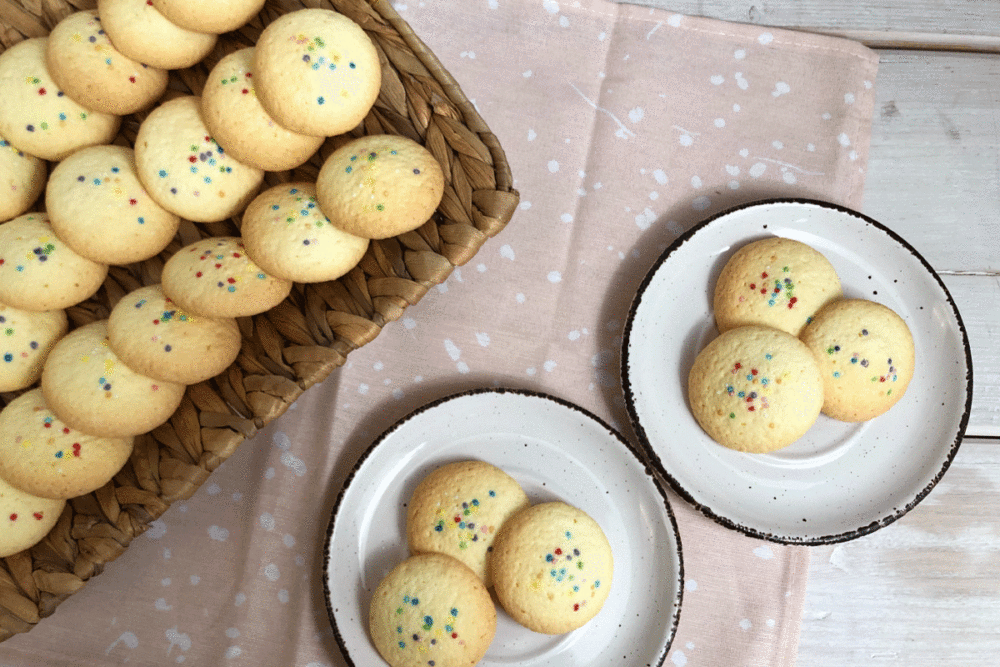 Cornstarch Cookies
With just a few steps you have baked an incredibly tasty cookie! Top it off with some sprinkles and a delicious filling and voilà! Also super easy to bake with the kids.
What you need to make your cornstarch cookies:
Ingredients
400 g FunCakes Corn Starch
18 g FunCakes Vanillin Sugar
FunCakes Nonpareils Discomix
200 g sugar
200 g unsalted butter
2 eggs (approx. 100g)
Necessities
FunCakes decorating bags
Wilton Tip #2A Round
Wilton parchment paper
Put the eggs in a mixing bowl with a whisk and beat them slightly frothy. Add the softened butter, sugar and vanilla sugar and mix on medium speed for 5 minutes. Sieve the cornstarch and add this little by little until you have a nice even dough.
Spoon it into a decorating bag with tip #2A. Cover a baking tray with parchment paper and spray caps on the parchment paper at intervals. Sprinkle some nonpareils on top.
Preheat the oven to 200 ° C (convection oven 180 ° C).
Bake the cookies in the middle of a preheated oven for 14-18 minutes. Don't let them get too brown. Repeat this until all the dough is gone.
Just a little while before you can enjoy your cookies. Don't forget to share your creation:
#funcakesbyme