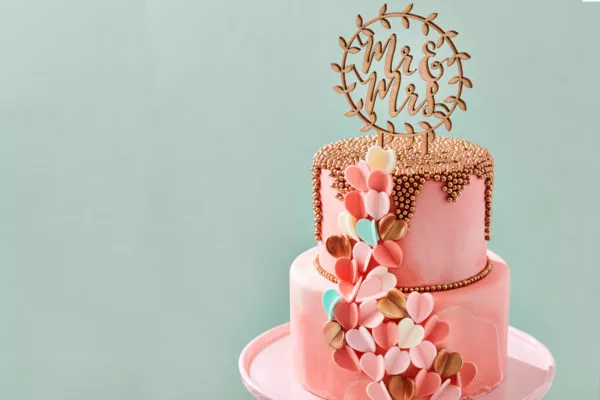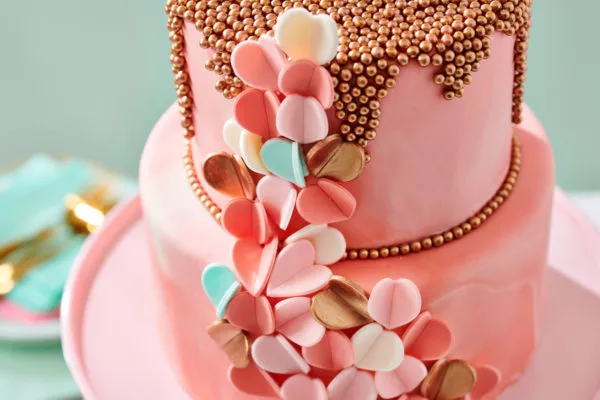 Coral wedding cake
Yes, I do! This cake is perfect for a beautiful wedding in the Spring or Summer.
What you need to make your coral wedding cake:
Ingredients
400 g FunCakes Mix for Sponge Cake Deluxe
300 g FunCakes Mix for Buttercream
100 g FunCakes Mix for Royal Icing
350 g Funcakes Fondant Coral
250 g FunCakes Fondant Elegant iIvory
Small piece of FunCakes Fondant Mystic Turquoise
6 eggs (approx. 300 g)
355 ml water
375 g unsalted butter
FunCakes Flavouring Paste Sparkling Wine
FunCakes Soft Pearls Orange / White
FunCakes Edible FunColours Sparkle Dust - Golden Ginger
FunCakes Clear Piping Gel
Necessities
FunCakes Cake Cartons Silver/Gold Round 16 cm
FunCakes Bake Release Spray
FunCakes Decorating Bags
Wilton Turntable
Wilton -Wide Glide- Rolling Pin
Wilton Cooling Grid
Wilton Cake Leveler
PME Plastic Dowels
PME Side Scraper Plain Edge
PME Extra Deep Round Baking Pan Ø 20 x 10 cm
PME Extra Deep Round Baking Pan Ø 15 x 10 cm
Cookie Cutter Heart 3 cm
PME Edible Glaze Spray
FMM Knife Scriber Tool
Sugarflair Rejuvenator Spirit -Alcohol-
Ginger Ray Wooden Cake Topper Mr & Mrs Beautiful Botanics
A4 vellen zig zag gevouwen
Pincet
Ziplock zakje
Roll out 50 gram Coral fondant, 40 gram Elegant Ivory and a small piece of Mystic Turquoise fondant to a thickness of 1-2 mm and cut out enough hearts in various colours. Give a small slice in the middle with a knife (do not cut all the way through) and place them in the folded A4 sheets to dry. When the hearts are dry you can paint a few with the golden ginger dust made with some rejuvenator.
Ideally, make the hearts a day in advance so that they can dry well.
Put the soft pearls in a ziplock bag and sprinkle with some golden ginger powder. Spray the glaze spray in the plastic bag and shake the pearls back and forth. This way you customize your pearls. Sprinkle them on a plate and let them air dry.
Preheat the oven to 175°C (convection oven 160°C).
Prepare 400 gram FunCakes Mix for Sponge Cake Deluxe as indicated on the package. Grease the baking pans and divide this between the two baking pans. Bake the sponge cakes in about 30 – 35 minutes and let it cool down on a cooling grid.
Prepare 300 gram FunCakes Mix for Buttercream as indicated on the package and add sparkling wine flavour paste to taste. Place both sponge cakes on a cut-to-size cake board and cut the biscuits twice using the cake leveler. Fill the layers with buttercream. Also cover the outside of the cake with buttercream using the turn table and the side scraper. Put the covered cakes in the fridge to stiffen.
Knead 300 gram Coral  fondant and 200 gram Elegant Ivory fondant together so that you get a marble-look effect. Roll this out on a work surface sprinkled with icing sugar to a thickness of 2 – 3 mm and cover the cakes with this. Put 4 dowels in the bottom cake and cut them to size. Place the second cake with a bit of buttercream on top.
Glue the golden pearls along the side with some piping gel. Coat the top of the cake with a thin layer of piping gel and glue the pearls on top. The drip effect with the pearls can be made by lubricating the side of the cake with some piping gel and then glue the pearls on with a pair of tweezers.
Prepare 100 gram FunCakes Mix for Royal Icing as indicated on the package. Put the icing in a piping bag and cut off a small tip. Glue the hearts to the cake with icing. At last put in the cake topper.
Just a little while before you can enjoy your cakes. Don't forget to share your creation:
#funcakesbyme