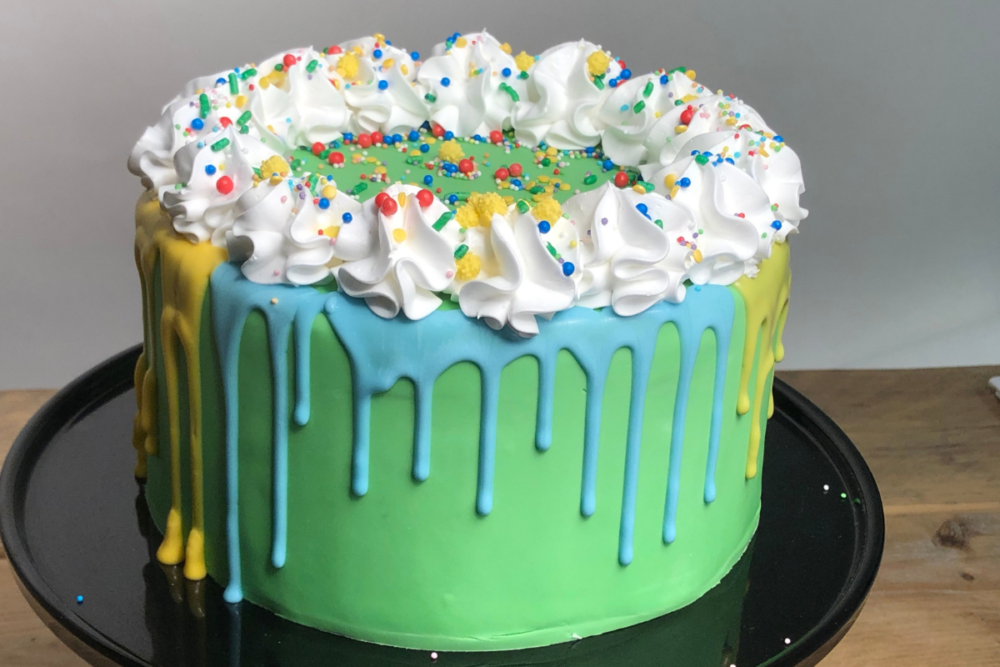 Circus drip cake
A real circus, a real spectacle, so a real party with this drip cake! A creative way to decorate your cake.
1 hour and 30 min. waiting
What you need to make your circus drip cake:
Ingredients
250 g FunCakes Mix for Sponge Cake Deluxe
150 g FunCakes Mix for Enchanted Cream®
125 g FunCakes Mix for Buttercream
150 g unsalted butter
600 g FunCakes Fondant White
FunColours Gel Bright Green
FunCakes Deco Melts Yellow
FunCakes Deco Melts Lime Green
FunCakes Deco Melts Blue
FunCakes Deco Melts Light blue
FunCakes Sprinkle Medley Circus
250 ml water
4 eggs (approx. 200 g)
100 ml milk
Necessities
FunCakes decorating bags
FunCakes Bake Release Spray
FunCakes Magic-Roll-Out Powder
Wilton – Wide Glide – Rolling Pin
Wilton Decorator Preferred Spatula curved 22,5 cm
Wilton Tip #1M Open Star
Wilton Cake Leveler 25 cm
PME Extra Deep Round Baking Pan Ø 20 x 10cm
Wilton Cooling Grid
Preheat the oven to 175 ° C (convection oven 160 ° C).
Prepare 250 g of FunCakes Mix for Sponge Cake Deluxe as indicated on the package. Grease the baking pan with FunCakes Bake Release Spray, fold in the batter and bake the biscuit for 30-35 minutes. Let the cake cool using a cooling rack.
Cut the biscuit twice with the cake saw and fill with Enchanted Cream®. Cover with a layer of buttercream and let it set in the fridge.
Knead the fondant smoothly and color it with the FunCakes Edible Dye Gel Clear Green. Roll it out into a rag about 2-3 mm thick and cover the cake with it. Put the cake back in the fridge until the moment you start dripping.
Melt the 4 colors FunCakes Deco Melts separately in a dish in the microwave as indicated on the packaging and place in 4 piping bags. Cut a small tip off the decorating bags and drip the Deco Melts from the edge so that it runs down nicely.
Put what you have Enchanted Cream® in a decorating bag with tip# 1M and make small tufts on the entire top edge of the cake. Sprinkle with the FunCakes Sprinkle Medley Circus
Just a little while before you can enjoy your cakes. Don't forget to share your creation:
#funcakesbyme