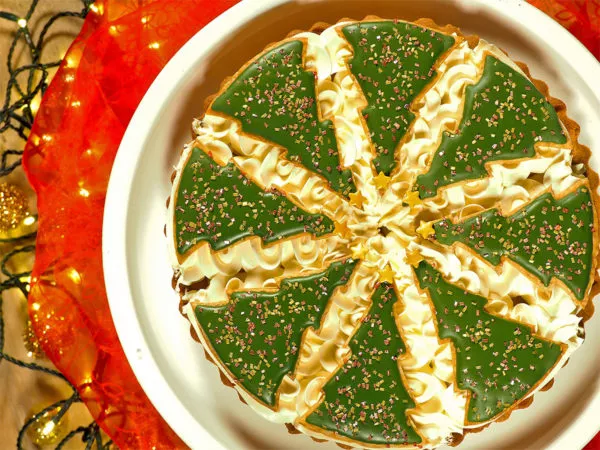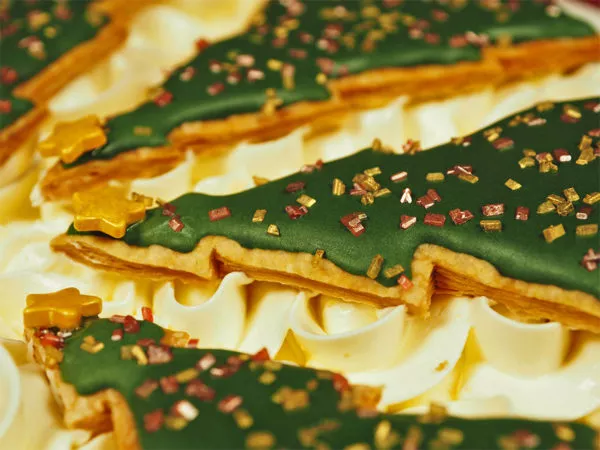 Christmas tree mille-feuille cake
A Dutch version of mille-feuille is called a tompouce and is quite populair in the Netherlands. It's actually a pastry but it's Christmas so we thought it was time to spice things up and create a Christmas cake version.
What you need to make your christmas tree mille-feuille cake:
Ingredients
500 g FunCakes Mix for Cookies
250 g FunCakes Mix for Royal Icing
250 g FunCakes Mix for Crème Suisse
FunCakes Stars Gold
150 g unsalted butter
1 egg (approx. 50 g)
580 ml water
Puff pastry
Necessities
FunCakes Magic Roll-Out Powder
FunCakes FunColours Gel – Holly Green
FunCakes Ceramic Baking Beans
FunCakes Bake Release Spray
FunCakes Decorating Bags
Wilton Sanding Sugar -Gold-
Wilton Sanding Sugar -Green-
Wilton Decorating Tip #1M
Wilton Perfect Results Round Tarte/Quiche Pan -23 cm-
Wilton -Wide Glide- Rolling Pin
Wilton Parchment Paper
Clingfilm
Preheat the oven to 200°C (convection oven 180°C).
Prepare 500 grams of FunCakes Mix for Cookies as indicated on the package. Wrap the dough in cling film and let it stiffen in the fridge for at least 1 hour. Roll out the cookie dough on a working area covered with magic roll-out powder till it has a thickness of 3 mm. Lubricate the tart pan with baking spray, put in the rolled out cookie dough and trim the edges. Put a sheet of parchment paper on top and fill the pan with the baking beans. Bake for approximately 20 minutes. After 20 minutes remove the parchment paper with the baking beans and bake for another 5 minutes.
Tip! You can very well freeze the remaining cookie dough and safe it for next time.
Draw a Christmas tree on paper, about as big as 1/8 of the cake. Cut it out, put it on the puff pastry and cut out 8 Xmas trees of pastry using a sharp knife. Place them on a baking tray covered with parchment paper and make holes in the slices using a fork. Cover the trees with another layer of parchment paper and put something heavy on top, for instance a second baking tray. The trees must bake flat instead of puffy. Bake them for approximately 15 minutes in the preheated oven. Let them cool down.
Prepare 250 grams FunCakes Mix for Royal Icing as indicated on the package. Colour the royal icing green. Thin the royal icing with 1 or 2 teaspoons of water until it has the thickness of yoghurt and put it into a decorating bag. Cut of the tip of the decorating bag and ice the puff pastry Christmas trees with the green icing and decorate with the sanding sugars and the gold stars. Let them dry.
Prepare 250 grams of FunCakes Mix for Crème Suisse as indicated on the package and fill the cake bottom with 1/3 of the cream. Create 8 parts by drawing lines in the cream. Put the leftover cream in a decorating bag with tip #1M and fill the 8 parts with Swiss cream. Decorate every part with a Christmas tree.
Just a little while before you can enjoy your cakes. Don't forget to share your creation:
#funcakesbyme