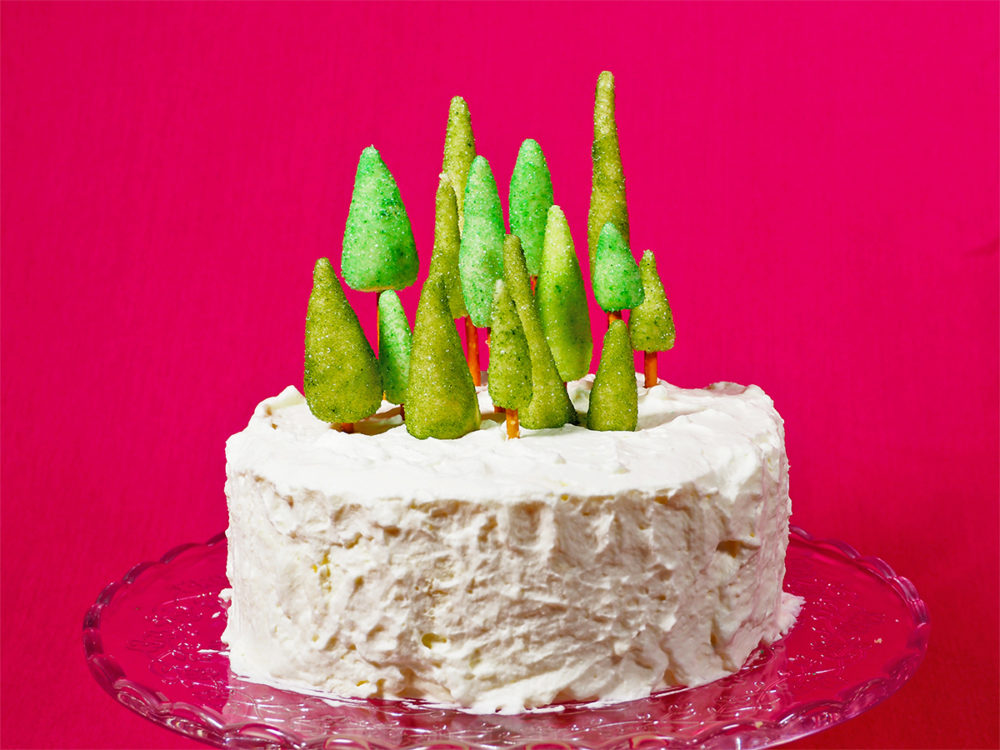 Christmas tree forest cake
Christmas is just around the corner and this means Christmas trees everywhere! We love Christmas trees and that's why we created a Christmas tree forest cake. Do you buy your tree in a store or do you go out into the forest and cut it by yourself?
What you need to make your christmas tree forest cake:
Ingredients
250 g FunCakes Mix for Sponge Cake
3 tbsp FunCakes Icing Sugar
150 g FunCakes Modelling Chocolate White
FunCakes FunColours Gel Leaf Green
FunCakes FunColours Gel Bright Green
FunCakes FunColours Gel Holly Green
4 eggs (approx. 200 g)
25 ml water
150 g fine crystal sugar
500 ml whipped cream
250 g mascarpone
Pretzel sticks
Necessities
FunCakes Bake Release Spray
Wilton Cooling Grid
Wilton Cake Leveler
Wilton Decorator Preferred Spatula Angled
Wilton Decorator Preferred Deep Round Pan Ø 20 x 7,5 cm
3 plastic ziplock bags
Preheat the oven to 180°C (convection oven 160°C).
Prepare 250 grams of FunCakes Mix for Sponge Cake as indicated on the package. Lubricate the baking pan with baking spray and fill the pan with batter. Bake the sponge cake in 35 – 40 minutes golden. Release the cake on a cooling grid and allow it to cool down.
Mix 500 ml whipped cream with 250 grams of mascarpone and 3 tablespoons of icing sugar in a bowl until it's stiff. Cut the sponge cake twice and fill it with the mascarpone whipped cream. First lubricate the cake tightly with the whipped cream and put it in the fridge for a while. Lubricate the cake again but now roughly with more whipped cream and put it in the fridge.
Knead 150 grams of modelling chocolate flexible and create different sizes of cones. Place the cones on a pretzel stick. Divide 150 grams of crystal sugar in three plastic bags. Put a green colouring in every bag and mix it. Then make the cones a little bit wet with water and roll them through the green sugars. Place the Christmas trees on your cake right before serving.
Just a little while before you can enjoy your cakes. Don't forget to share your creation:
#funcakesbyme