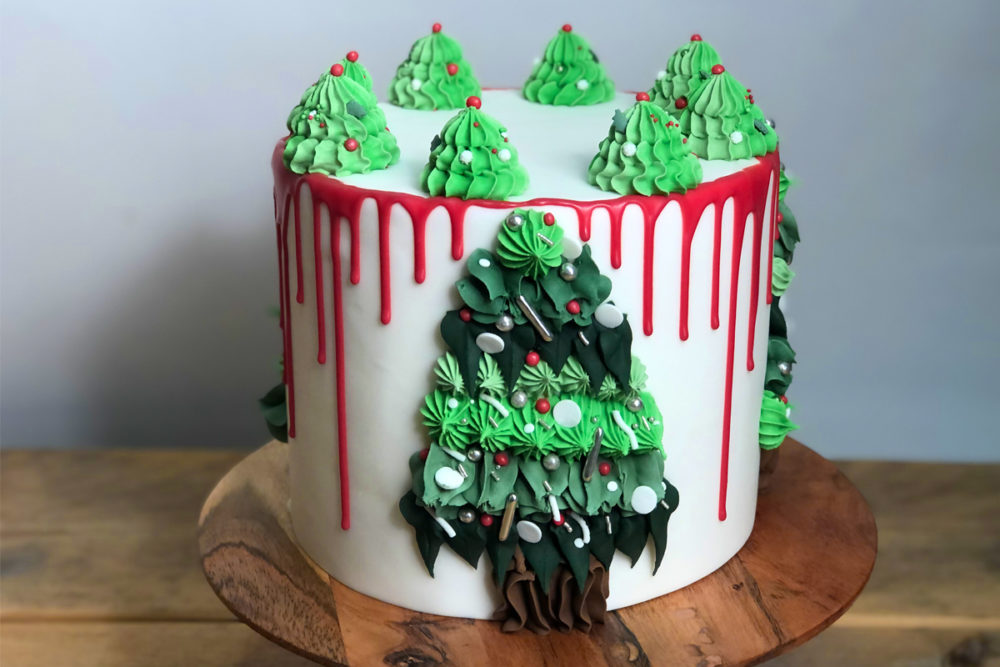 Christmas tree drip cake
The time of year has come again, but unfortunately something different this year … But that shouldn't spoil the fun! Baking together with your family and bringing it to grandpa, grandma, family or your neighbors. Doesn't that make Christmas special again this year? Merry Christmas!
1 hour and 45 min. preparing
What you need to make your christmas tree drip cake:
Ingredients
500 g FunCakes Mix for Sponge Cake
400 g FunCakes Mix for Buttercream
225 g FunCakes Mix for Enchanted Cream®
1 kg FunCakes Fondant White
FunCakes Flavour Paste Speculoos
FunCakes Sprinkle Medley Green
FunCakes Sprinkle Medley Holiday
FunCakes Sprinkle Medley Joyfull
FunCakes Sprinkle Medley Jolly
FunCakes Deco Melts Red
FunColours Gel Leaf Green
FunColours Gel Black
FunColours Gel Brown
FunColours Gel Green
FunColours Gel Holly Green
10 eggs (approx. 500 g)
750 ml water
500 g unsalted butter
Orange Curd
Necessities
FunCakes decorating bags
FunCakes Bake Release Spray
Wilton – Wide Glide – Rollingpin 50cm
Wilton Tip #1M Open Star
Wilton Tip #032 Open Star
Wilton Tip #4B Open Star
Wilton Tip #366 Leaf / Blad
Wilton Cooling Grid
PME Deep Round Baking Pan Ø 20 x 7,5cm
PME Cake Leveler 30cm
PME Plastic Dowel Sticks 31cm
JEM Drop Flower Nozzle #2D
Preheat the oven to 180 ° C (convection oven 160 ° C).
Prepare 500 g FunCakes Mix for Sponge Cake as indicated on the package. If you have two baking pans, you can prepare the batter in 1 go and divide it over the two baking pans. If you don't have that, you can prepare 250 g mix twice. After baking, place the biscuits on a cooling grid to cool
Finish the buttercream as indicated on the package and season most of it with the speculoos flavor paste. Keep a little natural buttercream aside to cover the cake.
Cut both biscuits twice with the cake leveler and fill the biscuits alternately with a nice layer of buttercream and orange curd. Stick a dowel in the middle of the cake to prevent the layers from sliding and cut to size. Cover the entire outside of the cake with natural buttercream and put the cake in the fridge.
Knead the fondant well and roll it out on a work surface. You can cover the cake in one go with a large rag of fondant, but you can also do the side first and then the top, this way is slightly easier to cover a high cake.
Prepare 225 g FunCakes Mix for Enchanted Cream® with 300 ml of water, divide it over 6 cups, color 1 cup Enchanted Cream® brown and the rest in different shades of green. You can make a beautiful dark green by mixing holly green gel with a drop of black gel. Put the brown Enchanted Cream® in a decorating bag with 1M and divide the rest of the colors over the decorating bags and tips as you see fit.
Melt the red Deco Melts in the microwave according to the instructions on the packaging, put this in a decorating bag and let it slide down the edge of the cake. Put the cake in the fridge for 10 minutes so that the DecoMelts can stiffen nicely and it gets a nice shine.
Make 3 large Christmas trees on the side of the cake and decorate them with some Christmas sprinkles. Finally, put a piece of plastic foil on the counter and spray the remaining green Enchanted Cream® in strips under each other. Roll this up, close one side of the plastic foil and cut the other side in the cream.
Put this in a decorating bag with tip 4B. Spray small Christmas trees on top of the cake by spraying 3 different sizes on top of each other with the 4B and decorate these trees with some Christmas sprinkles.
Just a little while before you can enjoy your cakes. Don't forget to share your creation:
#funcakesbyme