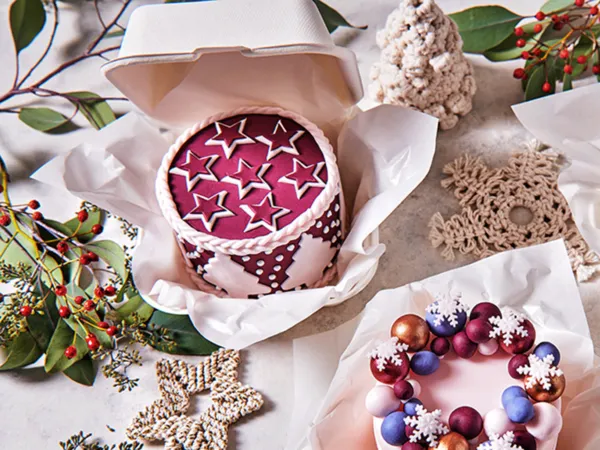 Christmas star bento cake
Bento cakes are hot and trending and we could't wait to get started! This Christmas inspired bento cake with the new colour of the year Chic Aubergine is a perfect Christmas dessert cake, or make it as a treat, wrap it and give it to someone you love.
What you need to make your christmas star bento cake:
Ingredients
250 g FunCakes Mix for Sponge Cake Deluxe
100 g FunCakes Mix for Swiss Meringue Buttercream
600 g FunCakes Sugar Paste Chic Aubergine
350 g FunCakes Sugar Paste Rosé White
FunCakes Edible Glue
FunCakes Bake Release Spray 200ml
220 g unsalted butter
95 ml water
4 eggs (approx. 200 g)
Necessities
FunCakes Decorating Bags
Wilton Wide Glide Rolling Pin
Wilton Comfort Grip Spatula Angled 22,5 cm
Wilton Decorating Tip #003 Round
Wilton Standerd Adaptor/Coupler
Wilton Basic Turntable
Wilton Cake Leveler/ Small 25 cm
Wilton Recipe Right Cooling Grid
PME Deep Baking Pan 20 x 20 x 7,5cm
Patisse Cookie Cutter Ring Set/14
FMM Star Cookie Cutter Set/4
Patisse Cookie Cutter Christmas Set/4
Preheat the oven to 180°C (Convection oven 160°C).
Prepare 250 g FunCakes Mix for Sponge Cake Deluxe as indicated on the package. Grease the baking pan with FunCakes Bake Release Spray and spatula the batter into it. Bake the cake for about 30-35 minutes until done and after baking, let the cake cool down by using a cooling grid.
Cut the sponge cake 2x with a cake leveler. From the set of round cutters, take a ring with a diameter of about 9-10 cm and cut 4 rings from each slice of cake.
Make 4 small cakes from 3 rings of biscuit filled and smeared with FunCakes Mix for Swiss Meringue Buttercream. Keep a small amount of cream left to stick the balls on the cake and to make small dots. Let the smeared cakes set in the fridge for half an hour.
Put the Swiss Meringue Buttercream what you have left in a decorating bag with an adaptor and decorating tip #003.
Line the cakes with Sugar Paste Chic Aubergine. Roll out the remaining sugar paste wafer-thin and cut out little stars.
Roll out the Rose White Sugar Paste wafer-thin and cut out little stars and Christmas trees. Using the rest of this colour, make a braided decorative border with the karen davies mould for the bottom and top of the cakes. Stick the parts on and against the cakes with some edible glue.
Use the Swiss Meringue Buttercream to put little dots between the Christmas trees.
Just a little while before you can enjoy your cakes. Don't forget to share your creation:
#funcakesbyme