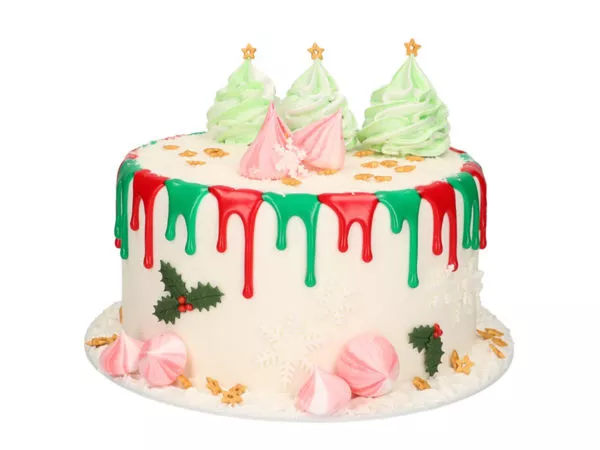 Christmas duo drip cake
Why couldn't it be Christmas everyday? We love the season of white tree tops, cozy winter days and with this cake you can will even fall more in love with Christmas because this drip cake is so delicious.
1 hour and 5 min. cooking
What you need to make your christmas duo drip cake:
Ingredients
400 g FunCakes Mix for Sponge Cake
400 g FunCakes Mix for Buttercream
650 g FunCakes Fondant Bright White
FunCakes Flavour Paste Dulce de Leche
FunCakes Dip 'n Drip Red
FunCakes Dip 'n Drip Green
FunCakes Open Stars Gold
FunCakes Icing Sugar
14 g FunCakes Merinque Powder
FunCakes Sugarpearls 4 mm Shiny Red
FunCakes FunColours Gel Red
FunCakes FunColours Gel Holly Green
365 ml water
6 eggs (approx. 300 g)
250 g unsalted butter
375 g fine granulated sugar
Grated coconut
Necessities
FunCakes Decorating Bags
FunCakes Magic Roll-Out Powder
PME Snowflake Plunger Cutter Small
PME Snowflake Plunger Cutter Medium
PME Holly Leaf Plunger Cutter
2 Wilton Wilton Decorator Preferred® Deep Round Pan Ø 20x7,5cm
Wilton Bake Release Spray
Wilton Cake Leveler
Wilton Parchment Paper
Wilton -Wide Glide- Rolling Pin
Wilton Decorating Tip #1M
Wilton Decorating Tip #1A
Wilton Cooling Grid
Preheat the oven to 120°C (convection oven 100°C).
Mix 14 grams of meringue powder together with 125 ml water and 125 grams of fine granulated sugar in bowl and stir until there are no longer lumps. Beat the mixture on high speed to create a white foam and add gradually 250 grams of sugar. Beat this until the you can pull peaks that don't fall back. Divide the mixture into two portions and colour one part green and the other one red with the colour. Fill a decorating bag with tip #1A and fill this with the green mixture. Fill another decorating bag with tip #1A and fill this with the red mixture. Cover a baking plate with parchment paper and pipe swirls and Christmas trees. Let this dry for 1,5 hour in the oven.
Tip! Make sure the bowl and wisk are greaseproof.
Prepare 400 grams of FunCakes Mix for Sponge Cake as indicated on the package. Divide the batter into two portions, colour one part green and the other one red. Dived the batter over the lubricate pans and bake the cakes in approx. 30 – 35 minutes. Let them cool down on a cooling grid.
Prepare 200 grams of FunCakes Mix for Buttercream as indicated on the package and add dulche de leche flavour paste to taste. Cut both cakes twice using a cake leveler and stack them alternately with dulce de leche cream in between. Grease the cake all over with cream and place in the fridge to let it stiffen.
Knead 650 grams of fondant well, roll it out on a with magic roll-out powder covered work surface and use it to cover the cake. Colour the a small piece of fondant green, keep the rest white. Roll out the fondant and cut out snowflakes and holly leaves.
Take some green and red dip 'n drip in a bowl (a bowl per colour) and heat this in the microwave (no longer then 10 seconds!). Fill two decorating bags with the drip, cut of a small tip and let the drip slide off the edge.
Decorate the cake with meringues, snowflakes, holly leafs, pearls and stars.
At last, sprinkle some coconut on top for a snow effect.
Just a little while before you can enjoy your cakes. Don't forget to share your creation:
#funcakesbyme