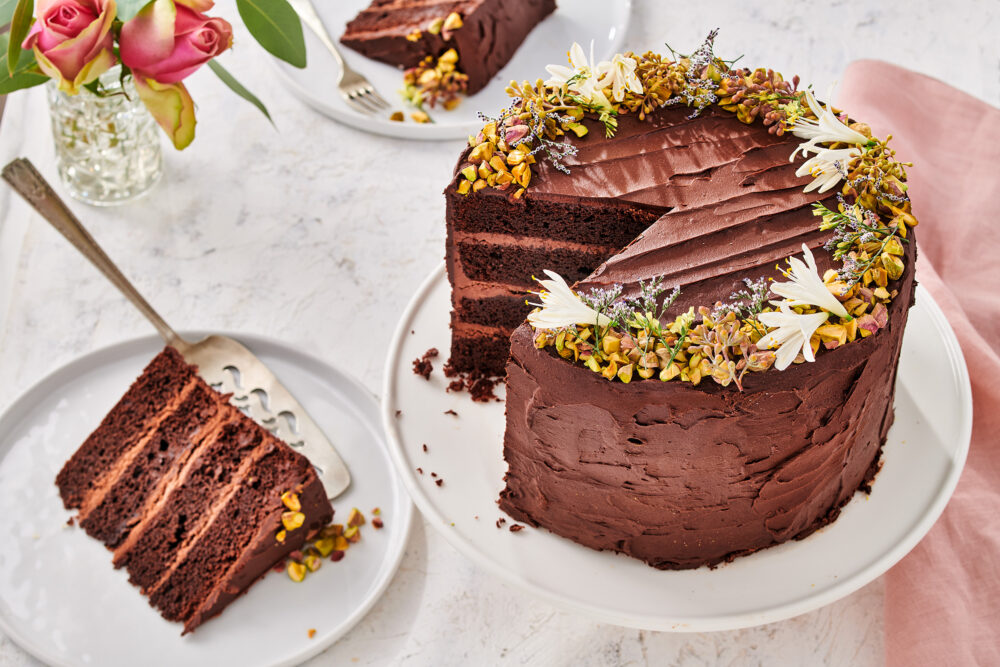 Chocolate cake with ganache and pistachio nuts
For the chocolate lover is this the ultimate cake! Four layers of dark choco cake filled with dark chocolate ganache. Are you having a large group of people over? With this recipe, you can serve everyone a tasty piece of cake1. Perfect for a birthday party, for example.
What you need to make your chocolate cake with ganache and pistachio nuts:
Ingredients
800 g FunCakes Mix for Dark Choco Cake
500 g FunCakes Ready To Use Ganache Dark Choco
610 g soft unsalted butter
8 eggs (approx. 400 g)
50 ml water
Salted pistachio nuts (coarsely chopped)
Optional: edible flowers
Necessities
FunCakes Bake Release Spray
Wilton Recipe Right Non-Stick Cooling grid - 40 x 25 cm
Wilton Decorator Preferred Spatula Angled 22,5 cm
Wilton Basic Turntable
Wilton Cake Leveler 25 cm
Wilton Decorator Preferred® Deep Round Pan Ø 20 x 7,5cm
Preheat the oven to 170°C (convection oven 150°C).
Mix 400 g FunCakes Mix for Dark Choco Cake according to the intructions on the package. Spoon into a greased baking pan and bake for about 55-60 minutes. After baking, place on a cooling grid to cool. Bake a second cake in this way.
Note: you need to bake this in two times. This amount of batter is too much to bake in one go in this size of pan!
Do not melt the Ready To Use Ganche in the microwave. Only melt the ganache for 10-15 seconds if it is too hard to get out of the container. When the ganache is to hot, the butter will melt and go into suspension during mixing.
Cut the cakes both in half and fill and stack the layers on top of each other with a layer of ganache in between. Start and finish with a bottom layer of the cut cakes, this way your cake will be nicely taut.
Spread a thin layer of ganache all over the cake and leave it to set in the fridge for half an hour. After this, spread a second, thicker layer of ganache. For a robust look, it is not necessary to do this neatly.
Roughly chop the pistachio nuts and place them on the top edge of the cake. Decorate with some edible flowers.
Just a little while before you can enjoy your cakes. Don't forget to share your creation:
#funcakesbyme