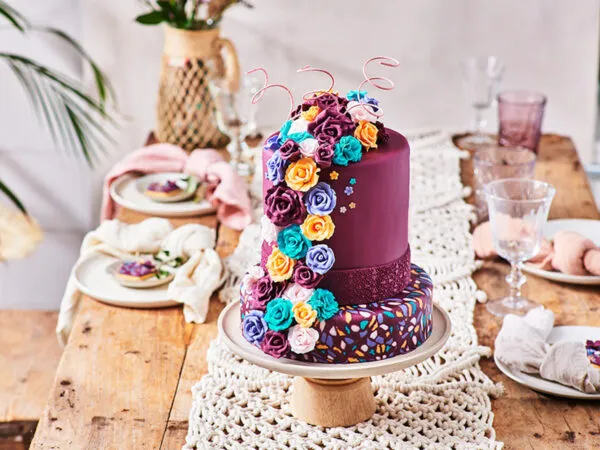 Chic Aubergine cake with flowers
A Chic aubergine cake with Sugar Paste flowers! Chic Aubergine is a warm, luxurious and quirky colour. The deep tones of Chic Aubergine make us feel comfortable, loved and cozy. Cakes and other treats decorated with this colour will get a unique and classy look.  
What you need to make your chic aubergine cake with flowers:
Ingredients
500 g FunCakes Mix for Sponge Cake Deluxe
300 g FunCakes Mix for Buttercream
FunCakes Flavour Paste Tonka Bean
1,5 kg FunCakes Flavour Paste Chic Aubergine
250 g FunCakes Sugar Paste Rose White
250 g FunCakes Sugar Paste Vintage Purple
250 g FunCakes Sugar Paste Tropical Orange
250 g FunCakes Sugar Paste Mystic Turquoise
FunCakes Tylo Powder
FunCakes Edible Glue
FunCakes Bake Release Spray
FunCakes Food Colour Gel Claret
FunCakes Food Colour Gel Red
FunCakes Food Colour Gel Purple
FunCakes Magic Roll Out Powder
375 g unsalted butter
350 ml water
7,5 egg (approx. 375 g)
Maizena
Necessities
FunCakes Cake Cards Silver/Gold - Round - 15cm pk/3
Wilton Extra Deep Round Baking Pan Ø 15 x 10 cm
Wilton Recipe Right Non-Stick Cooling Grid 40x25 cm
Wilton Cake Leveler 25 cm
Wilton Basic Turn Table
Wilton Comfort Grip Spatula Angled 22,5 cm
Wilton Rolling Pin 50 cm
Wilton Plastic Dowerl Sticks Set/4
Wilton Rolling Pin Rings 22,5 cm
PME Round Baking Pan Ø 20 x 5cm
2x PME Smoother with Handle
PME Foam Modeling Mat Set/2
PME Carnation cutter Set/3
PME Modeling Tools Ball Shape
PME Modeling Tools Taper & Round Point
PME Floral Pics Small
PME Flower Tape Pink with Silver Glitter
FMM Rose Cutter 5 Petals 50mm
FMM Rose Cutter 5 Petals 65mm
FMM Multi Strips Exciter
FMM Impression Matte Vintage Lace
FMM Dab-a-Dust Dusting Pouch (filled with cornstarch)
Culpitt Flower Wire White 20 gauge
Cocktail sticks
Plastic insert cases
Wrap a few floral wires with the pink tape. To do this, cut a piece of tape and pull it apart for a moment, this will release the paste in the tape and allow you to wrap it well around the wire without it coming loose. Roll this around the small rolling stick, this will give you curly wire to use as a topper.
Take 200 g of the FunCakes Sugar Paste Chic Aubergine, Rose White, Vintage Purple, Mystic Turquoise and Tiger Orange and knead a pinch of FunCakes Tylo Powder through this for each colour. Store it in plastic ziplock bags if you don't use it for a while, it dries out quickly!
TIP! Make the flowers a few days in advance so they can dry well.
For the roses: Make small balls of sugar paste and roll them between your fingers into a droplet shape, the maximum height is 1 cm. Prick this with some edible glue on a cocktail stick and let it dry for 24 hours. These are the cones on which you will later make the roses.
Roll out the sugar paste wafer thin with the small rolling stick (without using the rings), you should almost be able to see through it. For each rose, cut out the FMM Rose Cutter 5 Petals 50mm twice. For larger roses, cut out an additional 1x FMM Rose Cutter 5 Petals 65mm per rose. Store the flower shapes between plastic inset cases to prevent them from drying out.
Place a rose petal on the white foam pad and dust the top lightly with cornstarch. Pass the balltool over the edges so they will curl a bit. Stick this to the cone with a very small amount of edible glue, do this alternately. With your fingers, curl the leaves out a bit. Repeat this one more time. For a large rose repeat this again with the larger size. Let them dry for at least a day.
For the carnations: Roll out all the colours of sugar paste with tylo powder wafer thin, you should almost be able to see through it. Using the PME Carnation Extrusion Set/3, cut out the shape 3 times per flower. We used the middle size.  Place a carnation shape on the white foampad and dust the top briefly with cornstarch.
Now make each petal thinner and slightly curly using the PME Modeling Tool Taper & Round Point. The tip of the tool points to the center of the flower and gently roll back and forth. Using a small amount of edible glue, stick 3 carnation shapes together, fold this in half and then fold in half again after this. Let this dry. If necessary, crumple up a few sheets of kitchen paper and place the carnations on this, this will give them a bit of a "natural" shape.
Preheat the oven to 180°C (convection oven 160°C) and grease the baking pans with the FunCakes Bake Release Spray
Prepare 500 g FunCakes Mix for Sponge Cake deluxe as indicated on the package. Divide the batter between the two baking pans and bake the 15 cm cake in about 30-35 minutes until done. The lower form will need to be baked slightly shorter, about 25-30 minutes.  Let the cake cool down by using a cooling grid.
Prepare 300 g FunCakes Mix for Buttercream as indicated on the package and flavour it with the FunCakes Flavor paste Tonka Bean. Using the cake leveler, cut the sponge cake into layers and fill and spread thinly all around with buttercream. Leave to set in the refrigerator for at least half an hour.
Cover the 15 cm cake with the FunCakes Sugar Paste Chic Aubergine. To do this, roll out the sugar paste with the large rolling stick to a thickness of about 2-3 mm. Make a long sausage of the Chic Aubergine sugar paste and roll it out to about 2 mm thickness and press the FMM Impression Mat Vintage Lace into this in succession, repeatingly. Using the FMM Multi Strips Exciter, make a wide strip and stick this along the bottom edge of the cake with a little edible glue.
Roll out some of the remaining FunCakes Sugar Paste Chic Aubergine into a thin sheet and make thin rolls of the other colours. Be sure to knead it smoothly otherwise you will get cracks in your pattern! Place these rolls on the FunCakes Sugar Paste Chic Aubergine and roll it up tightly with no air in between. Repeat this a few times until you have several rolls. Cut these rolls into ½-inch slices and place them with the colors up against each other.
Put a sheet of parchment paper on top and roll it out into a sheet that you will use to line the 20 cm cookie. Insert dowels into this cake and cut to size. Place the 15 cm cake (with any cardboard cut to size) above.
Colour the buttercream you have left with the Food Colour Gel claret, red and purple until you get a bit the colour as the Chic Aubergine Sugar Paste.
Swirl a big tuft of this buttercream on top of the cake and insert some carnations and roses here. For the rose waterfall, you can stick the roses into the cake with a cocktail stick. Stick the carnations against the cake with some buttercream. Stick the curls into the flower pics and into the cake.
Just a little while before you can enjoy your cakes. Don't forget to share your creation:
#funcakesbyme