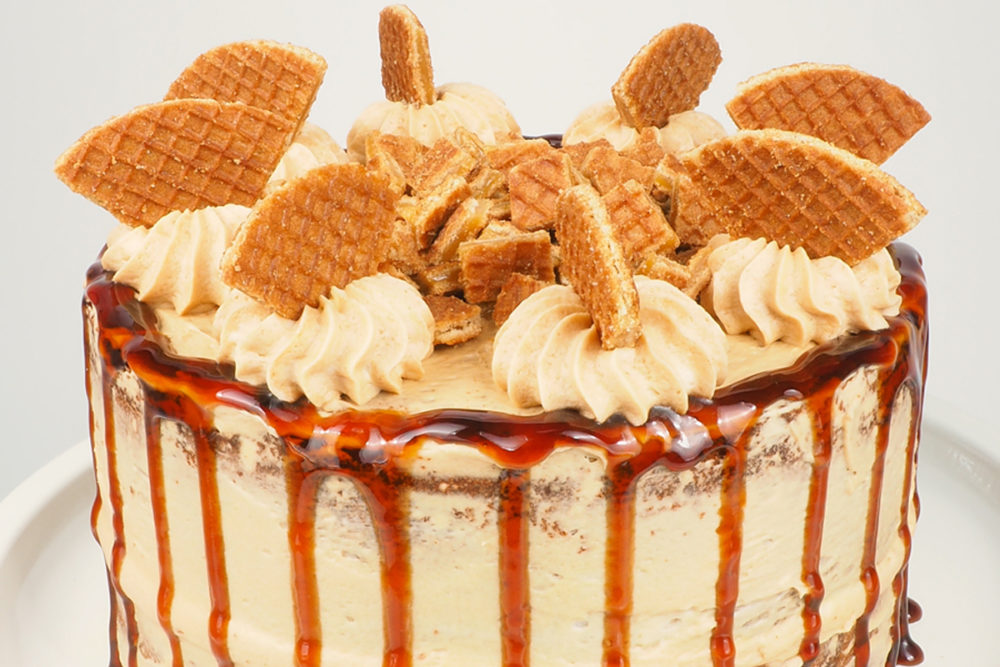 Caramel cake
This cake is perfect for everybody who loves the Dutch stroopwaffle!
1 hour and 10 min. cooking
What you need to make your caramel cake:
Ingredients
1kg FunCakes Mix for Caramel Cake
200 g FunCakes Mix for Buttercream
1 jar FunCakes Glaze Topping - Caramel
FunCakes Flavour Paste - Caramel
750 g unsalted butter
200 ml water
9 eggs (approx. 450 g)
4 caramel cookies
Necessities
FunCakes Decorating Bags
FunCakes Bake Release Spray
Wilton Decorator Preferred Round Pan Ø20cm (2x)
Wilton Comfort Grip Spatula Curved
Wilton Decorating tip #6B
Wilton Cooling Grid
Preheat the oven to 180°C (convection oven 160°C).
Prepare 1 kg FunCakes Mix for Crunchy Caramel Cake as indicated on the package. Grease the baking pans and devide the batter over the two baking pans. Bake the cake in 60 – 70 minutes in the middle of the preheated oven. Let the cake cool down by using a cooling grid.
Stack the cakes with thick layers of caramel buttercream in between. Then cover the outside of the cake with a thin layer of buttercream as well, it's ok if you can still see the cake through the buttercream. Fill a decorating bag with tip #6B with the remaining buttercream.
Fill another decorating bag with the glaze topping, cut off a small tip and let the glaze drip along the edge of the cake. Pipe buttercream swirls on top of the cake. Cut two caramel cookies in 4 pieces and place a quarter in every swirl. Cut another 2 cookies in small pieces and fill the top of the cake with it.
Just a little while before you can enjoy your cakes. Don't forget to share your creation:
#funcakesbyme