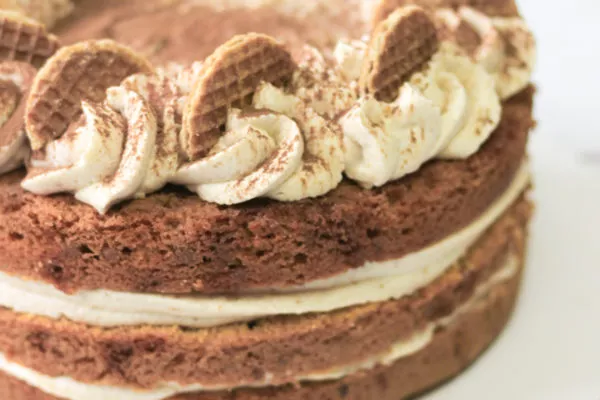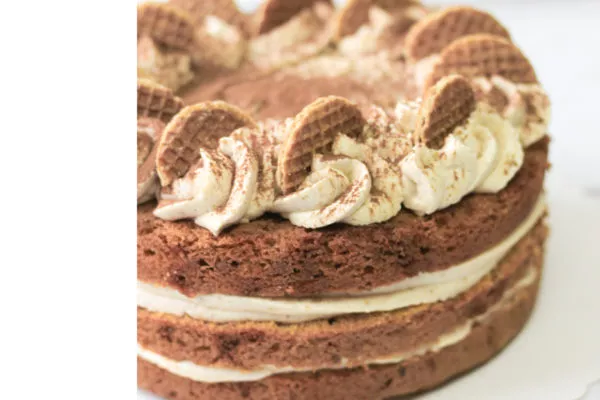 Caramel cake with hazelnut bavarois
The flavours of caramel and hazelnut go very well together. This cake is therefore definitely a good idea to make. Make it extra delicious with those little stroopwafels on top!
1 hour and 10 min. cooking
What you need to make your caramel cake with hazelnut bavarois:
Ingredients
500 g FunCakes Mix for Crunchy Caramel Cake
100 g FunCakes Mix for Bavarois Hazelnut
500 g whipped cream
250 g (cream)butter
4 eggs (approx. 200 g)
120 ml lukewarm water
3 tbsp water
1 bag of mini stroopwafels
Cocoa powder
Necessities
FunCakes disposable decorating bags
Wilton Decorating tip #1M
Baking pan round 20 cm
Make sure all ingredients are at room temperature. Preheat the oven to 160 °C (convection oven 140 °C).
Prepare 500 g FunCake Mix for Crunchy Caramel Cake as indicated on the package. Mix everything on low speed for 4 minutes to a smooth batter. Grease a 20 cm round cake pan and sprinkle some flour in it. Spoon the batter into the tin and bake the cake in the middle of the preheated oven for approx. 70 minutes. Let the cake cool down on a cooling grid.
Beat the whipped cream well. Prepare 100 g of FunCakes Mix for Bavarois Hazelnut with the water and carefully fold this mixture into the whipped cream immediately. Then put the mixture in a decorating bag with the tip already in it and put it in the refrigerator for an hour.
Divide the cake into three layers with a cake leveler or knife and pipe the hazelnut bavarois on the two intermediate layers and the top of the cake. Put a little bit of cocoa powder in a sieve and sprinkle the top of the cake, decorate with small mini stroopwafels.
Just a little while before you can enjoy your cakes. Don't forget to share your creation:
#funcakesbyme