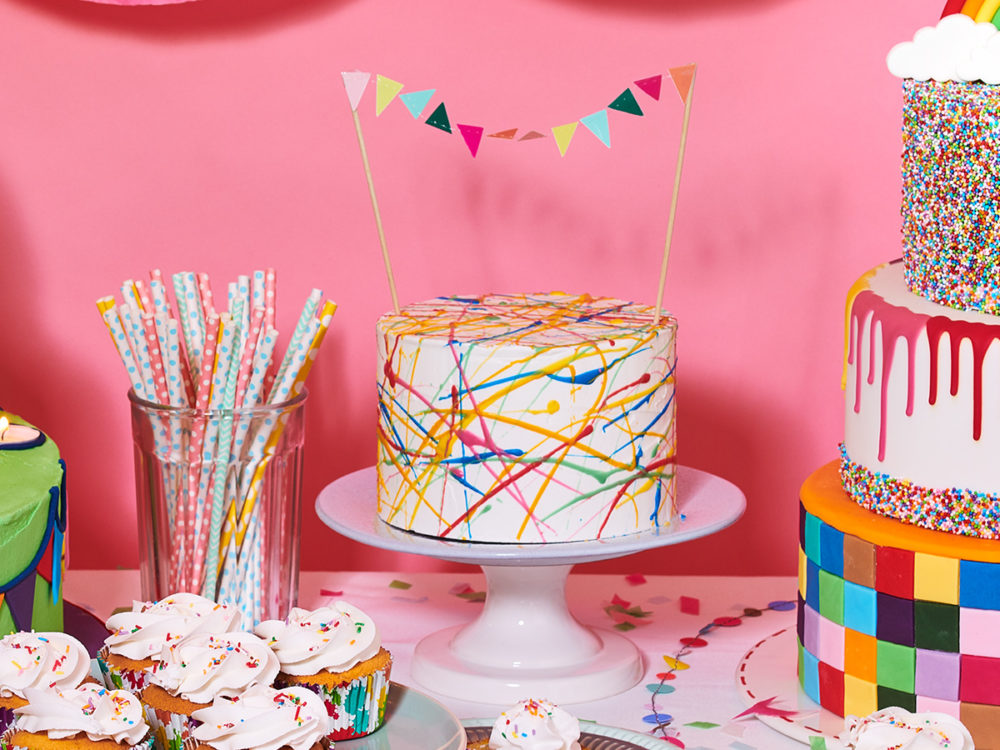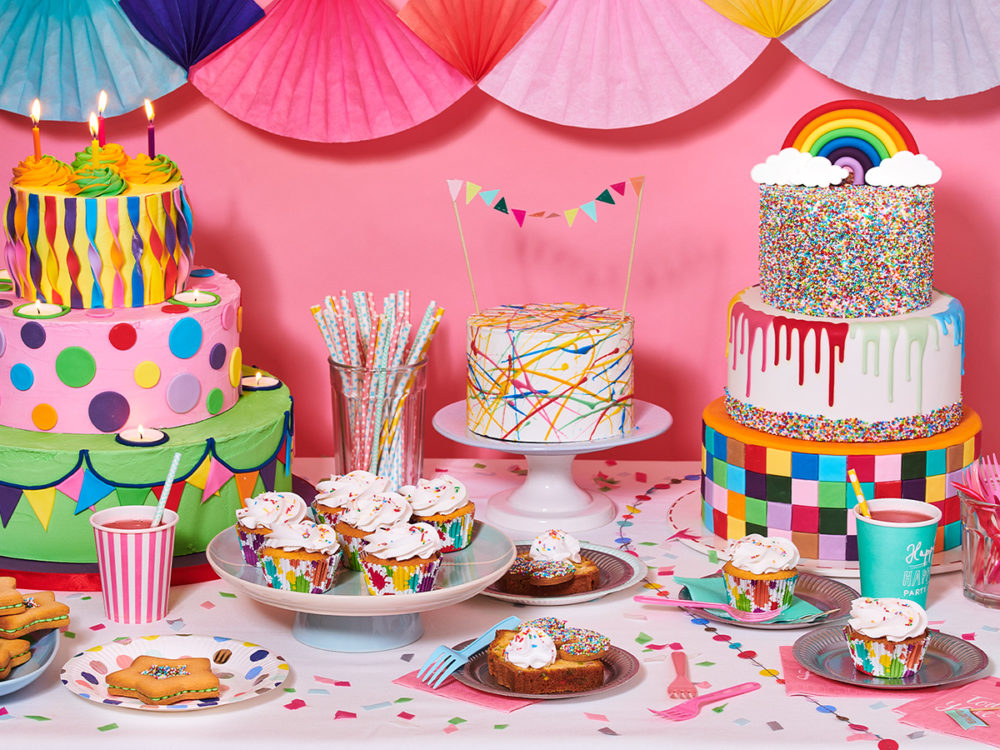 Birthday splash cake
This birtyday splash cake is for all the Picassos out there! It's fun, colourful and an unique statement piece for your sweet table. Be carefull; it can get really messy!
What you need to make your birthday splash cake:
Ingredients
250 g FunCakes Mix for Sponge Cake
150 g FunCakes Mix for Enchanted Cream®
FunCakes Flavour Paste – White Chocolate
FunCakes Deco Melts in multiple colours
25 ml water
4 eggs (approx. 200 g)
200 ml milk
Necessities
FunCakes Bake Release Spray
Wilton Decorator Preferred Spatula Angled
Wilton Cake Leveler
Wilton Cooling Grid
Wilton Parchment Paper
PME Extra Deep Round Baking Pan Ø 15 cm x 10 cm
PME Side Scraper
Multiple microwave safe bowls
Cling film
Piece of cardboard or newspaper
Preheat the oven to 180°C (convection oven 160°C).
Prepare 250 grams of FunCakes Mix for Sponge Cake as indicated on the package. Grease the baking pan, divide the batter into the baking pan and bake the sponge cake for 30 – 35 minutes. After baking, release the sponge cake on a cooling grid and let it cool down completely.
Prepare 150 grams of FunCakes Mix for Enchanted Cream® as indicated on the package and add white chocolate flavour paste to taste. Cut the twice and add fill the layers with cream. Cover the cake with a thick layer of cream, using the side scraper. Place the cake in the refrigerator for an hour to stiffen.
Cover your counter with plastic foil and put a piece of cardboard upright behind it. Melt the melts at max. 500 W in seperate bowls. Stir well every 15 – 20 seconds. Stop heating when the melts are almost completely melted (small bits of melts still visible). Keep stirring until the melts are smooth and completely melted. Put the cake on the counter and splash the deco melts from a distance against the cake with a spatula.
Just a little while before you can enjoy your cakes. Don't forget to share your creation:
#funcakesbyme