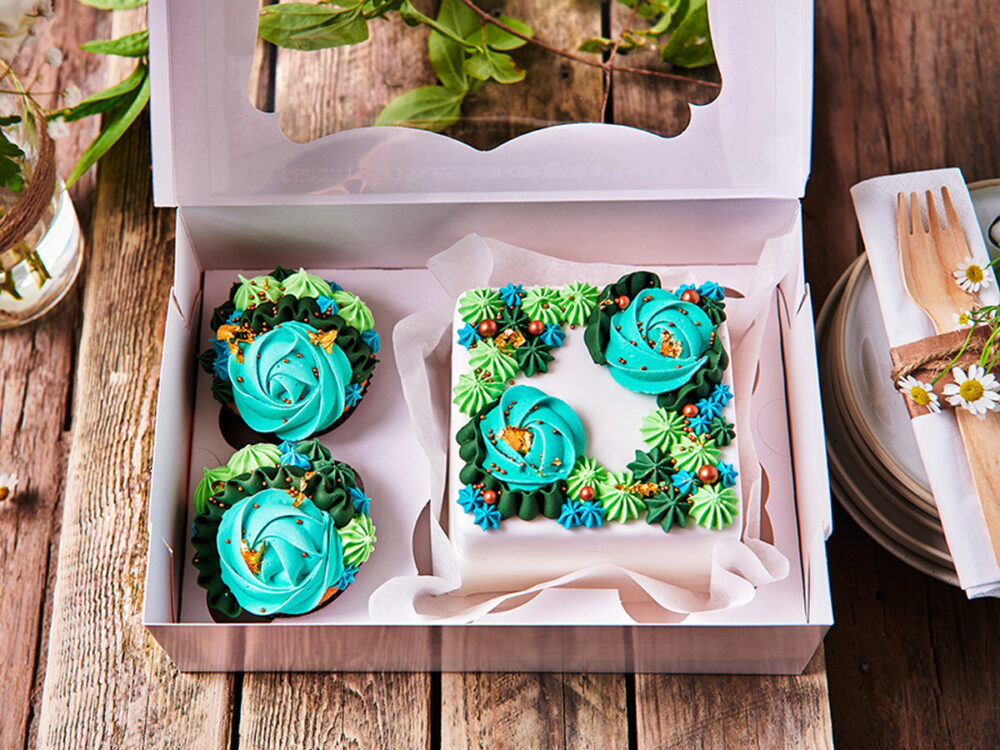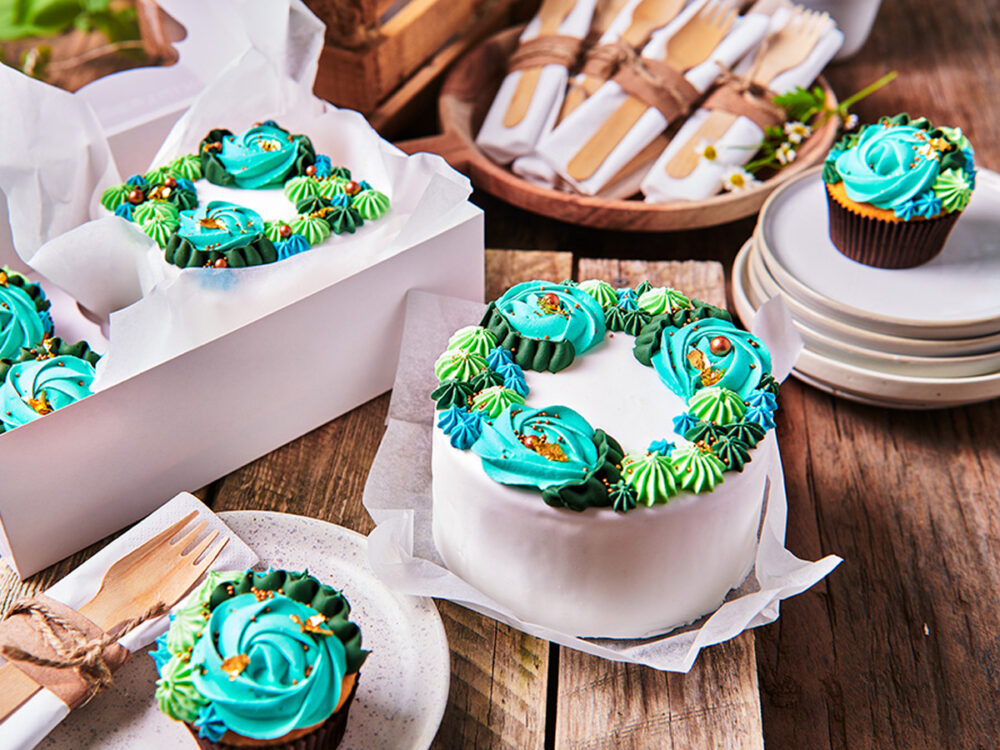 Bento box
Ready for another trend? These bento cakes in a box are everything right now! They are perfect for any occasion. Celebrating a birthday? Write something down! Revealing the gender of your baby soon? Add some colour to the cake. Everything is possible with this bento cake box!
What you need to make your bento box:
Ingredients
250 g FunCakes Mix for Cupcakes
175 g FunCakes Mix for Enchanted Cream®
150 g FunCakes Mix for Sponge Cake Deluxe
FunCakes Flavour Paste Mascarpone
FunCakes Nonpareils Bronze
FunCakes Food Colour Gel Bright Green
FunCakes Food Cololur Gel Holly Green
FunCakes Food Colour Gel Teal Blue
FunCakes Bake Release Spray
350 g FunCakes Sugar Paste Bright White
Scrapcooking 24-carat Gold Sheets
175 ml milk
125 g unsalted butter
15 ml water
5 ½ egg (approx. 275 g)
Necessities
FunCakes Decorating Bags
FunCakes Baking Cups White
FunCakes Cupcake Box 6
Wilton Decorating Tip #1m Open Star
Wilton Decorating Tip #104 Petal
Wilton Decorating Tip #032 Open Star
Wilton Decorating Tip #021 Open Star
3x Wilton Standard Adaptor/Coupler
Wilton Wide Glide Rolling Pin 50 cm
Wilton Comfort Grip Spatula Angled 22,5 Cm
Wilton Recipe Right Non-Stick Cooling Grid -40x25 Cm
Wilton Cake Leveler
Wilton Recipe Right® 12 Cup Muffin Pan
PME Deep Square Pan 12,5 X 12,5 X 7,5cm
Preheat the oven to 180°C (convection oven 160°C) and divide the baking cups between the muffin tray.
Prepare 250 g FunCakes Mix for Cupcakes as indicated on the package and divide between the baking cups. Bake the cupcakes in about 18-22 lightly browned and let them cool on the counter after baking.
Grease the baking pan with FunCakes Bake Release Spray. Prepare 150 g FunCakes Mix for Sponge Cake Deluxe as indicated on the package. Bake the biscuit for about 30-35 minutes, and immediately after baking, dump onto a cooling grid and leave to cool.
Cut the sponge cake 2x with the cake leveler and fill and spread thinly all around with a layer of Enchanted Cream®.  Knead the sugar paste well, roll it out thinly and line the cake with it.
Colour the rest of the Enchanted Cream® with the FunCakes Food Colour Gels. Put the cream in decorating bags with the adaptors and tips. For the #1M you don't use an adaptor. Decorate the cake and cupcakes with the various colours of cream.
Sprinkle some FunCakes Nonpareils Bronze on top and decorate with some gold.
To finish the bento box, cut the insert to size for the cake. Leave 2 holes for the cupcakes.
Just a little while before you can enjoy your cakes. Don't forget to share your creation:
#funcakesbyme