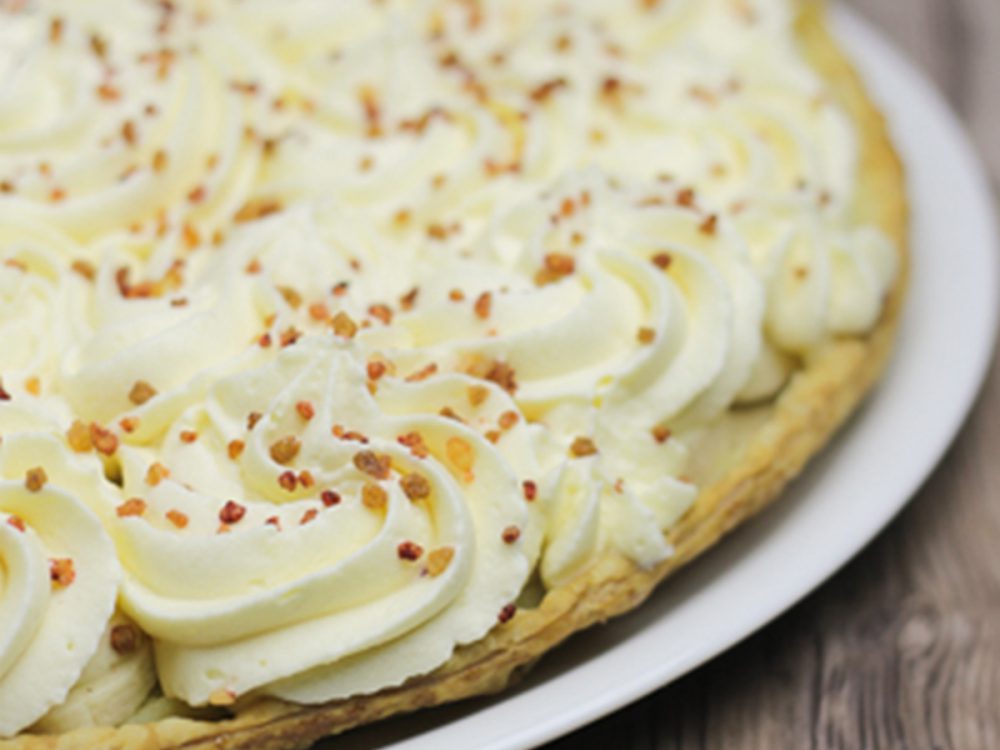 Banana pie
Why are bananas curved? We don't know, but what we do know is that this banana pie with puff pastry is easy to make and also incredibly tasty.
What you need to make your banana pie:
Ingredients
FunCakes Hazelnut crunch
100 g FunCakes Mix for Bavarois banana
100 g FunCakes Mix for Crème Pâtissière
10 slices puff pastry
2 tbsp sugar
370 ml water
500 ml whipping cream
4 bananas
Necessities
FunCakes Disposable Decorating Bags
FunCakes Bake Release Spray
Wilton Decorating Tip #1M Open Star Carded
Wilton Chrome-Plated Cooling Grid
Patisse Quiche Pan -Loose Bottom- 24cm
Preheat the oven to 210°C (convection oven 200°C).
Place the defrosted slices puff pastry on top of each other and roll them out to 1 large square. Put the pie pan upside down on the dough and cut out a circle 5 cm larger than the form. Prick in the dough with a fork so the dough will not rise during baking.
Place the round puff pastry bottom on the outside of the pie pan. Lubricate it with water and sprinkle some sugar on top. Bake the bottom in 20 minutes and let it cool down on a cooling grid.
Prepare 100 grams of Mix for Crème Pâtissière as described on the package and divide the cream on the bottom of the pie.
Cut 4 bananas into slices and place them on the crème pâtissière.
Pipe rosettes on the banana and crème pâtissière. Decorate it with hazelnut crunch.
Just a little while before you can enjoy your cakes. Don't forget to share your creation:
#funcakesbyme