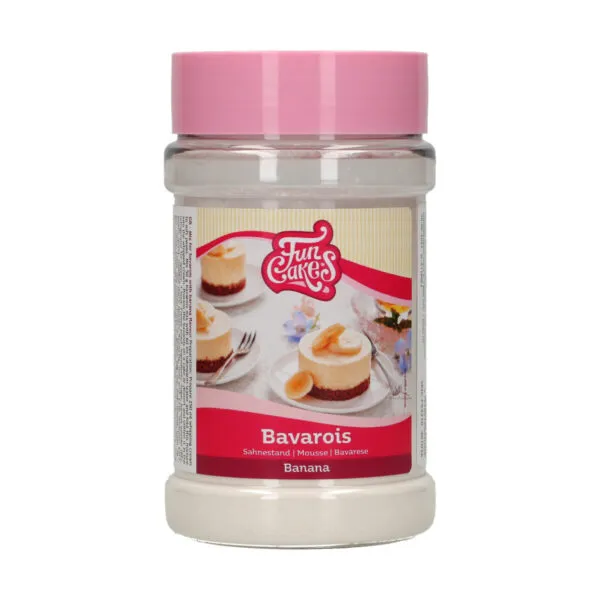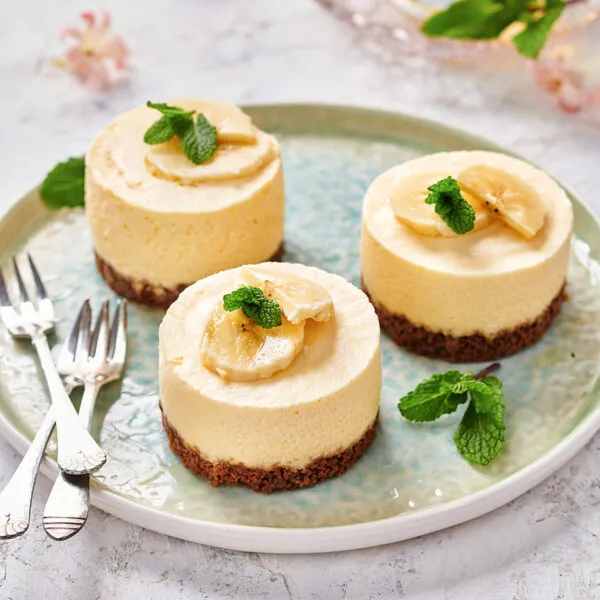 Mix for Bavarois Banana
Easily make a delicious, fluffy bavarois with this mix from FunCakes. You only need to add whipped cream and water! This bavarois is delicious on a crispy cookie bottom, as a filling in your sponge cake or as a dessert with fresh fruit. Available in different flavours, or add one of the many FunCakes flavour pastes to the natural bavarois to create any desired flavour.
Sugar, bananapowder (8%), gelatin, potato starch (modified), flavouring, acid: E330, thickener: E417, salt, colour: E160a.
May contain traces of: gluten, egg, soy, milk, sesame, lupin.
Store in a cool, dry place, 8-20°C.
Nutritional values per 100 g
| | |
| --- | --- |
| Energy | 1639 kJ / 392 kcal |
| Fat | 0,2 g |
| of which saturated | 0 g |
| Carbohydrate | 90,7 g |
| of which sugar | 84 g |
| Protein | 6,3 g |
| Salt | 0,1 g |
Prepare the whipped cream to soft peaks.
For one portion of bavarois: use 50 g mix, 250 ml whipped cream and 60 ml water.
Mix the bavarois mix with lukewarm water and fold this mixture into the whipped cream.
Process the bavarois directly in a cake or dessert and stiffen it in the refrigerator for approx. 1 hour.
The FunCakes Mix for Bavarois is freeze proof. Therfore this mix goes very well with the Mirror Glaze from FunCakes! Make a nice dome cake of bavarois, freeze it and then pour the mirror glaze over it.
Because of the nice flat, even top which you can create with bavarois, this mix can also be combined well with a Glaze Topping from FunCakes. To do this, place acetate foil on the inside of your spring form and add the bavarois on top of a cookie bottom. In this case, let the bavarois set in the fridge for at least 2 hours, so that it settles nicely. Finally, pour the Glaze Topping on top of the bavarois, creating a nice shiny layer.