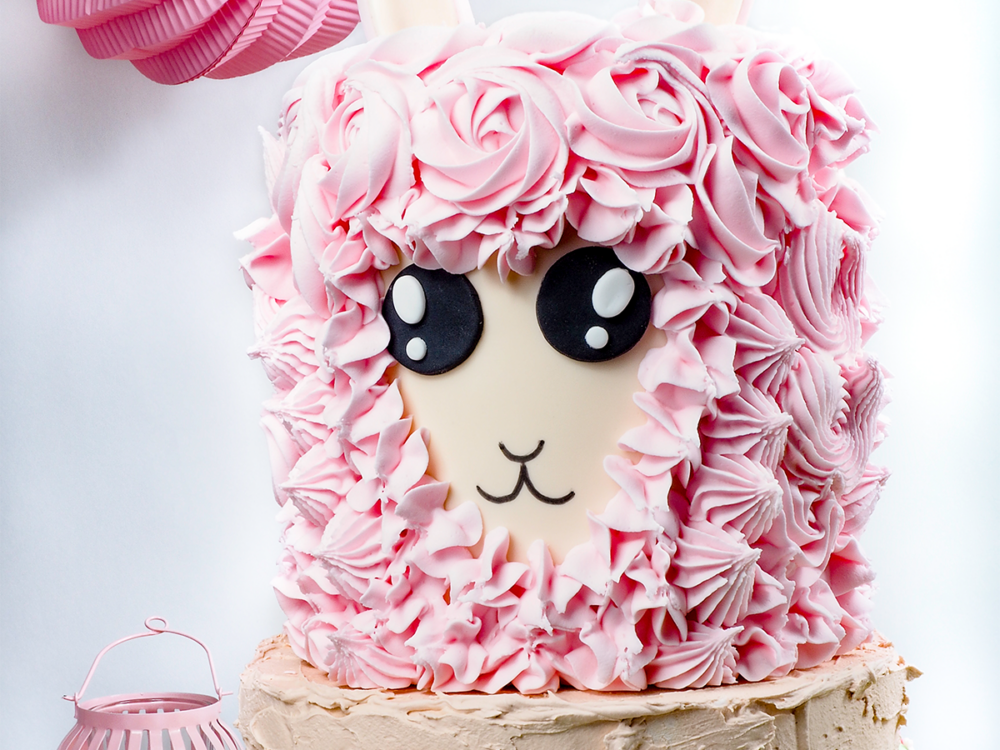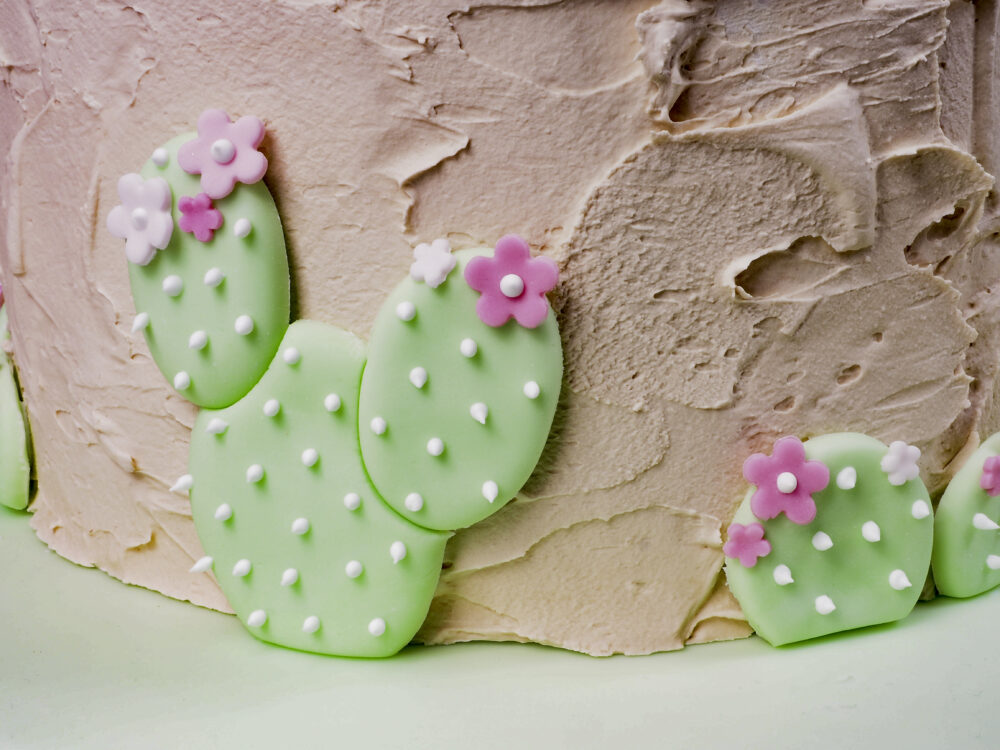 Alpaca cake
How cute and trendy is this alpaca cake? It's not difficult at all to make and you also have a showpiece on the table!
1 hour and 45 min. preparing
What you need to make your alpaca cake:
Ingredients
500 g FunCakes Mix for Sponge Cake
400 g FunCakes Mix for Buttercream
20 g FunCakes Mix for Royal Icing
500 g FunCakes Sugar Paste – Bright White
FunCakes Sugar Paste Raven Black
FunCakes Flavor Paste – Whipped Cream
FunCakes Food Color Gel – Bright Green
FunCakes Food Color Gel – Pink
FunCakes Food Color Gel – Brown
FunCakes Brush Food Pen – Black
Jam of your choice
500 g unsalted butter
450 ml water
7,5 egg (approx. 375 g)
Necessities
FunCakes Decorating Bags
FunCakes Edible Glue
FunCakes Magic Roll-Out Powder
FunCakes Bake Release Spray
FunCakes Cake board silver/gold round 16 cm
2x Wilton Decorator Preferred Round baking pan – Ø 15 cm
1x Wilton Decorator Preferred Round baking pan – Ø 20 cm
Wilton Wooden Dowels
Wilton Perfect Height rolling pin
Wilton Tip #1M
Wilton Tip #6B
Wilton Tip #2
Wilton Spatula Angle 22,5 cm
Wilton Cake leveler
Wilton Cooling Grid
FMM Cutter Mix 'n Match Face
PME oval cutters
PME Blossom plungers
Round cookie cutters
Cling film
Preheat the oven to 180°C (convection oven 160°C).
Prepare 500 g FunCakes Mix for Sponge according to the instructions on the package. Grease the baking pans with the Bake Release Spray and fill with the biscuit batter. Bake the biscuits for 30-35 minutes. After baking, turn the biscuits onto a cooling grid and let them cool down completely.
400 g FunCakes Mix for Buttercream according to the instructions on the package. flavour the buttercream with the whipped cream flavor paste.
Cut the biscuits in half with a cake leveler and fill them with a thin layer of buttercream and jam. Then stack the cakes again. Color part of the buttercream light brown with the food colour gel and spread the bottom cake all around, this does not have to be neat.
Color the rest of the buttercream soft pink. Divide this between 2 decorating bags, one with tip #1M and one with tip #6B. Stack the two cakes on top of each other.
Color 150 g sugar paste beige with the brown colour gel, roll it out on a work surface covered with Magic Roll-Out Powder, cut an oval with a knife for the face and stick it against the 15 cm cake. Use the two different tips to create swirls and rosettes around the face as shown in the photo.
Color a small piece of sugar paste light and dark pink and the rest soft green, keep a piece of about 10 g of white sugar paste for the pupils. Cut small flowers from the pink sugar paste.
Roll out the green sugar paste to a thickness of 3mm, place a piece of cling film over it and cut out circles and ovals in different sizes, these will be the cacti. Remove a piece of sugar paste from the ovals here and there, so that another oval fits nicely in it and stick it against the bottom cake.
Roll out a piece of pink and beige sugar paste, this may remain thick, and cut out two different sized ovals for the ears, stick them together and stick them upright on the head.
Roll out the black sugar paste thinly and cut out two circles for the eyes. Then roll out the white very thinly and cut out two ovals and two small circles with the FMM Face Cutter and stick these on the black circles. Make a snout with the edible marker and stick the eyes in the right place.
Stick the flowers on the cactus. Fill a decorating bag with tip #2 with a little bit of royal icing and make the needles of the cactus by piping small caps.
Just a little while before you can enjoy your cakes. Don't forget to share your creation:
#funcakesbyme