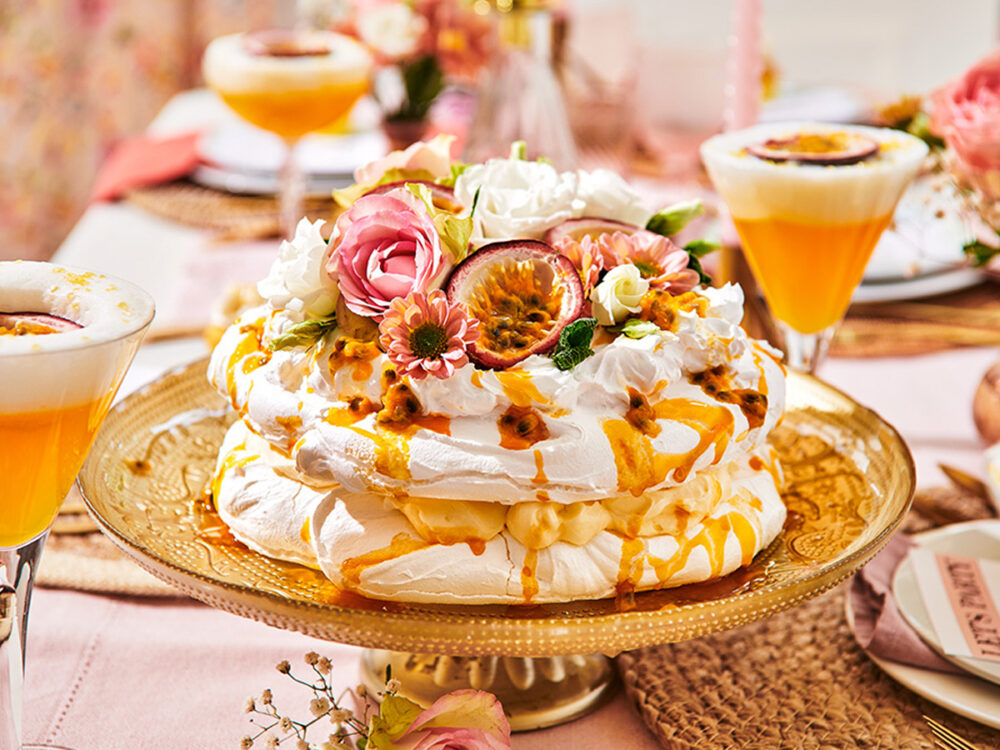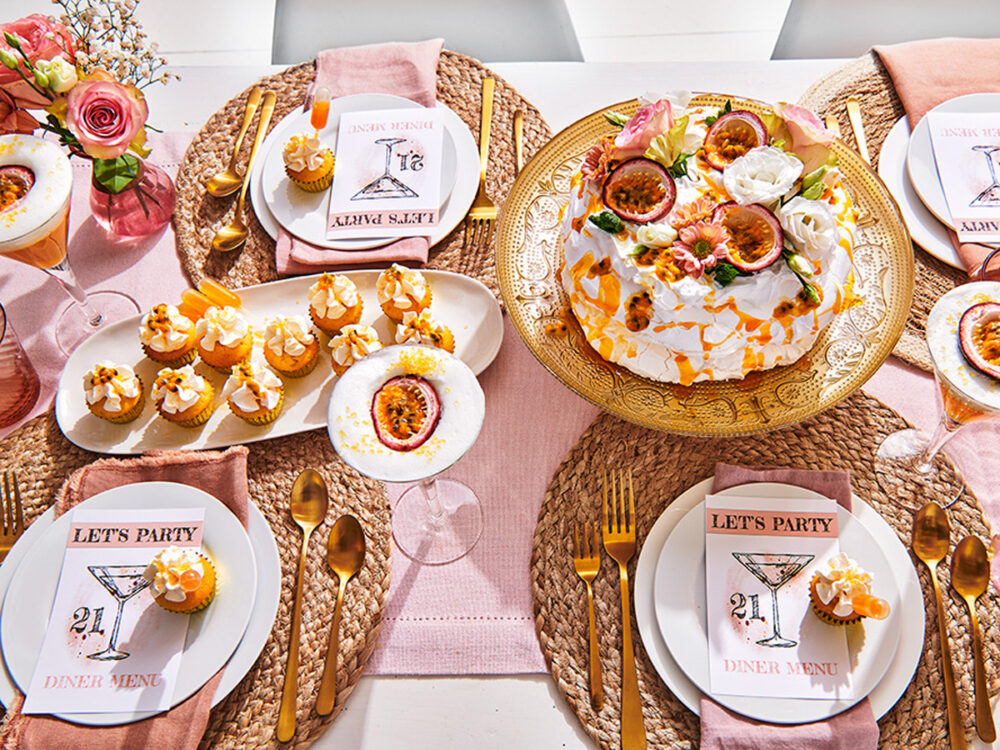 21 diner pavlova
Celebrating your 21th birthday soon and are you a pornstar martini lover? Then we have the perfect desserts for you. Make this 21 diner pornstar martini pavlova for your diner. It's super easy to make and are the perfect match with a cocktail and cupcakes. Do you also need some decoration inspiration? Check out our table set-up in the pictures!
What you need to make your 21 diner pavlova:
Ingredients
14 g FunCakes Meringue Powder
125 g FunCakes Mix for Swiss Cream
75 g FunCakes Mix for Enchanted Cream®
FunCakes Flavour Paste Passion Fruit
FunCakes Deco Melts White
400 ml water
375 g suger
75 ml milk
4 passion fruits
Flowers
On a sheet of parchment paper, draw two circles of 20cm diameter with pencil and turn the sheet over.
Preheat the oven to 120°C (convection oven 100°C).
Make sure the mixing bowl and whisk are grease-free. Mix 14g FunCakes Meringue Powder with 125ml water and 125g fine granulated sugar in a mixing bowl and stir well with the whisk. Beat this at high speed to a white foam and add the rest of the granulated sugar little by little. Beat this through until the foam draws stiff peaks. It is quite stiff and tough.
Divide the foam between the two circles on the baking sheet. It can be quite whimsical. Dry the foam in the oven for about 1 ½ to 2 hours. Let them cool in the oven after the oven time.
Dip the tips of the flowers you are going to use in some melted FunCakes Deco Melts White and let this harden.  This way the juice from the stems won't get into your cream.
Spoon the crème suisse onto one slice of foam and place the second slice on top. Spread the Enchanted Cream® over the top.
Cut the passion fruit in half and remove the flesh. Keep a few halves behind for decoration.
Drizzle some pure passion fruit flavour paste over the pavlova with a teaspoon. Further decorate the pavlova with the passion fruit halves, passion fruit flesh and flowers.
Just a little while before you can enjoy your treats. Don't forget to share your creation:
#funcakesbyme