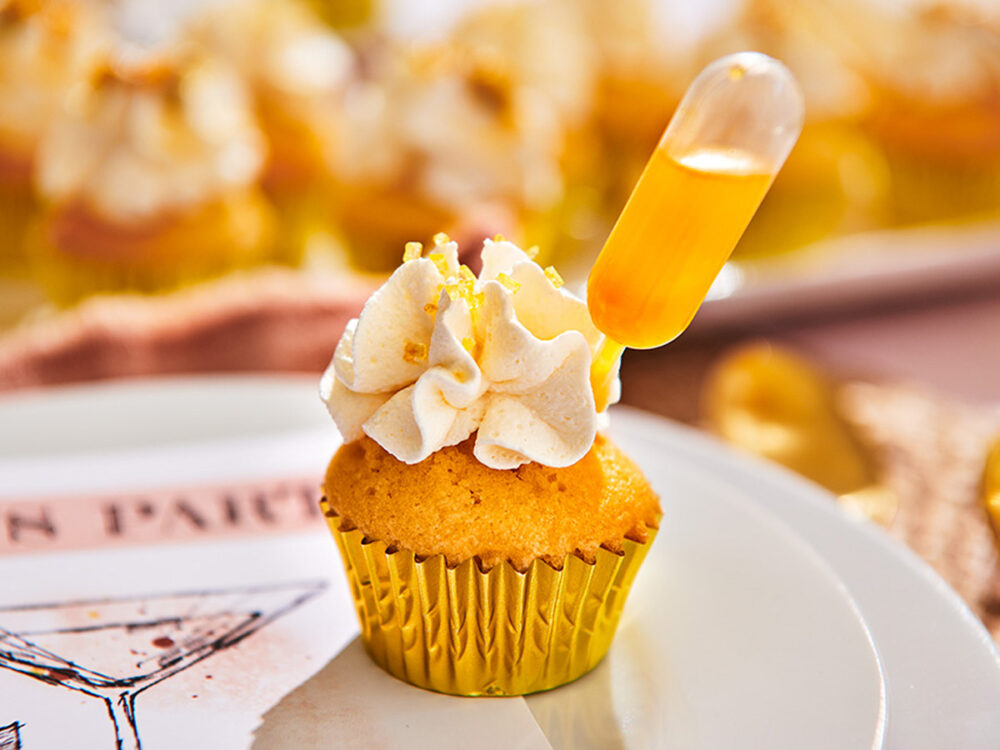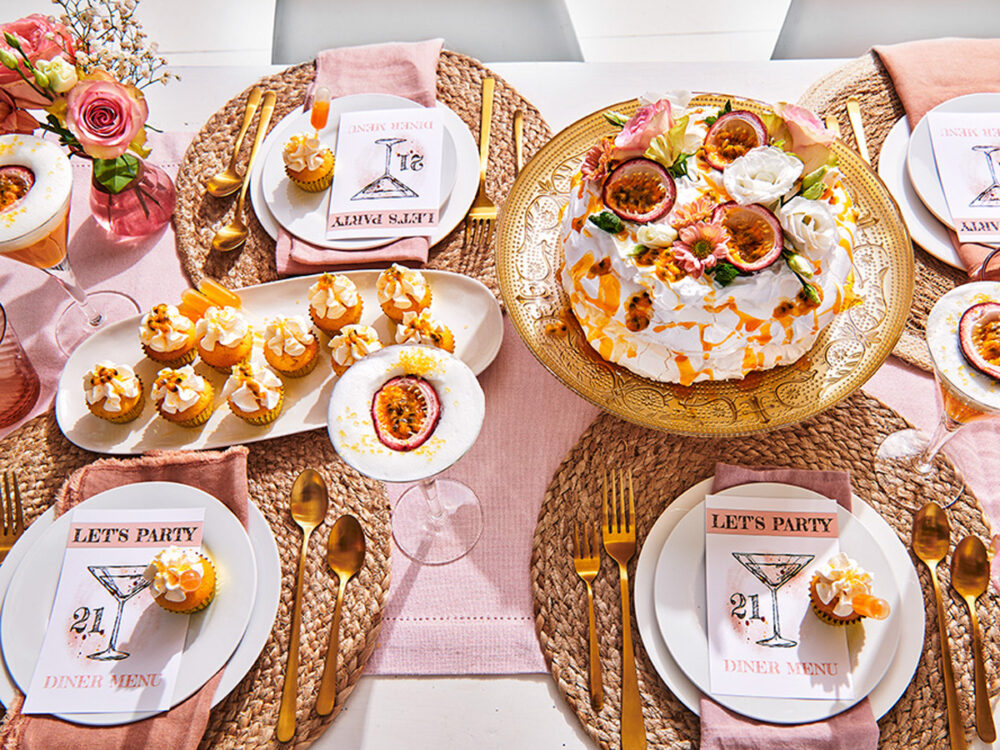 21 diner cupcakes
Are you turning 21 soon and hosting a 21 diner? And are you a pornstar martini lover? Then we have the perfect desserts for you. Make these 21 diner pornstar martini cupcakes for your diner. They're super easy to make, but are the perfect match with a cocktail and pavlova. Do you also need some decoration inspiration? Check out our table set-up in the pictures!
What you need to make your 21 diner cupcakes:
Ingredients
250 g FunCakes Mix for Cupcakes
75 g FunCakes Mix for Enchanted Cream®
FunCakes Flavour Paste Passion Fruit
FunCakes Sugar Crystals Orange
125 g unsalted butter
50 ml water
50 ml milk
2 ½ egg (approx. 125 g)
2 passion fruits
Juice of your choice (ex: mango/ passion fruit)
Necessities
FunCakes Decorating Bags
Wilton Decorating Tip #1m Open Star Carded
Wilton Recipe Right® 24 Cup Mini Muffin Pan
House of Marie Mini Baking Cups Foil Gold
House Of Marie Pipette Straight 4ml Pk/10
Preheat the oven to 180°C (convection oven 160°C)
Prepare 250 g FunCakes Mix for Cupcakes as indicated on the package. Divide the golden baking cups over the muffin tray and put the batter in a decorating bag. Fill the baking cups with batter and bake the cupcakes for 14-17 minutes until light brown. Let the cupcakes cool down on the countertop.
Prepare 75 g FunCakes Mix for Enchanted Cream® as indicated on the package and flavour with FunCakes Flavoured Paste Passion Fruit. Put this in a decorating bag with tip #1M and swirl tufts on the cupcakes.
Fill pipettes with juice of your choice and stick them in the cupcakes. Halve the passion fruit and scrape out the flesh. Sprinkle some FunCakes Sugar Crystals Orange and some passion fruit flesh on the cupcakes.
Just a little while before you can enjoy your cupcakes. Don't forget to share your creation:
#funcakesbyme